Art Basel | 2021
September 24-26
Galleri Nicolai Wallner is pleased to present our curated booth for Art Basel's 2021 edition, featuring works by A Kassen, Alexander Tovborg, Eva Helene Pade, Jeppe Hein, Jose Dávila, Julie Lænkholm, Kinga Bartis, Marie Lund.
Jose Dávila
The fact of constantly returning to the same point or situation (2021)
Vinyl paint on loomstate linen
140 x 113 x 6 cm
Unique
Contradictory feelings of weight, tension and levity run throughout Jose Dávila's works. Making use of materials in a way that pushes the limits of our perception, he pairs incongruent elements that cause us to re-examine the ways in which we understand what is at hand.
Taking inspiration from the ideals put in place by the 20th century avant-garde, Jose Dávila re-contextualises artists, iconic artworks and raw materials. Figures and details are cutout and re-worked. Unexpected elements are brought into our focus. Heavy materials are juxtaposed with impossibly delicate placement. The result is an elegant balancing act which feels al- most atmospheric, drawing us in as we wait to see
if things will stand or fall.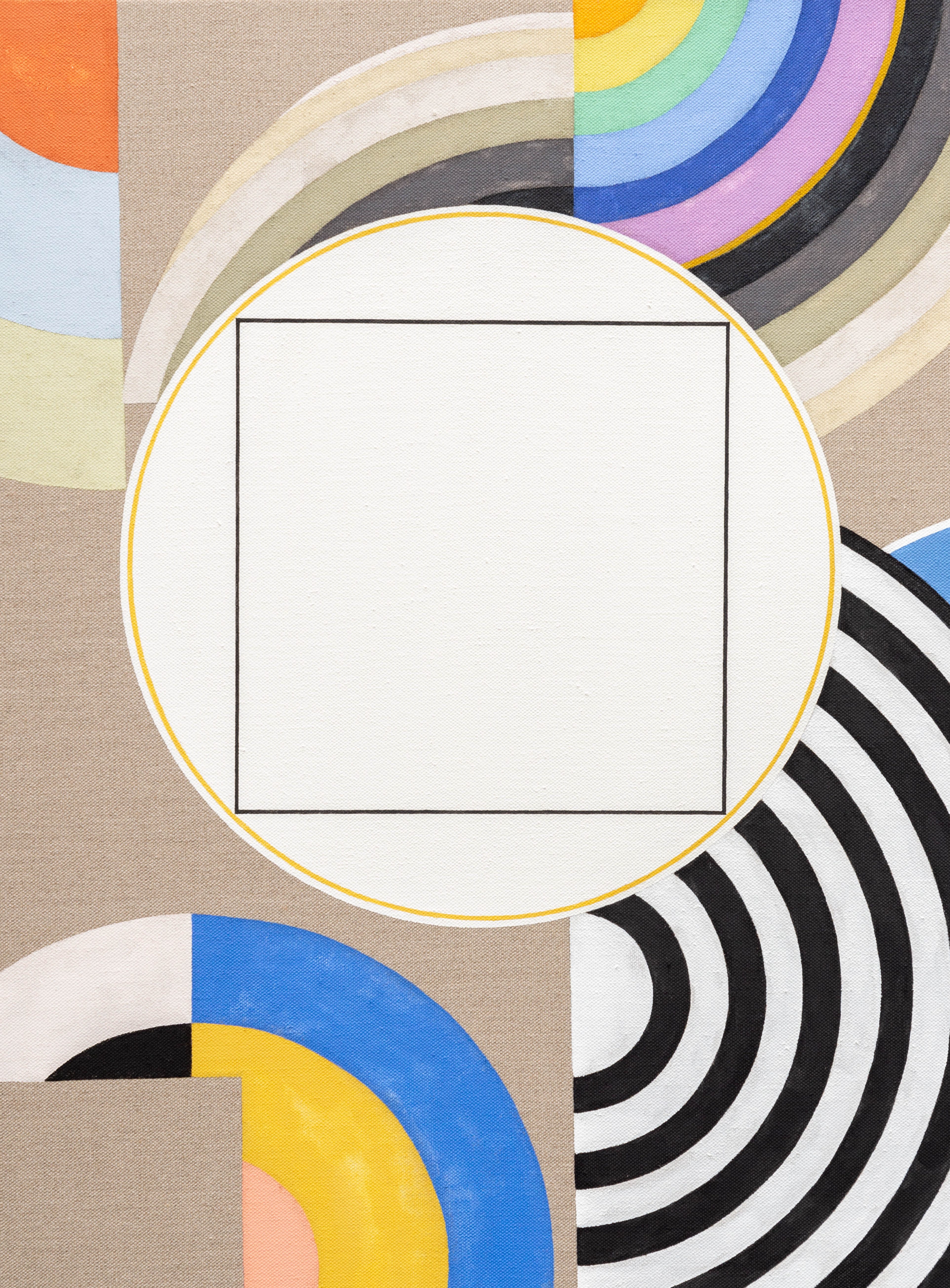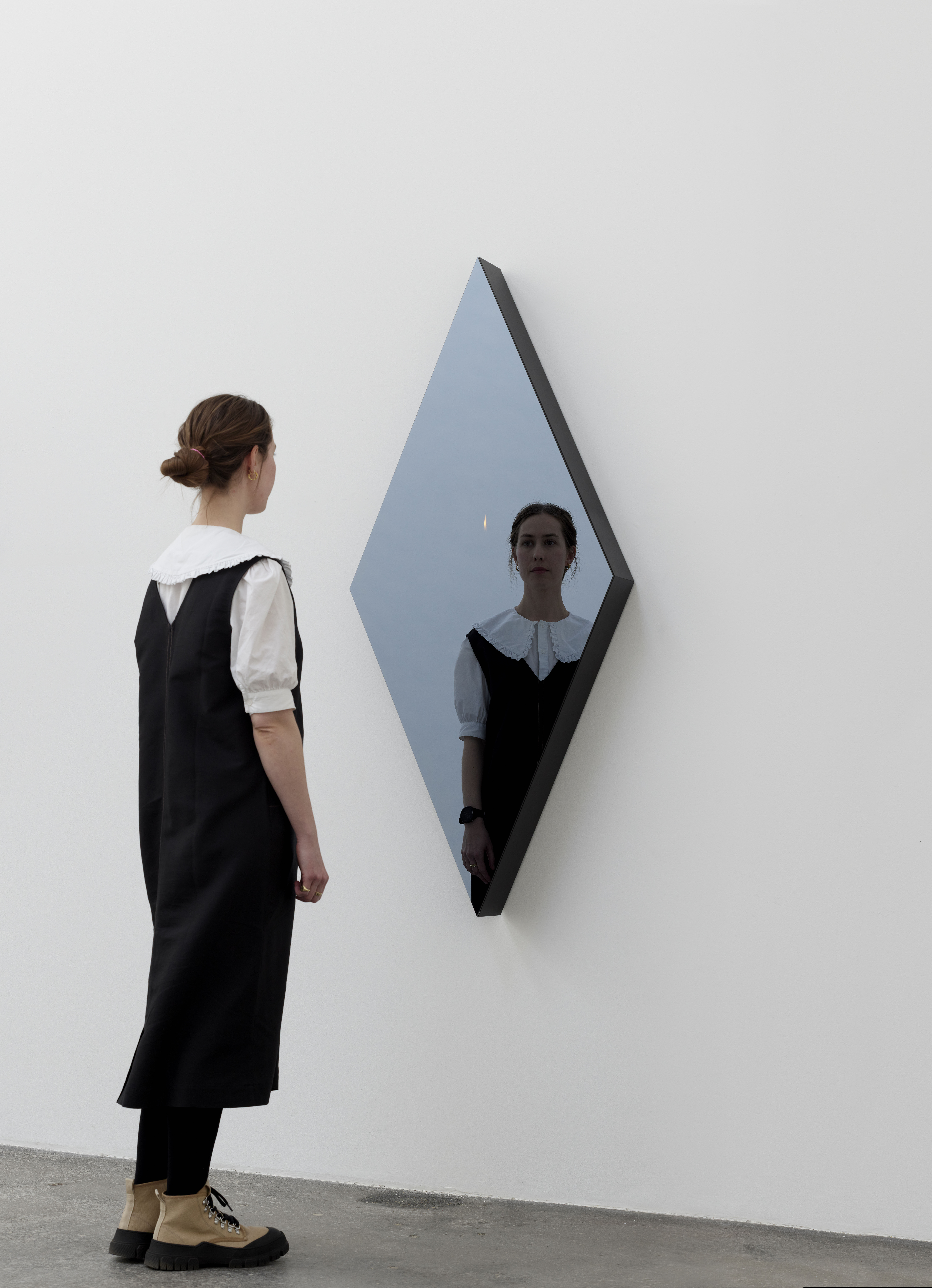 Jeppe Hein
Your inner glow (2021)
Powder-coated aluminium, two-way mirror, candle
150 x 65 x 14 cm
Edition of 3 (+2 AP)
A diamond shaped box made of two-way mirror is hung on the wall. A single candle sits in the box with the wax body of the candle hidden leaving only a flickering flame visible. This flame superimposes itself on whatever the mirror reflects—visitors, the environment—creating an intimate and thoughtful moment. As you stand in front of the work, its diamond shape places you within its centre, reinforcing your connection with the flame.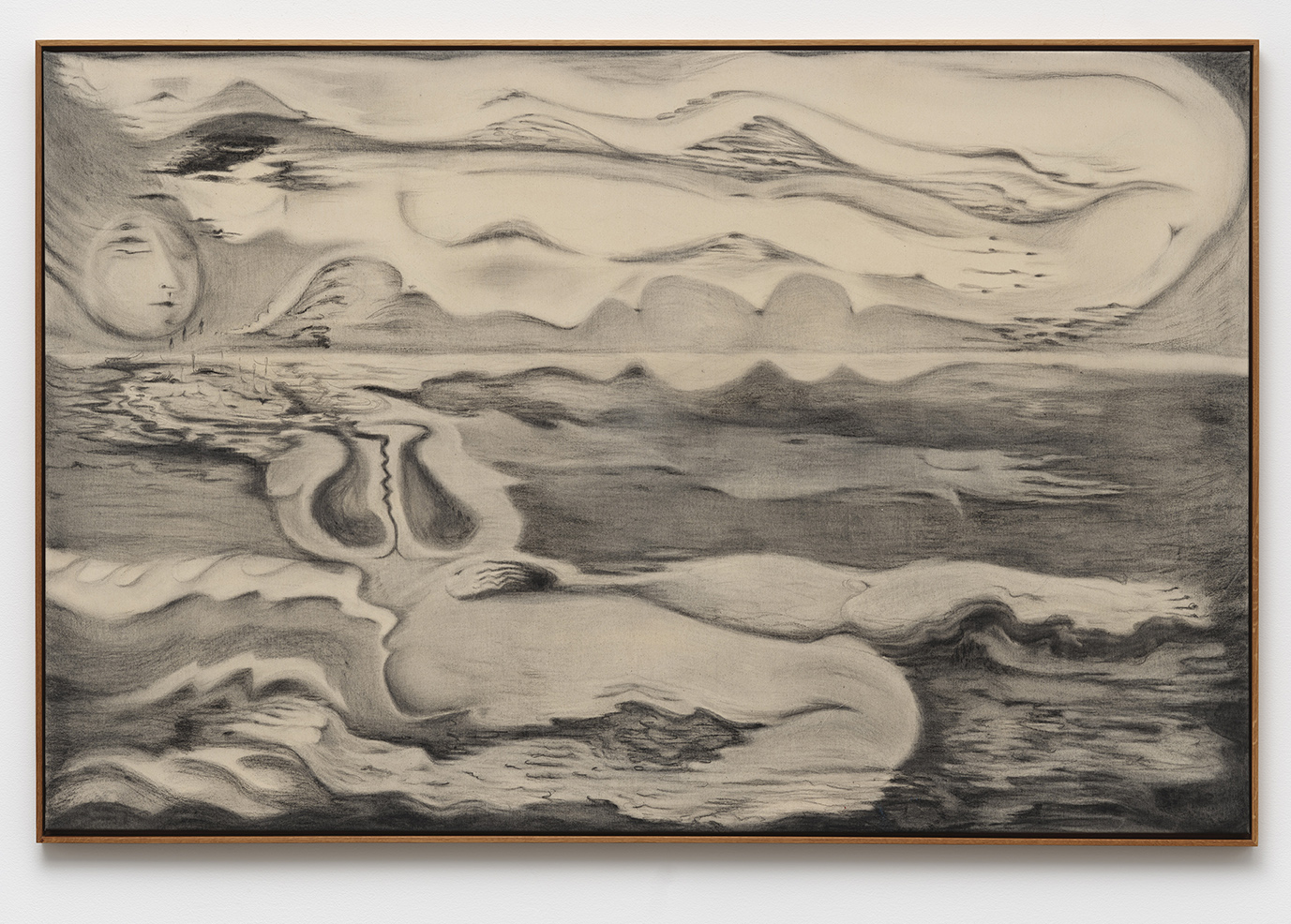 Kinga Bartis
Softly Draining Hearts (2021)
Charcoal and pencil on canvas
134 x 203 x 5 cm
Unique
Kinga Bartis' approach to painting lies outside the boundaries of the classic school of painting. Eschewing labels, Bartis envisions painting as a means of breaking free from the habitual relationship of defining and redefining of our existence, looking towards a more multidisciplinary and open approach.
Repeating imagery of bodies, figures, nature and landscapes combine to reflect the realties of a shifting world. Often blending one into the other, the resulting ambiguity provides a backdrop for elements to ebb and flow, almost moving subtly on the canvas, revealing themselves organically. Reoccurring themes of sexuality, power structures, the body and self-perception can be felt through these motions as they pulsate towards us.
Their presence does not suggest a direction that Bartis' wishes us to go in, but rather a mood or a feeling, a platform through which discussions are encouraged.
Kinga Bartis
Bending Light (2021)
Mixed media on canvas
84 x 71 x 5 cm
Unique A Kassen
Bronze Pour LIV (2021)
Bronze
125 x 80 x 65 cm
Unique
Relying purely on the chemical and physical reactions of natural elements, A Kassen's "Bronze Pour" series is created by pouring small amounts of hot, liquid bronze directly into the water. The bronze cools upon impact, creating small, unpredictable and unexpected shapes, which are scanned and cast on a larger scale in bronze.
The artists' hands are notably absent in the shaping of the works. They are necessarily abstract, yet they retain a referential quality to them as we instantly try and place them and find recognisable sources for their imagery. Reminiscent of modern sculptures, "Bronze Pour" retains a kind of biomorphic form that adds to this ambiguity.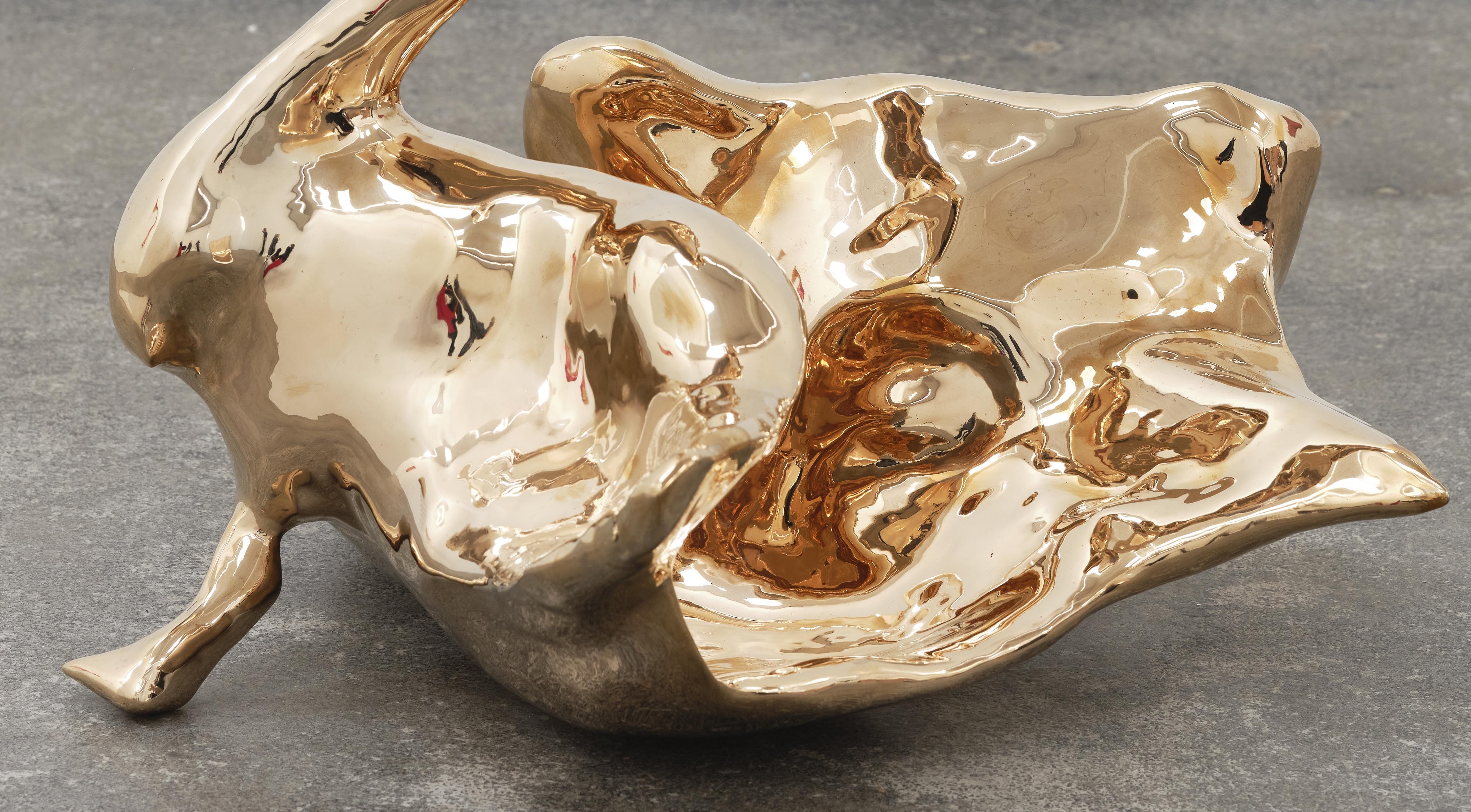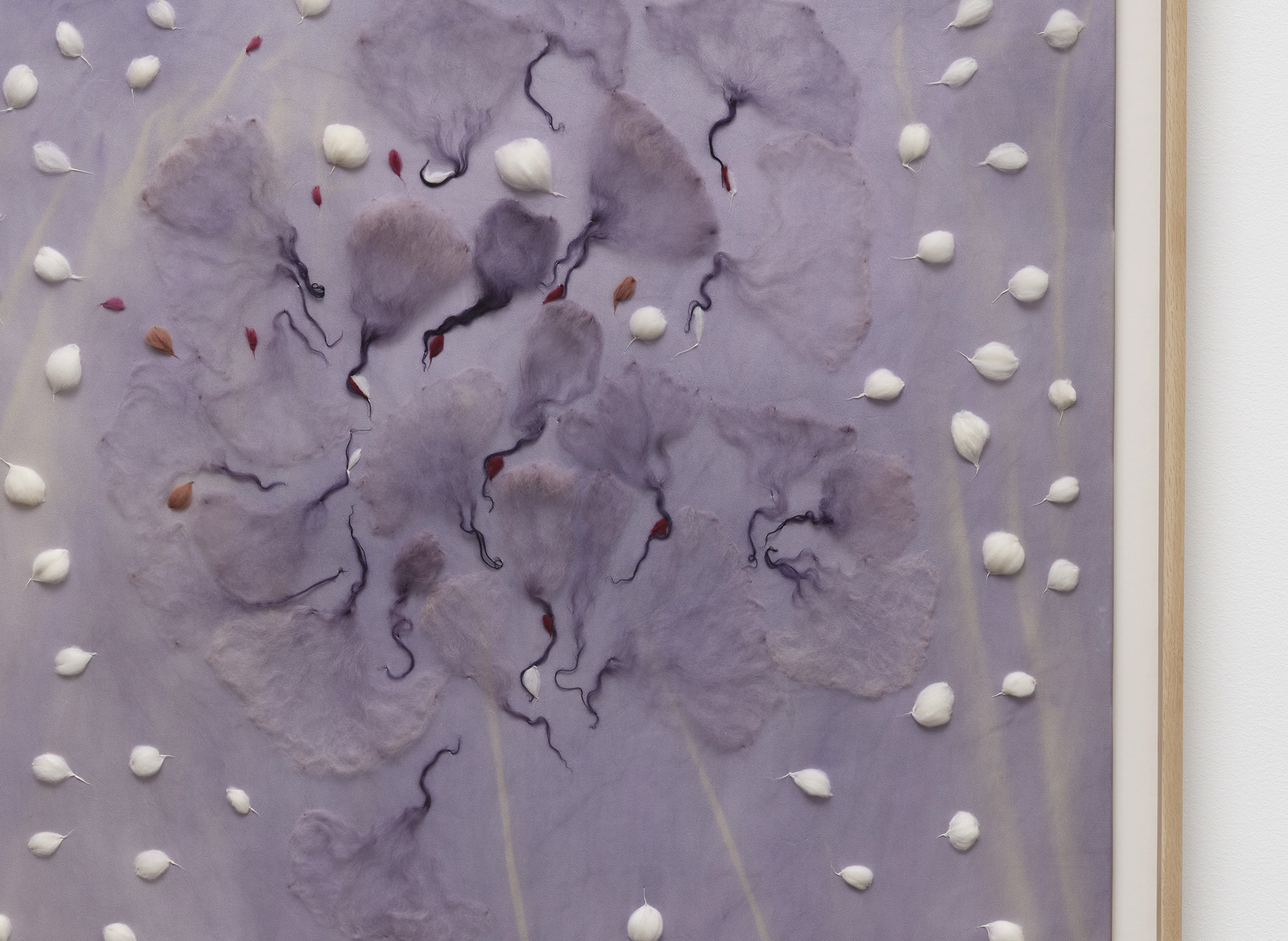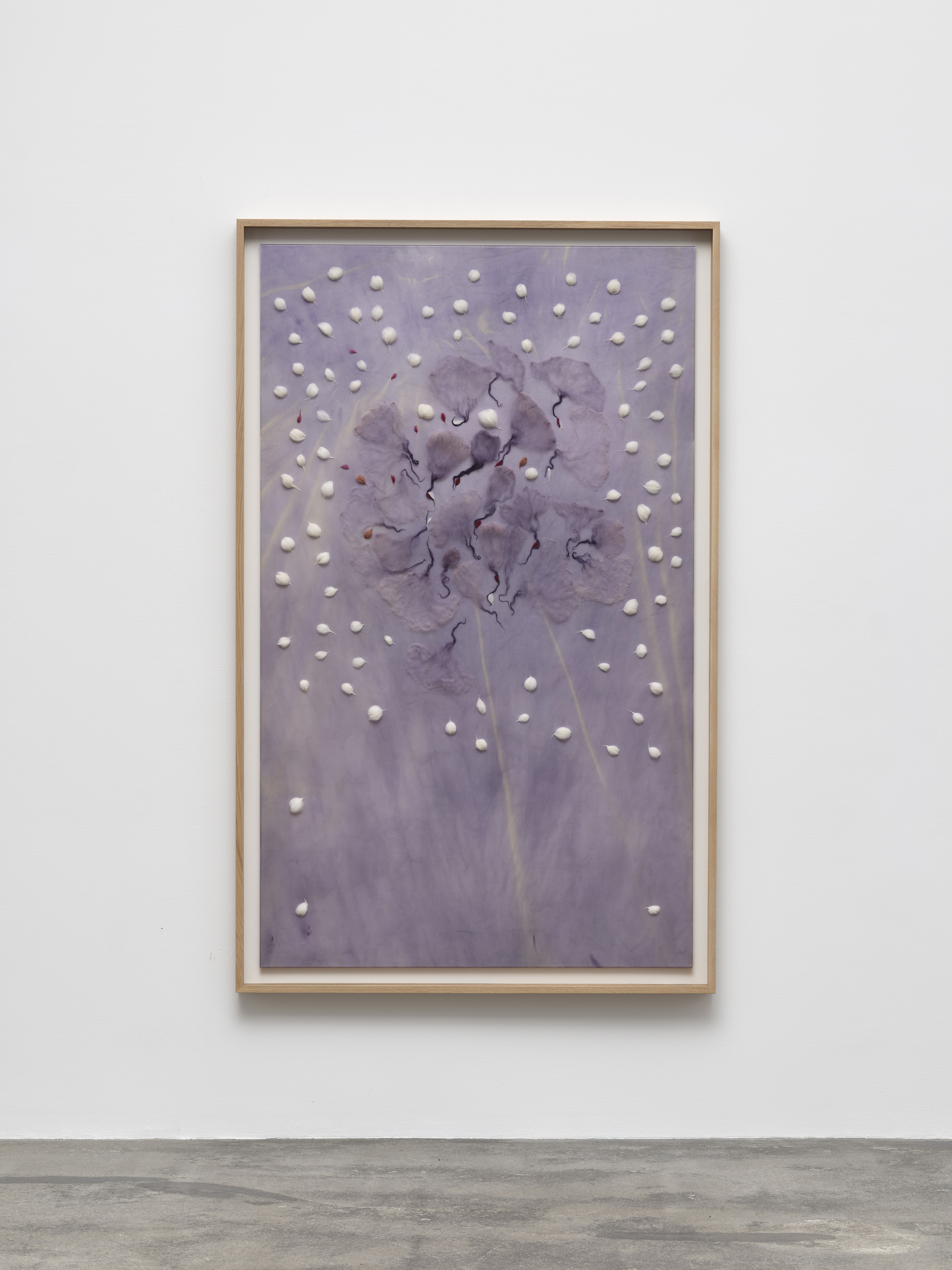 Julie Lænkholm
Untitled (2021)
Natural dye on silk, cotton, wool
215 x 133 cm
Unique
Julie Lænkholm's practice has its roots in the ideas and the methods centred around collective learning. Exploring techniques and practices which have been traditionally been passed down orally from generation to generation, Lænkholm activates a predominantly female-driven history which has been forgotten or otherwise actively ignored.
Using materials such as wool, silk and denim, Lænkholm treats them with natural, plant-based dyes using historic methods. The specificity and the technical backdrop of this process comes through to create a very tactile, three-dimensional feeling that emanates from the work, unlocking a kind of atmospheric presence that can be readily sensed. The works feel as if they are in continual evolution, as if they remain alive long after they seem to be finished. We become participants of the work, activating the work while the work simultaneously activates us.
There is a generosity inherent in Lænkholm practice. Works are presented in a way that imparts its process onwards, and in so doing imparts the knowledge that is transmitted with it. The connections and interaction with the works adds to this consciousness, as we find ourselves becoming integrated into this collective learning process.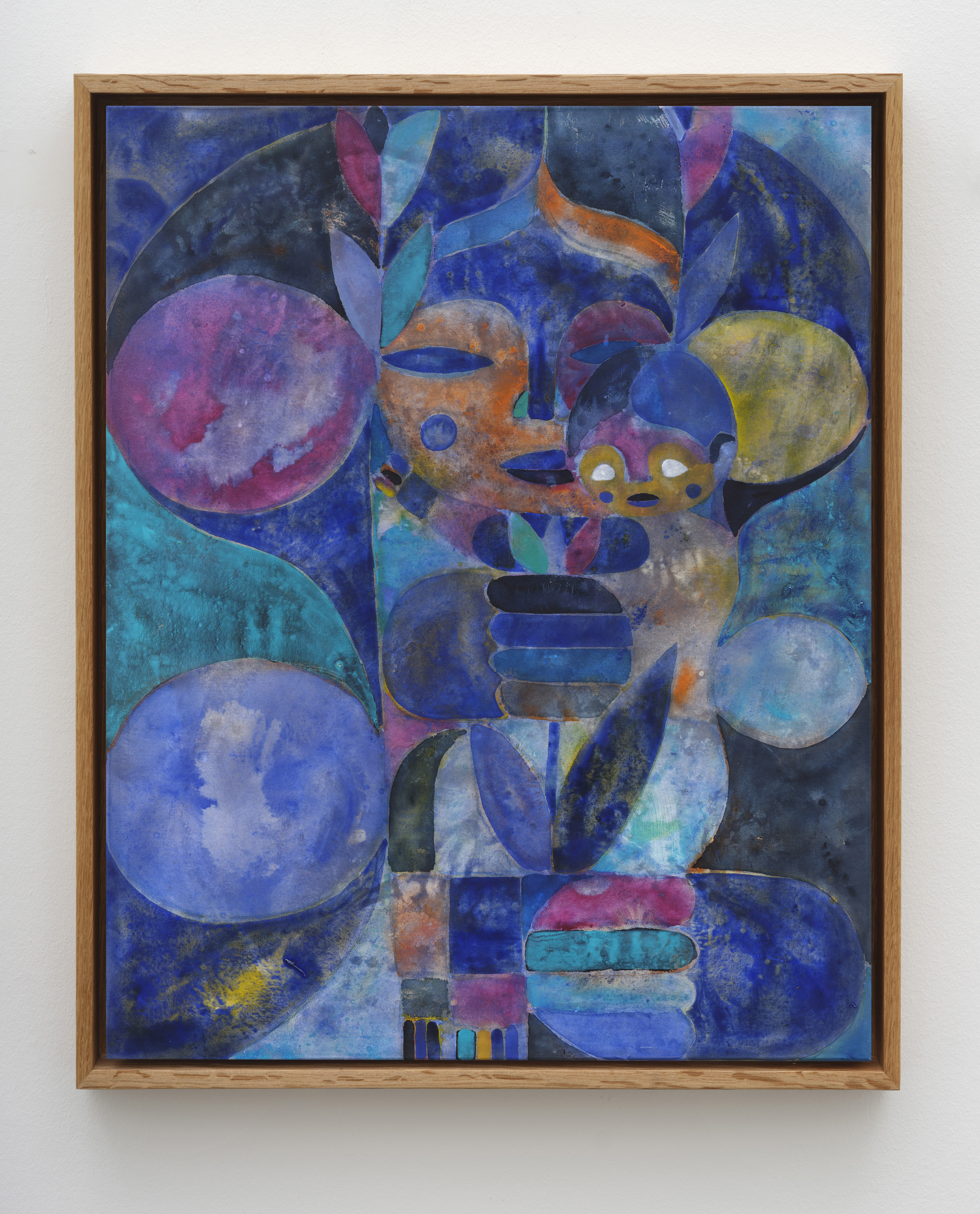 Alexander Tovborg
dea madonna (spring night) (III) (2021)
Acrylic on bed linen
102.5 x 83 cm
Taking as his starting point history, mythology, religion, as well as written and oral narratives, Alexander Tovborg draws on the stories that have come before us in order to explore and re-contextualise classical archetypes. In looking at the ways through which we have built our narratives in the past, he proposes a new reading of our current social and political situation, examining who we are and where we find ourselves today.
His laborious and layered technique can be seen as a kind of rhythmic practice which allows Tovborg to submerse himself in various worlds, creating a kind of visual language that runs throughout the work, span- ning different series and figures. This visual language connects the work, but also connects the differing narratives, reminding us of the similarities which run through many of the world's origin stories.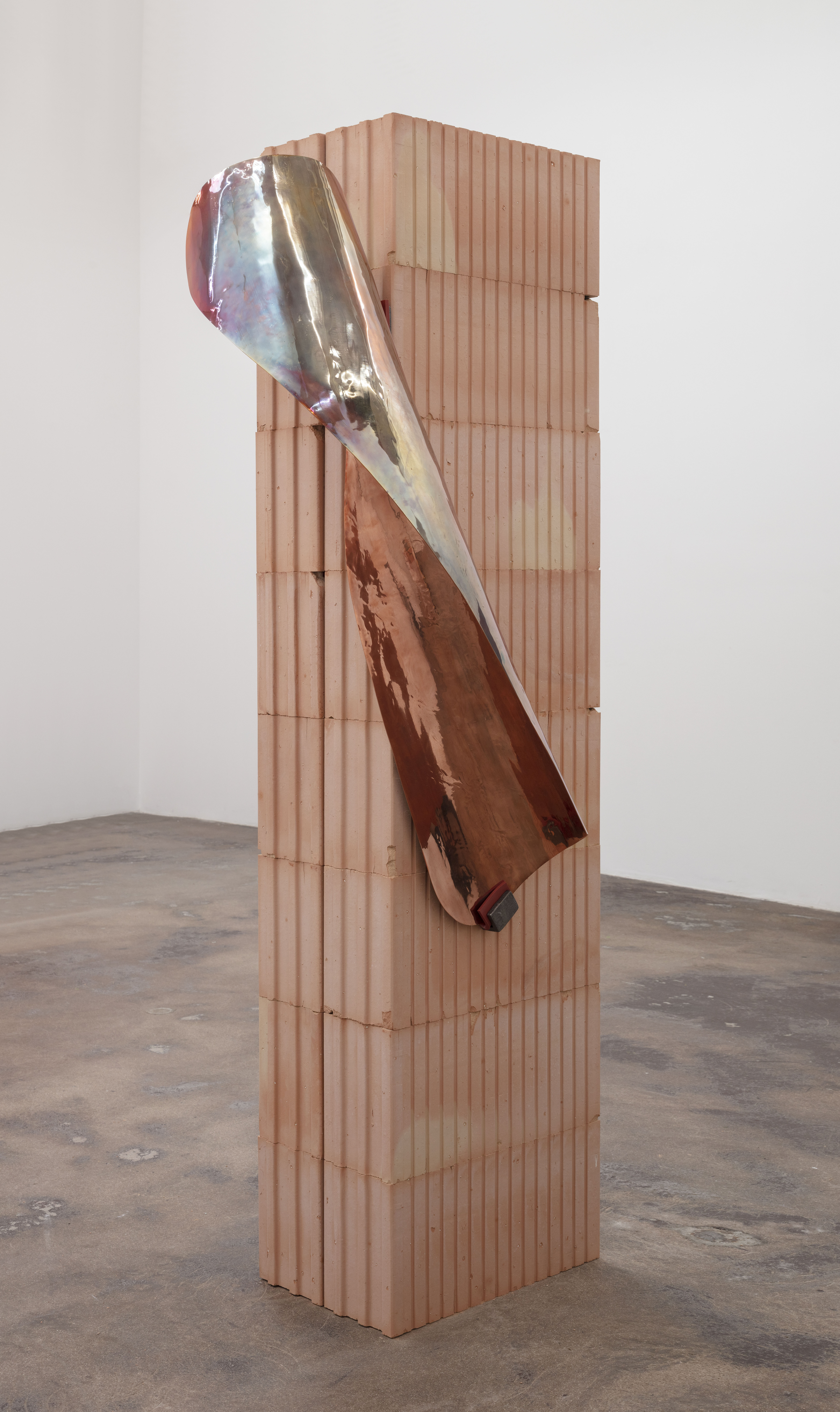 Marie Lund
drift (2020)
Clay, copper, rubber and iron
200 x 90 x 61 cm
Unique
Marie Lund's practice poetically exposes imprints and reactionary forces as she explores the place and moment of intersection where different objects meet the external world. Working between sculpture and installation, Lund uses a variety of materials such as textiles, found objects, cement, wood, copper and other natural materials.
Lund thoughtfully manipulates these elements, as the physical traces of her process are left visible for us to find in the forms she creates. Leading us down a path of new experiences and new perceptions, she draws out the sublime from the ordinary. In so doing, Marie Lund's works have a distinctly atmospheric quality about them, as if the dichotomies between form and content, internal and external, the body and the material, which are explored in her work can be felt throughout the space. It is within this tangible feeling that Lund invites us to explore, showing us a world which has the sensation of being, at the same time, both familiar and unexpected.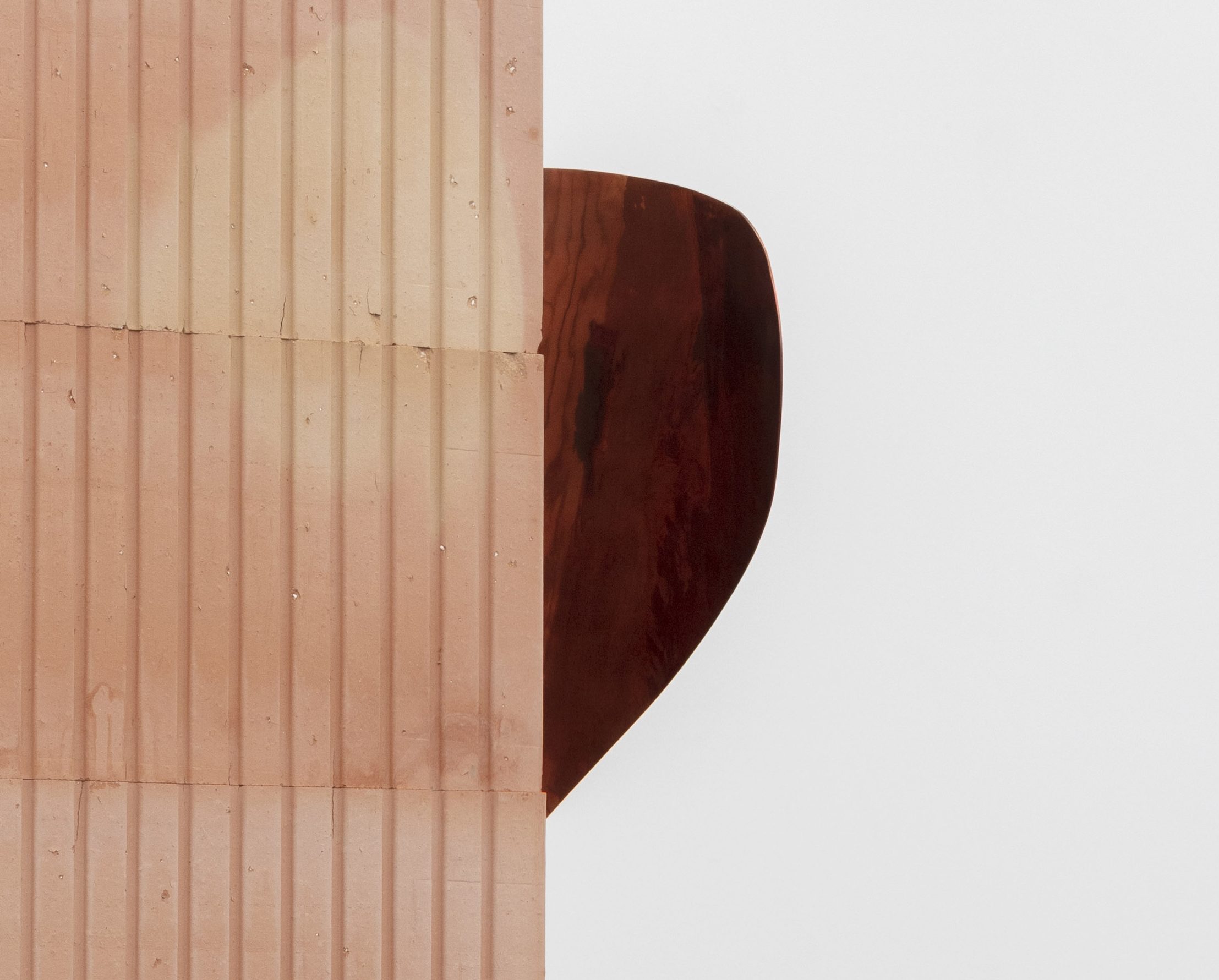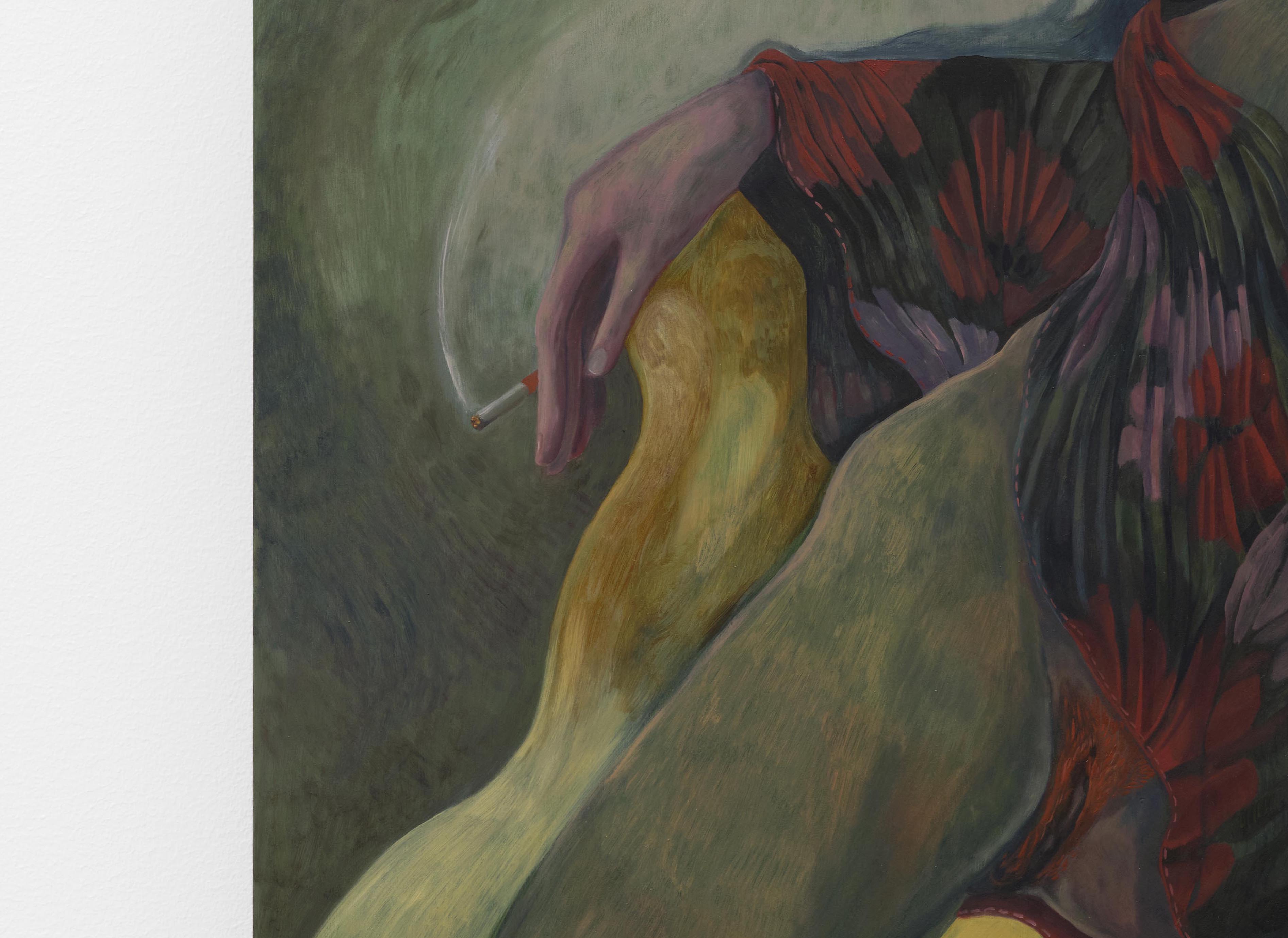 Eva Helene Pade
Untitled (2021)
Acrylic and oil on wooden panel
120 x 80 cm
Unique
Eva Helene Pade's work explores the emotions and intensity of human relationships. Working primarily within the medium of painting, people mingle from canvas to canvas. Absorbed in conversation, dancing, exchanging, being intimate—relationships unfold and deepen in timeless environments that could equally be nightclubs, bedrooms or romantic gardens.
Pade's focus on the complexity of interrelationships inds its roots in a tradition of painting that includes expressionist masters such as Otto Dix and Edvard Munch. This also extends to our own position as viewer, which shifts and is used in different ways within the work. In some paintings, it's as if we are invited to join in, encouraged to become part of a narrative that started before our arrival and will continue on once f we leave. In other works, it feels as if we are strictly made to be an observer or voyeur allowed to look in from the outside or as if you were never intended to see it at all—as if you opened a door at a party and accidentally walked in on something private. Inversely, some works feel as if these roles are swapped and that it is the people in the paintings who are in fact observing us, peering into our own lives.