Art Basel | 2022
June 16 - 19 | 2022
Galleri Nicolai Wallner is pleased to present our booth for this edition of Art Basel. The gallery is focusing on works by Alexander Tovborg, Eva Helene Pade, Jeppe Hein, Jesper Just, J.G.Arvidsson, Jose Dávila, Julie Lænkholm and Kinga Bartis.
This series of paintings by Jose Dávila elegantly plays with our existing visual vocabulary and references from the modernist and contemporary world of art. Predominantly circular paintings from the 1910s, 20s and 70s—including the likes of Hilma af Klint, Francis Picabia, Bridget Riley, Sol LeWitt and Frank Stella among others—dance across the canvas.
Working almost like a language in itself, these iconic works are shown in various forms, building towards something. Some are depicted in part or nearly in full, while others are depicted with layers or colours removed, leaving only outlines and selected details. Scale is also at play, as the works come back in iteration throughout the series and sometimes even within the same painting. The resulting imagery feels both intense and open, charged with energy.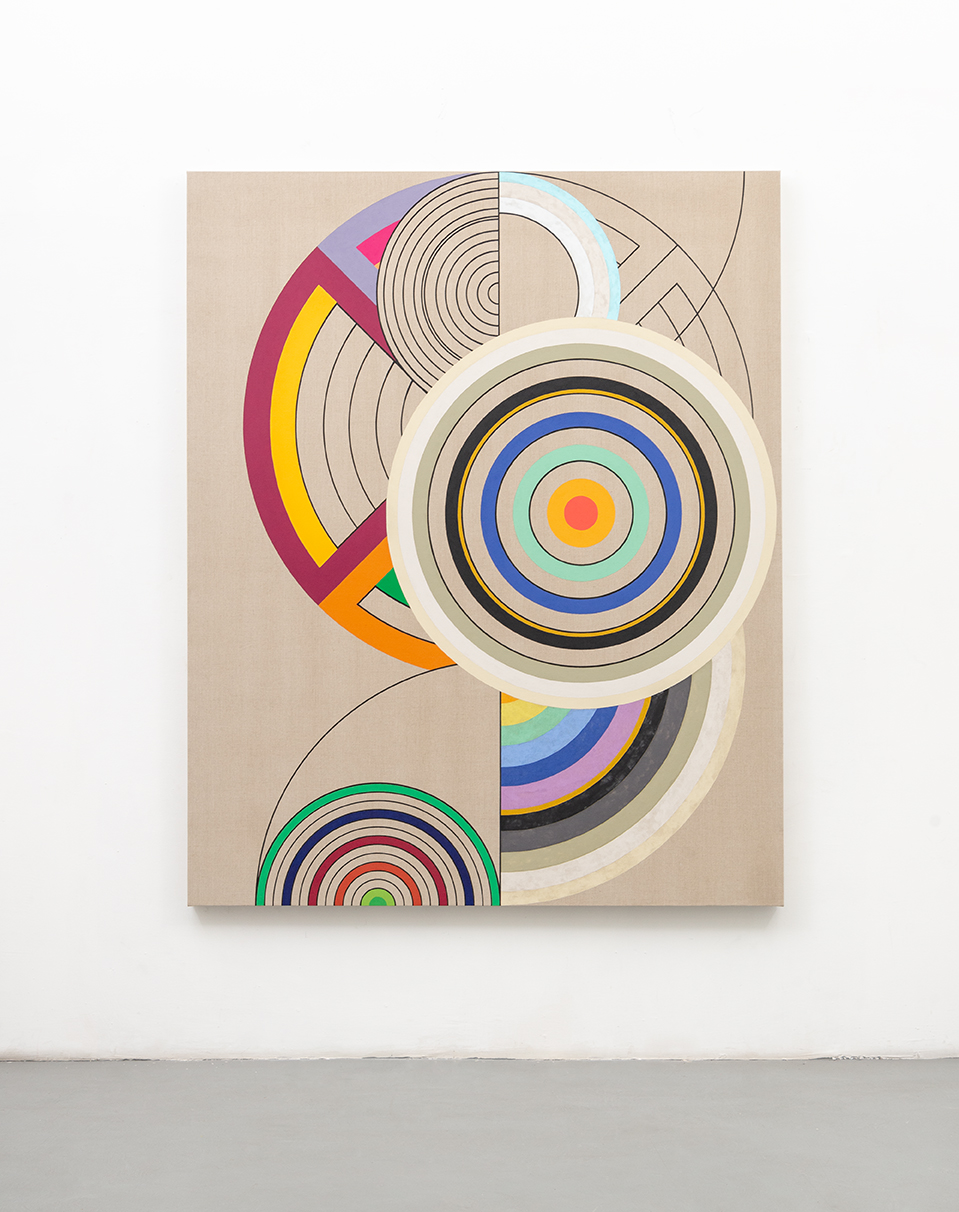 Jose Dávila
The fact of constantly returning to the same point or situation (2022)
Silkscreen print and vinyl paint on loomstate linen
210 x 170 x 6 cm
83 x 67 x 2.4 in
Unique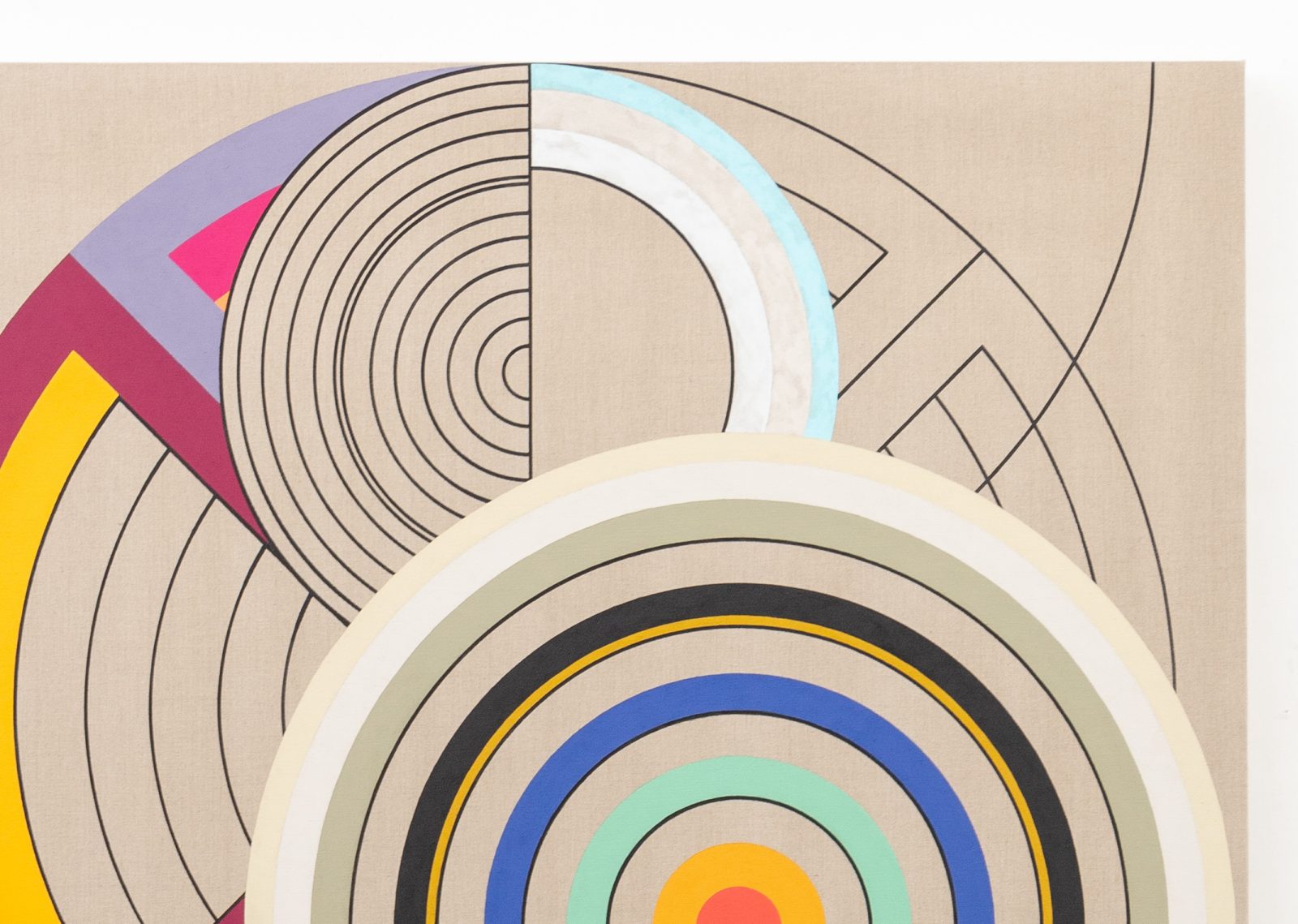 In recent years, Tovborg's imagery has shifted focus towards his family life. Portraits of his partner and their family are painted in repetition, revealing beautiful yet subtle differences. The works evoke an intimacy and tenderness associated with knowing someone over longer periods of time, acknowledging the almost imperceptible changes that happen in each of us from moment to moment.
Tovborg's use of the symbol of the sunflower is a nod to its potential therapeutic properties, and plays into the flower's presence throughout art history as a symbol of light, of sun, and of power.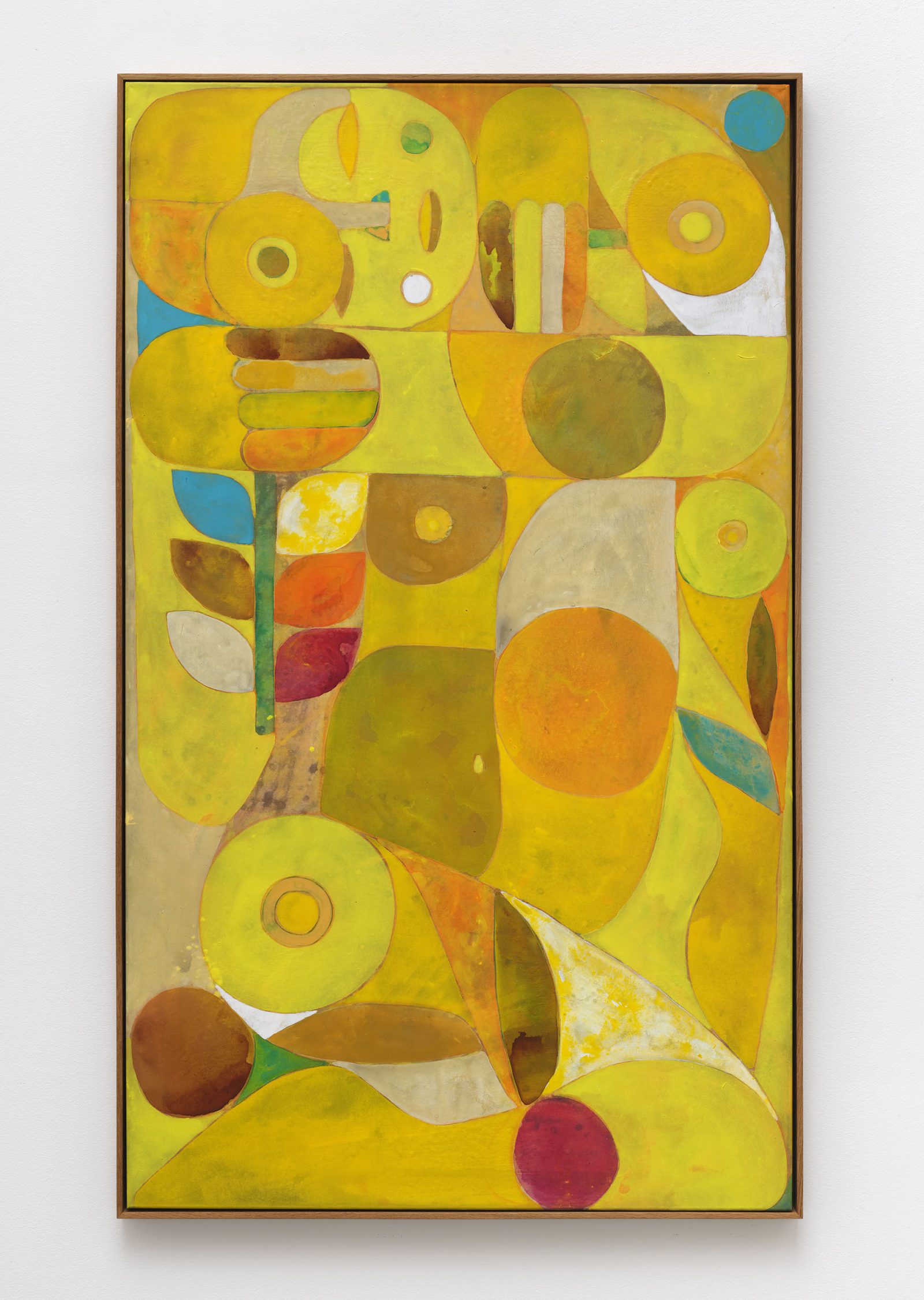 Alexander Tovborg
madonna with sunflowers in summer garden (2022)
Acrylic on canvas
170 x 110 cm
67 x 43 in
Unique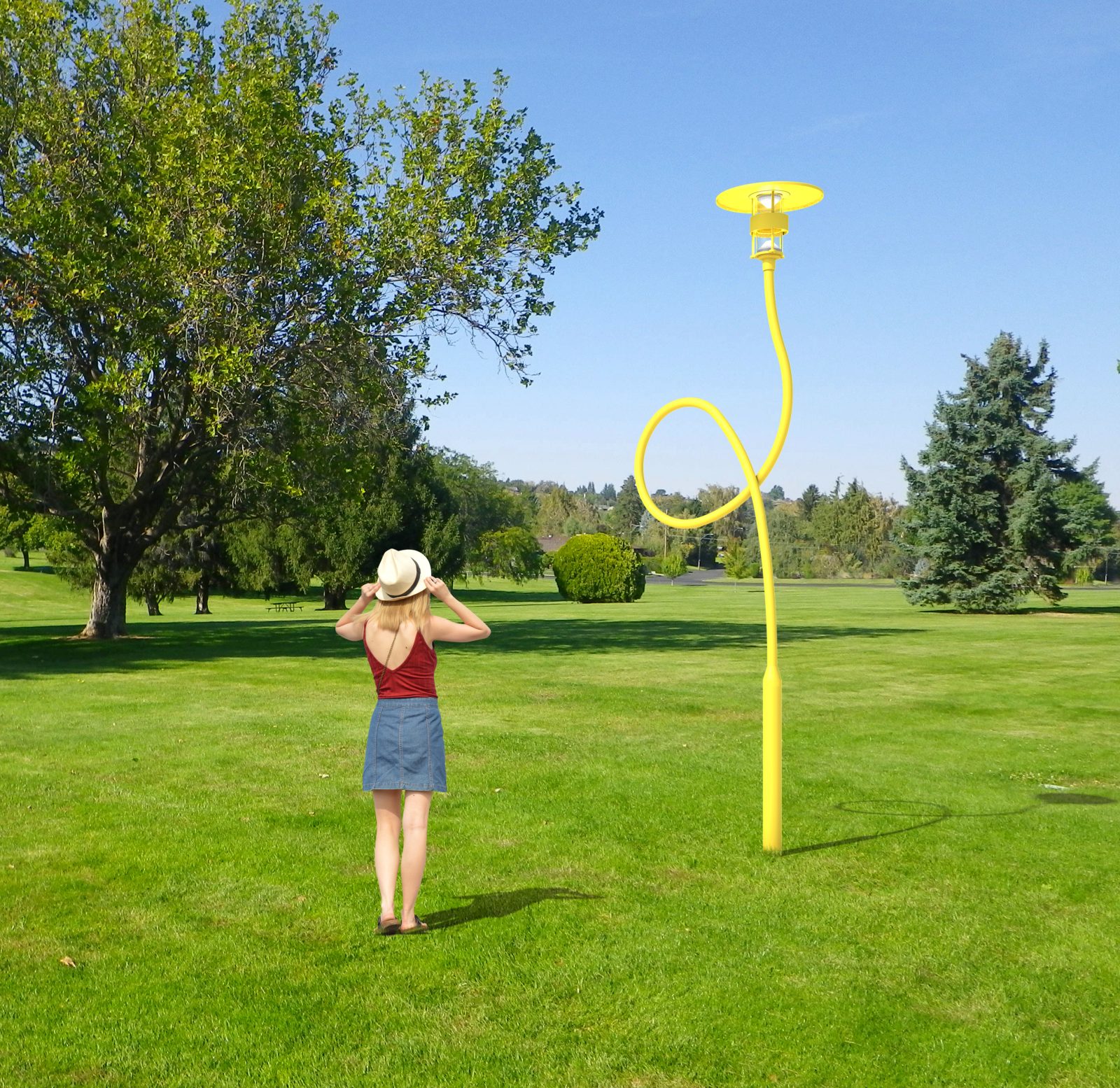 Jeppe Hein
Modified Street Light #03 (2021)
High grade steel, powder-coated lamp head, LED
417 x 137 x 110 cm
166 x 32 x 43 in
Edition of 3 (+2 AP)
Creating a playful yet subtle take on the street lights we are all accustomed to, Jeppe Hein's Modified Street Light series consists of elongated, tilting, winding, rapidly rising or falling poles with wide arches, sharp bends or small loops, creating inviting and interactive forms. Moving beyond the assumed function of providing light, the works' modified forms open up a dialogue through which the work's environment and those who use and inhabit this environment become an integral part of the work.
By interacting with these works, we are encouraged to reevaluate themes of functionality and purposes, as the works' playfulness gives the idea of a "guiding light" another more metaphorical interpretation. As we shift our bodies to appreciate the works' unexpected shapes, we are given the space to shift our consciousness and emotional landscape.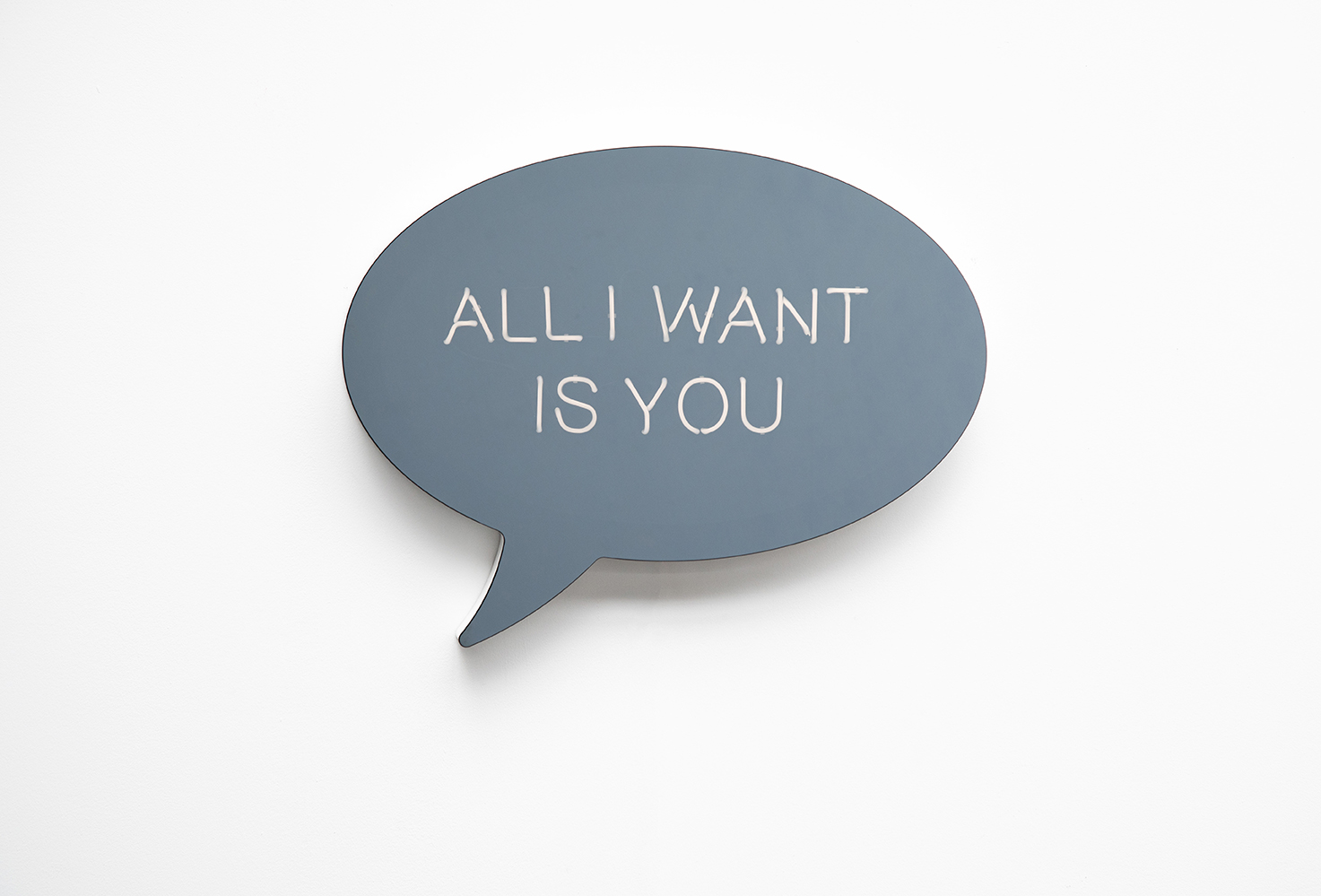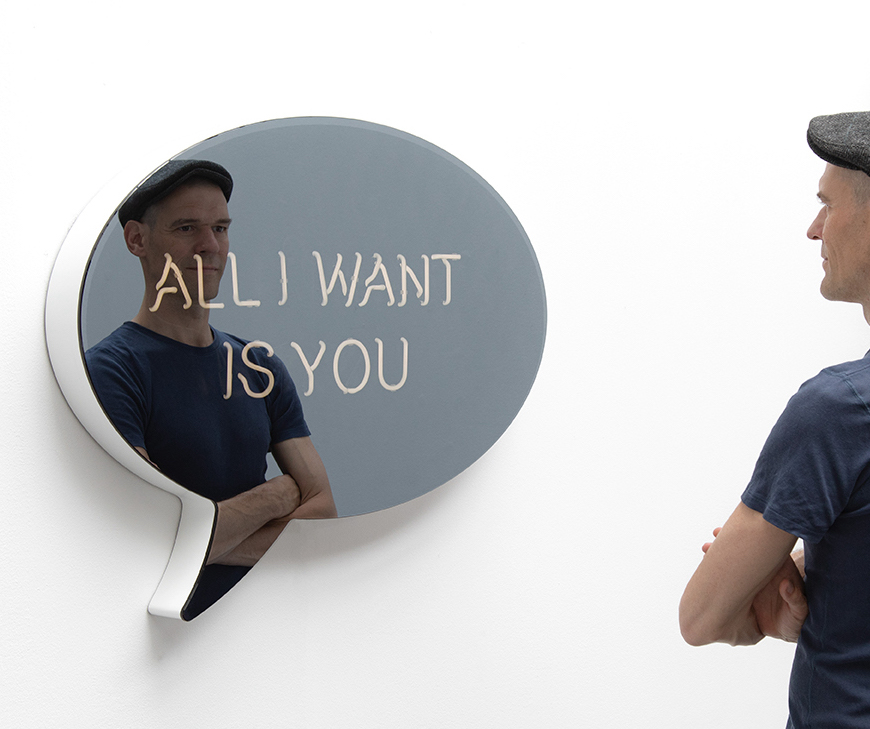 Jeppe Hein
ALL I WANT IS YOU (speech bubble) (2021)
Powder-coated aluminium, neon tubes, two-way mirror, powder-coated steel, transformers
69 x 90 x 7 cm
27 x 35.5 x 2.8 in
Edition of 3 (+2 AP)
Sentimental and thought-provoking statements are written in neon writing in Jeppe Hein's ongoing series. The neon is cleverly placed between two-way mirror, creating a subtle yet elegant effect as the text becomes superimposed over the viewer's reflection.
The phrase "All I want is you" thus becomes both personal and universal, shifting to each situation and person that stands before the work, shifting to match your mood, thoughts and feelings in that very specific moment.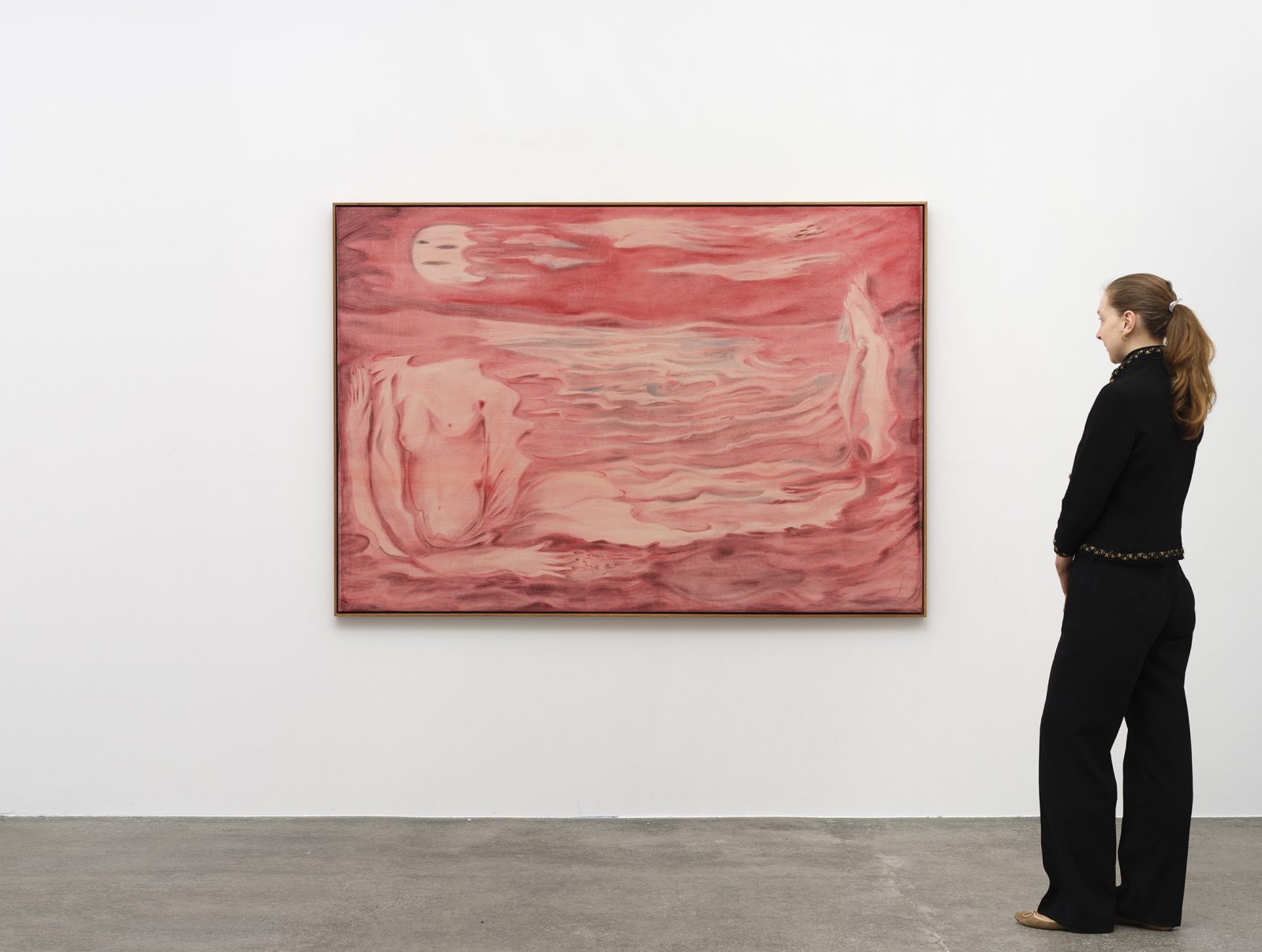 Combining graphite, pigment, paint and other media, Kinga Bartis' works often transcend what we understand as painting. With Moonburn and the afterglow, this effect and its resulting feelings stand at the forefront.
A body drifts in what might be water, reclining with its legs up on one side and torso on the other. Almost merged with its surroundings, it oozes, becomes a bit blurry. The work's title refers to a physical phenomena, but one cannot help but feel a metaphorical or emotional connection to the title as well, almost as if we're left in the middle of the repercussions of something or someone.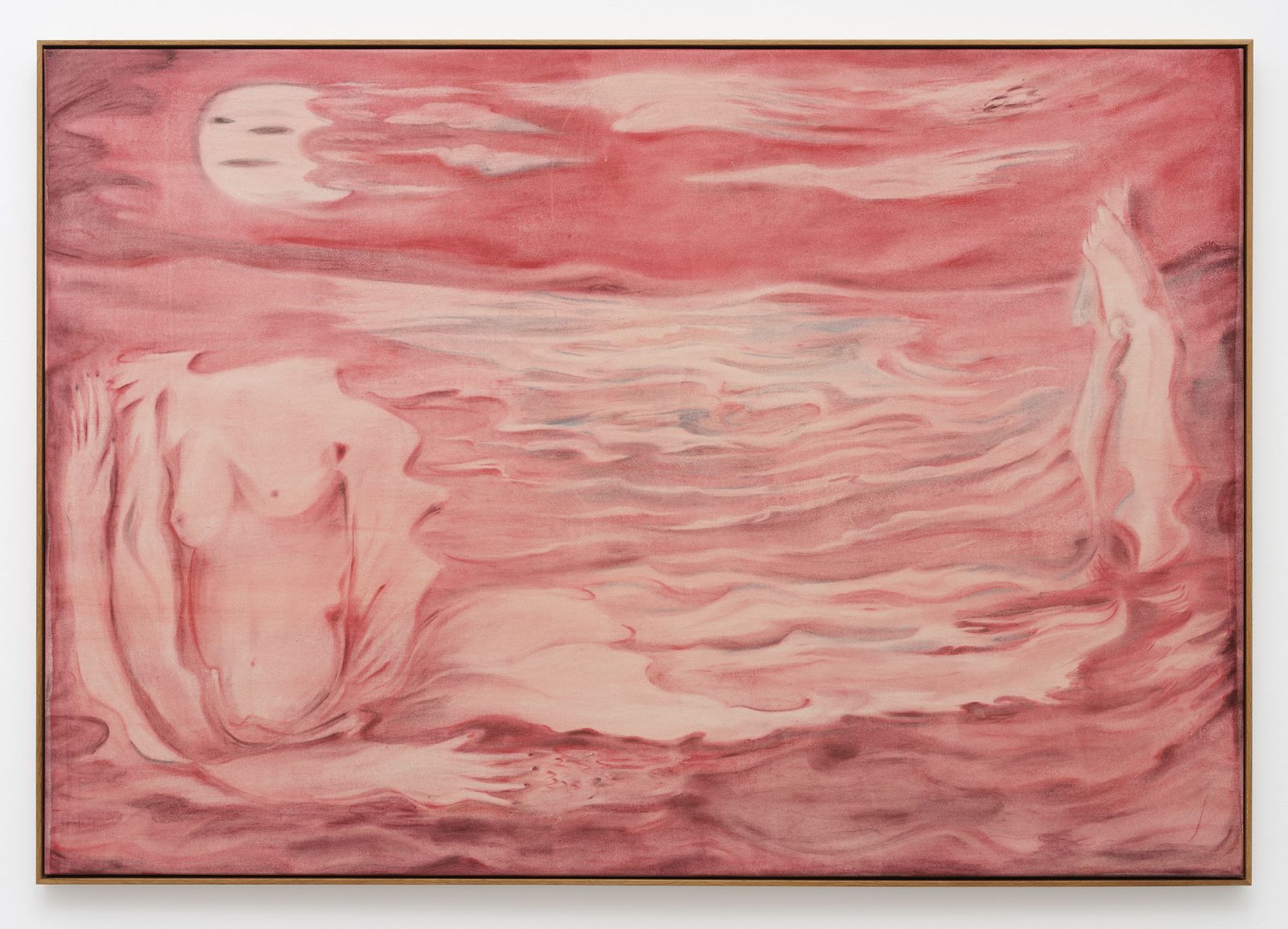 Kinga Bartis
Moonburn and the afterglow (2022)
Mixed media
141 x 203 x 6 cm
55.5 x 80 x 2.4 in
Unique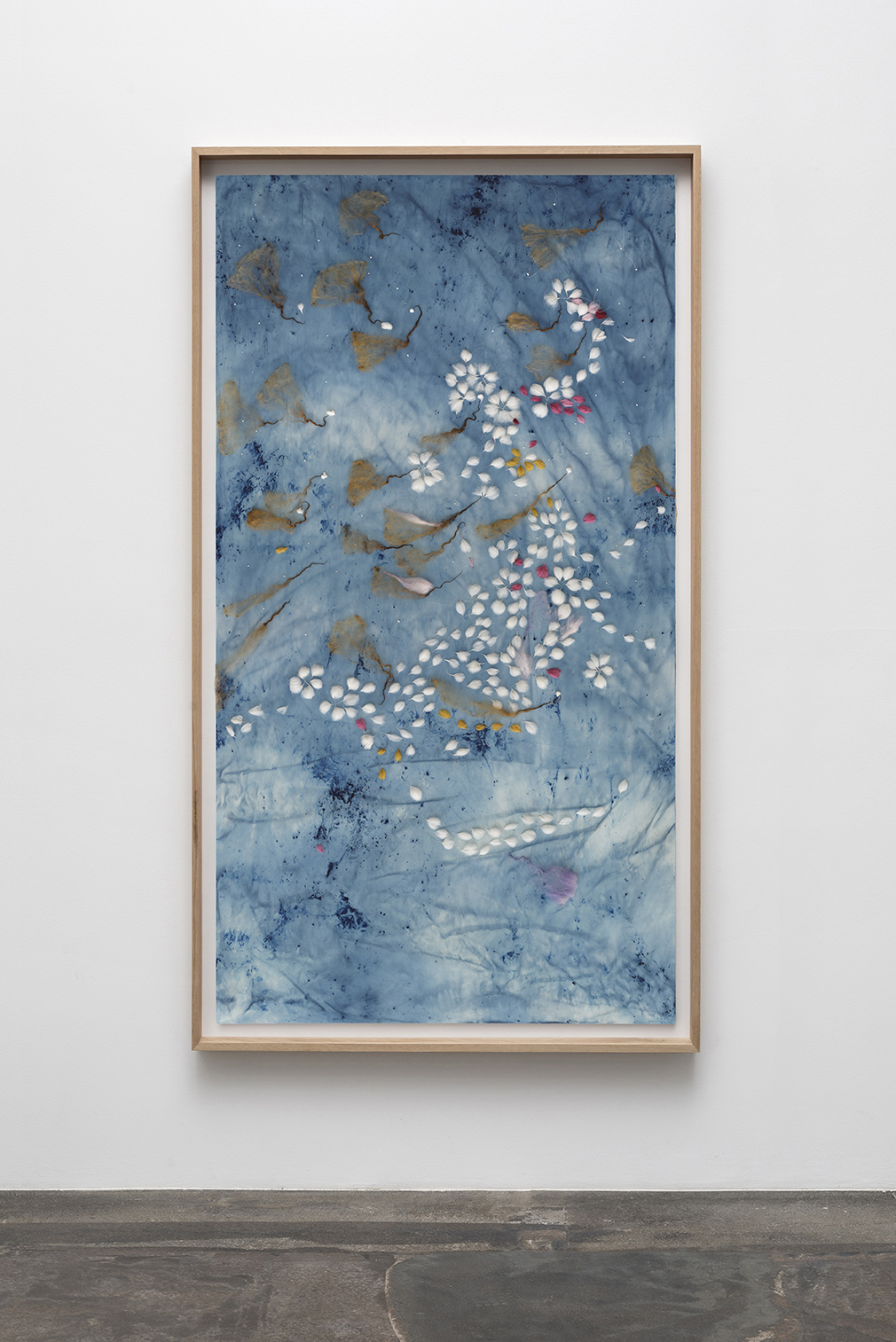 Julie Lænkholm
Untitled (2022)
Natural dyed wool on silk
224 x 120 cm
88 x 47 in
Unique
With latest series of works, Lænkholm reiterates her practice's link with the natural world. Through her process, Lænkholm's environment has become intertwined with the works themselves. Fabrics have been dyed in the ocean at sunset, while other fabrics have been wrapped around trees, leaving marks and imprints from this physical manipulation.
The result of which is not only the visible traces that you can see on the works created through these techniques and the natural elements that become a part of the work, but the more metaphysical properties that are transferred—the feeling of the sun setting and its unique light, the magical presence of trees, etc.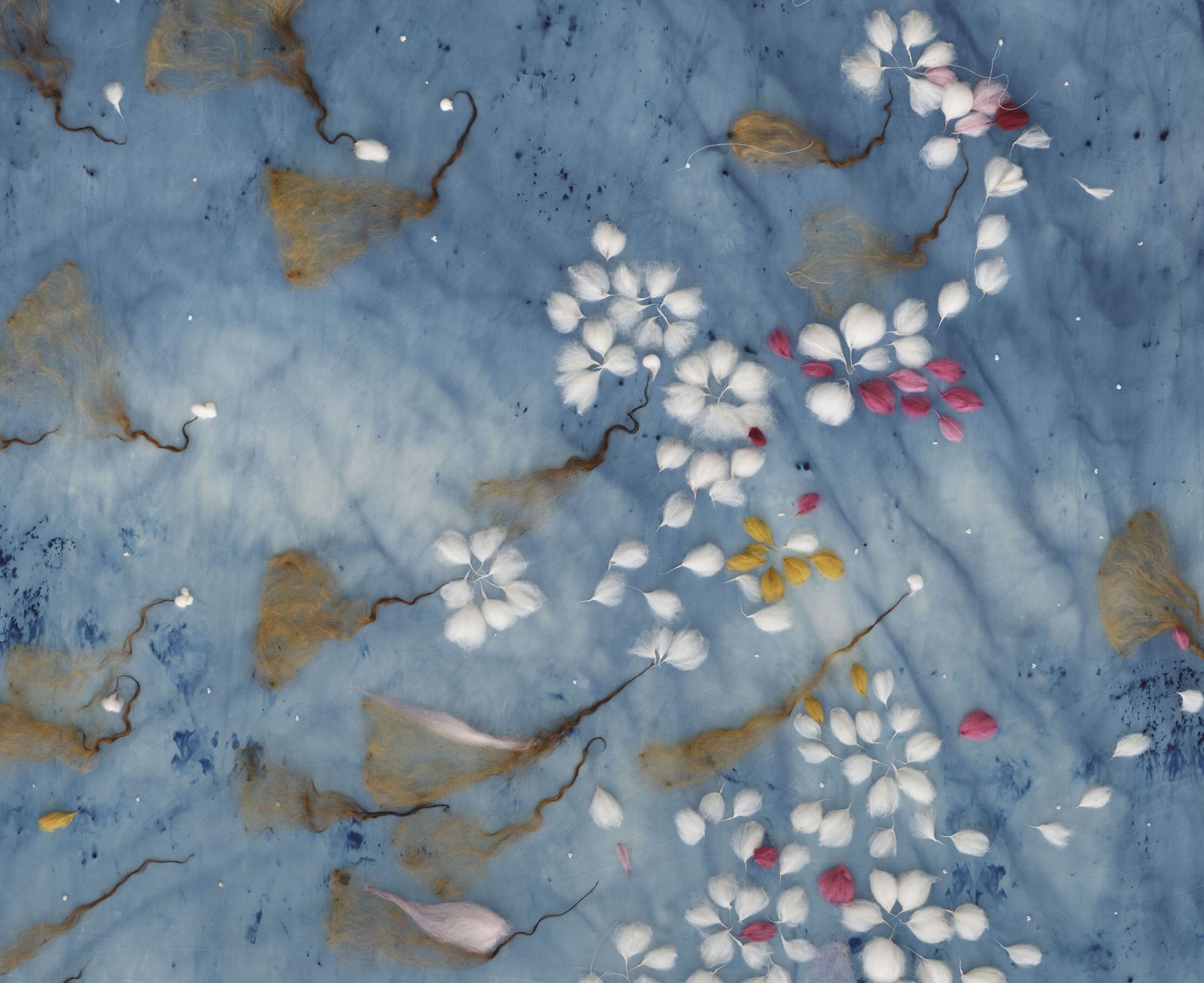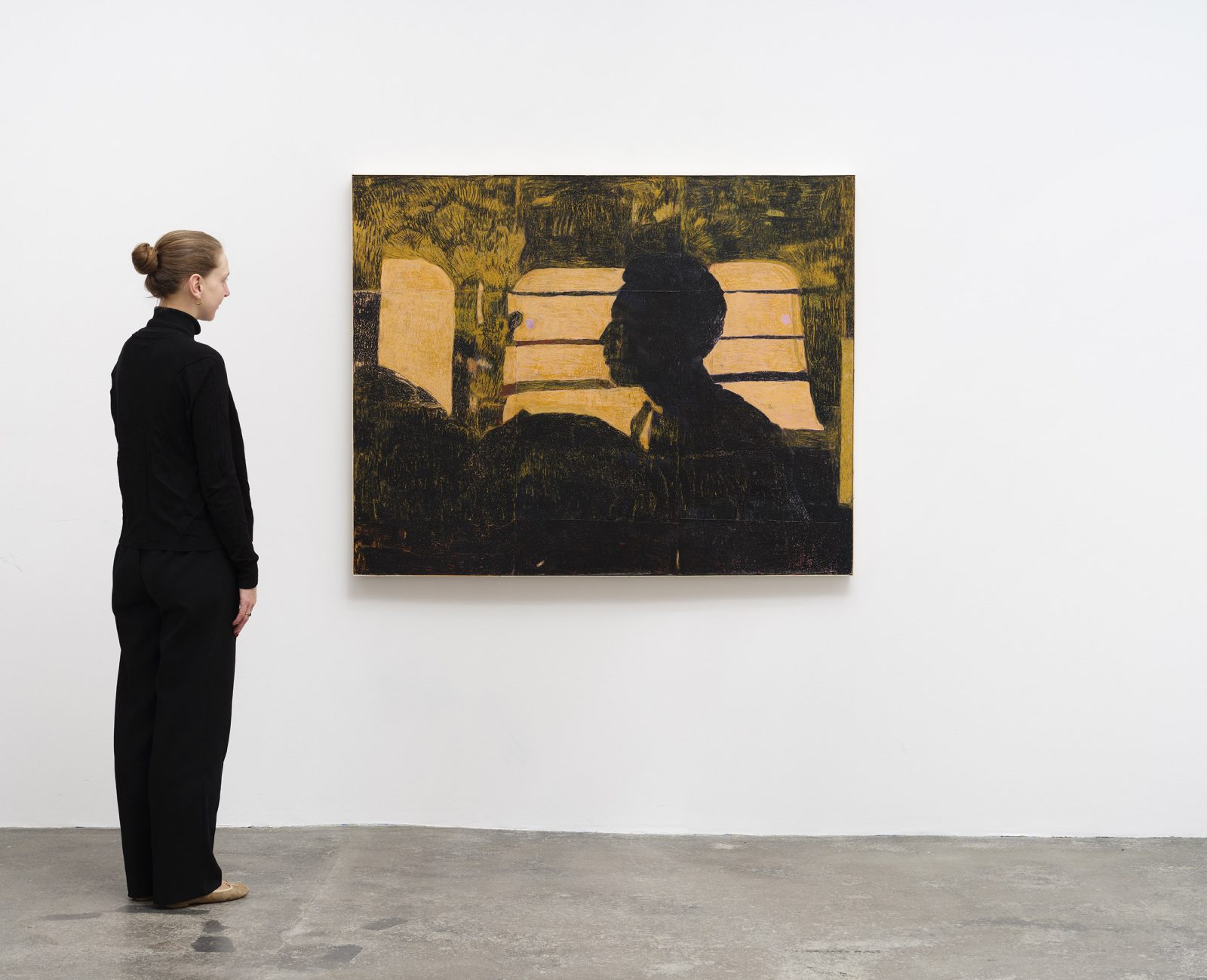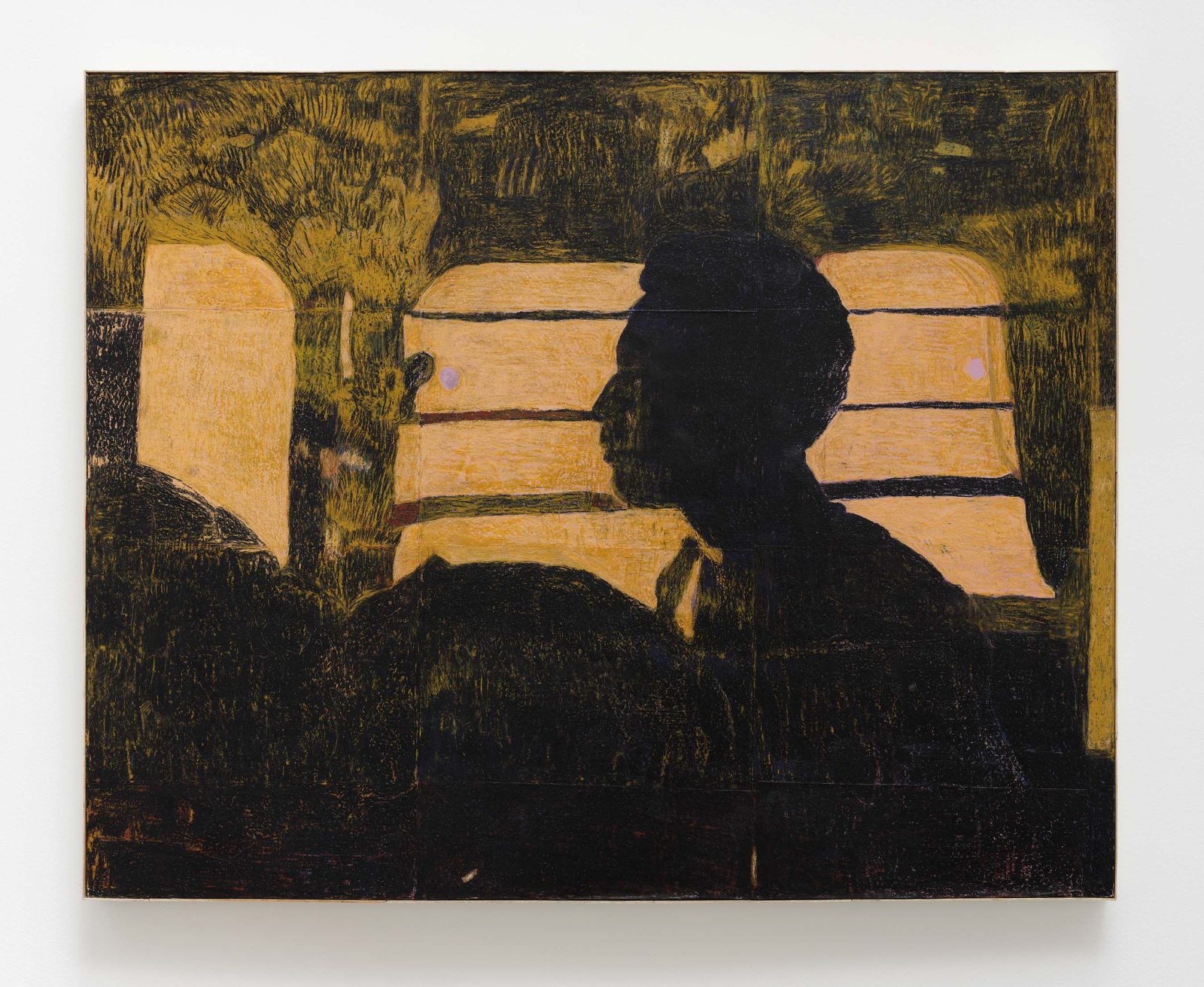 J.G.Arvidsson
Far Ahead (2022)
Oil stick and oil paint on carved wooden plates
152 x 122 x 6 cm
60 x 48 x 2.4 in
Unique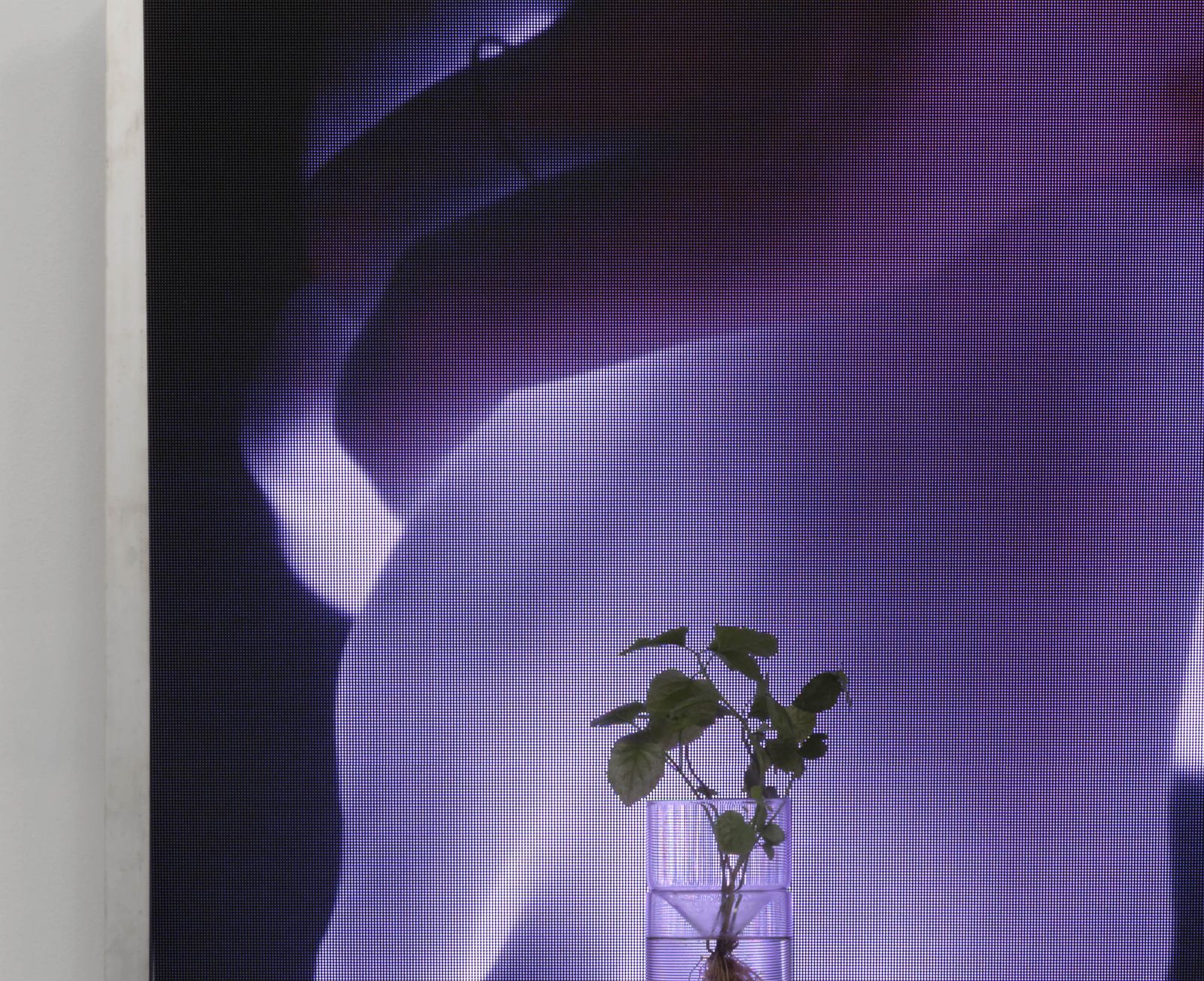 Jesper Just
SEMINARIUM #7 (2022)
LED panels, aluminium structures, brightsign media player, glass vase, aluminium podium
150 x 100 x 80 cm
59 x 37 x 31.5 in
Edition of 2 (+1 AP)
Parts of a body are shown on film, moving, slowly pulsating in an electrifying violet light that emanates from a section of LED screen. The screen itself has been reworked to function as part of a hydroponic cultivation system which enables a plant placed in front of it to grow in water, fed only by the light emitting from the film playing on the LED screen. This intersection between technology, nature, intention and modification produces a visceral feeling as the installation grows and evolves over time.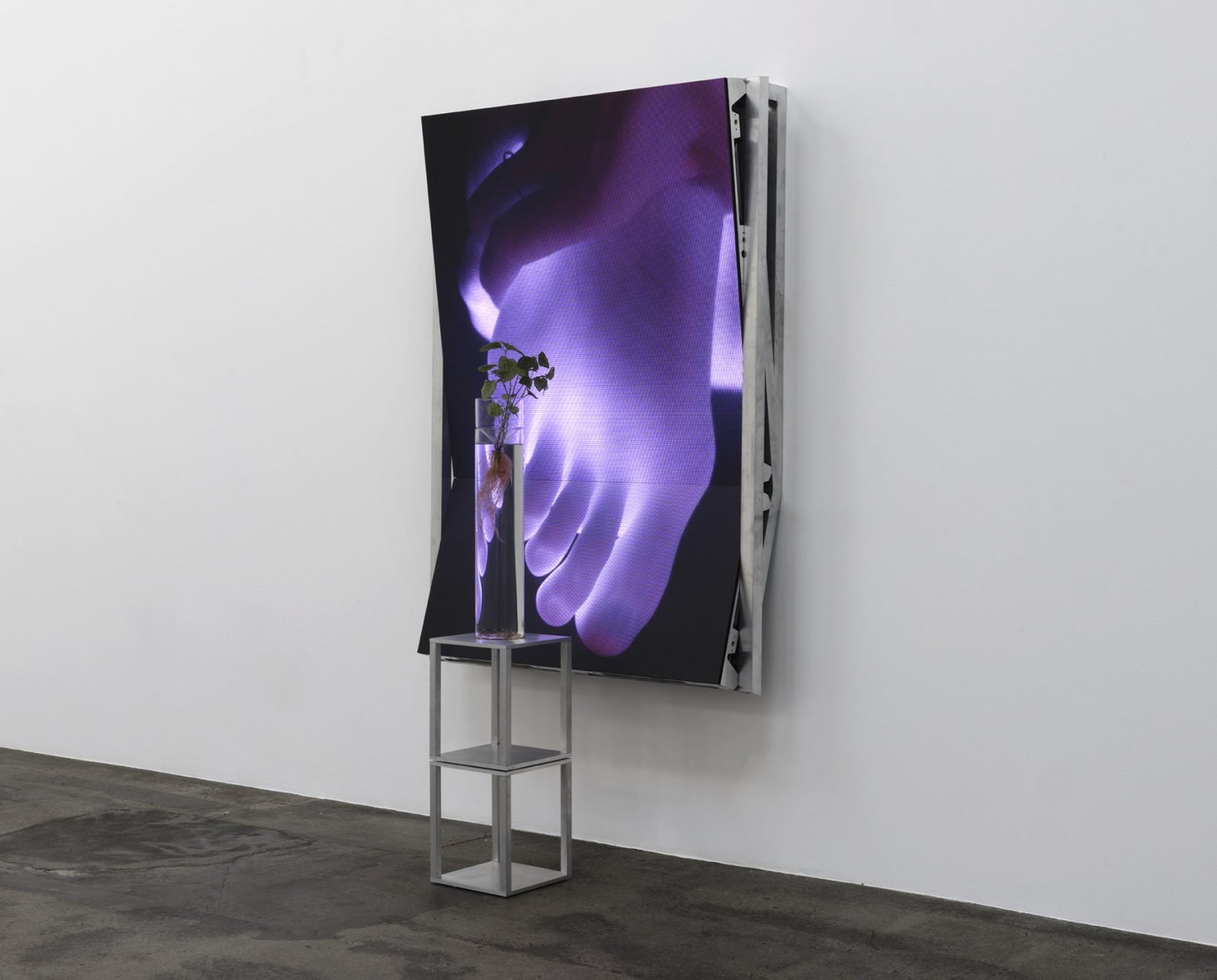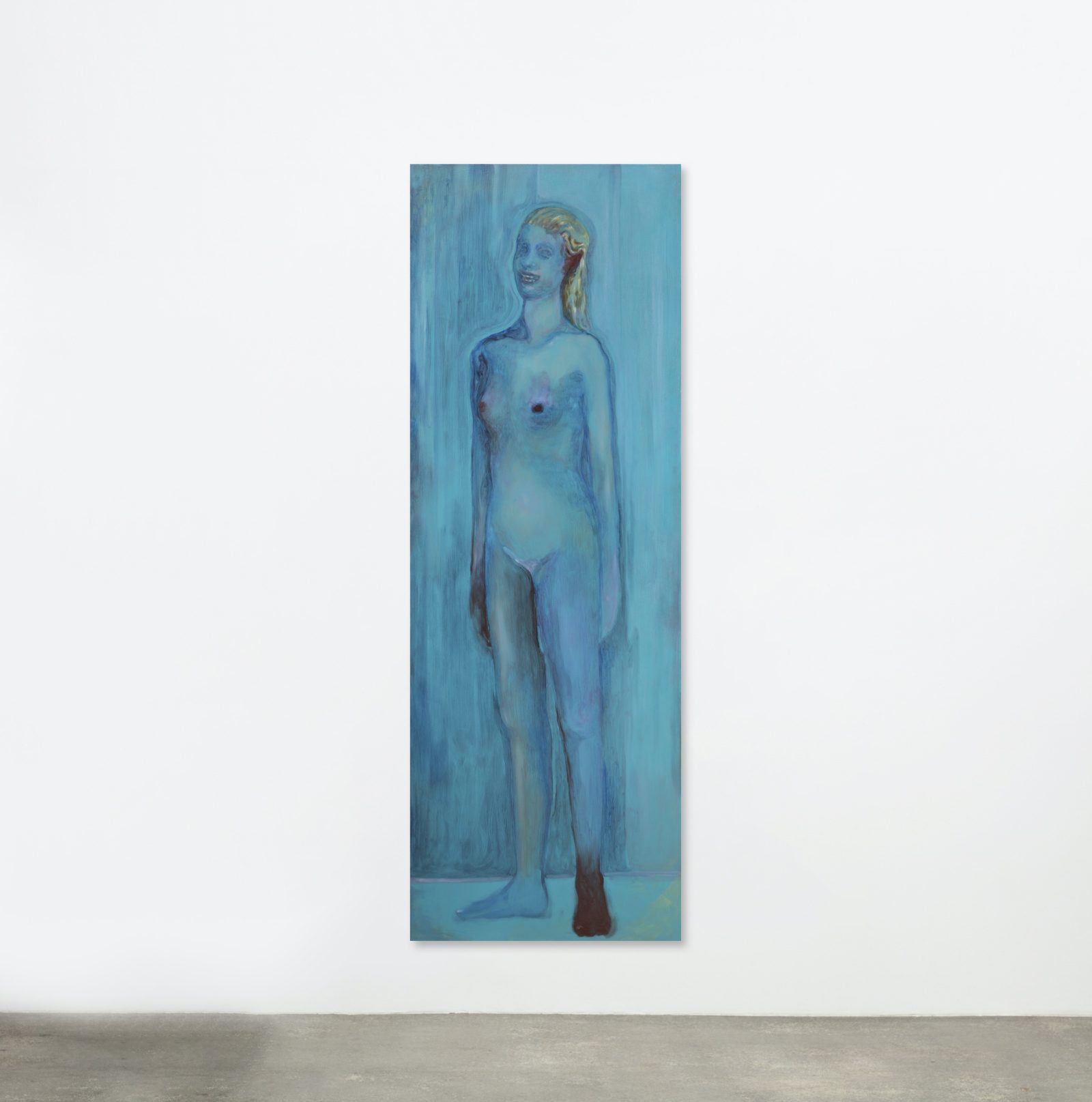 Eva Helene Pade's work explores thematics of the female nude. A woman stands alone. She leans slightly forward, her arms are by her side as she grins at us from the canvas. Her smile is slightly unsettling and aloof, as her attitude is juxtaposed by her full-frontal nakedness—she simultaneously both attracts and repels.
Taking a stance outside the normal historic tradition of portraiture and female nudity in painting, Pade's woman presents us with another view point, as the woman's almost manic state echoes the absurdity surrounding her.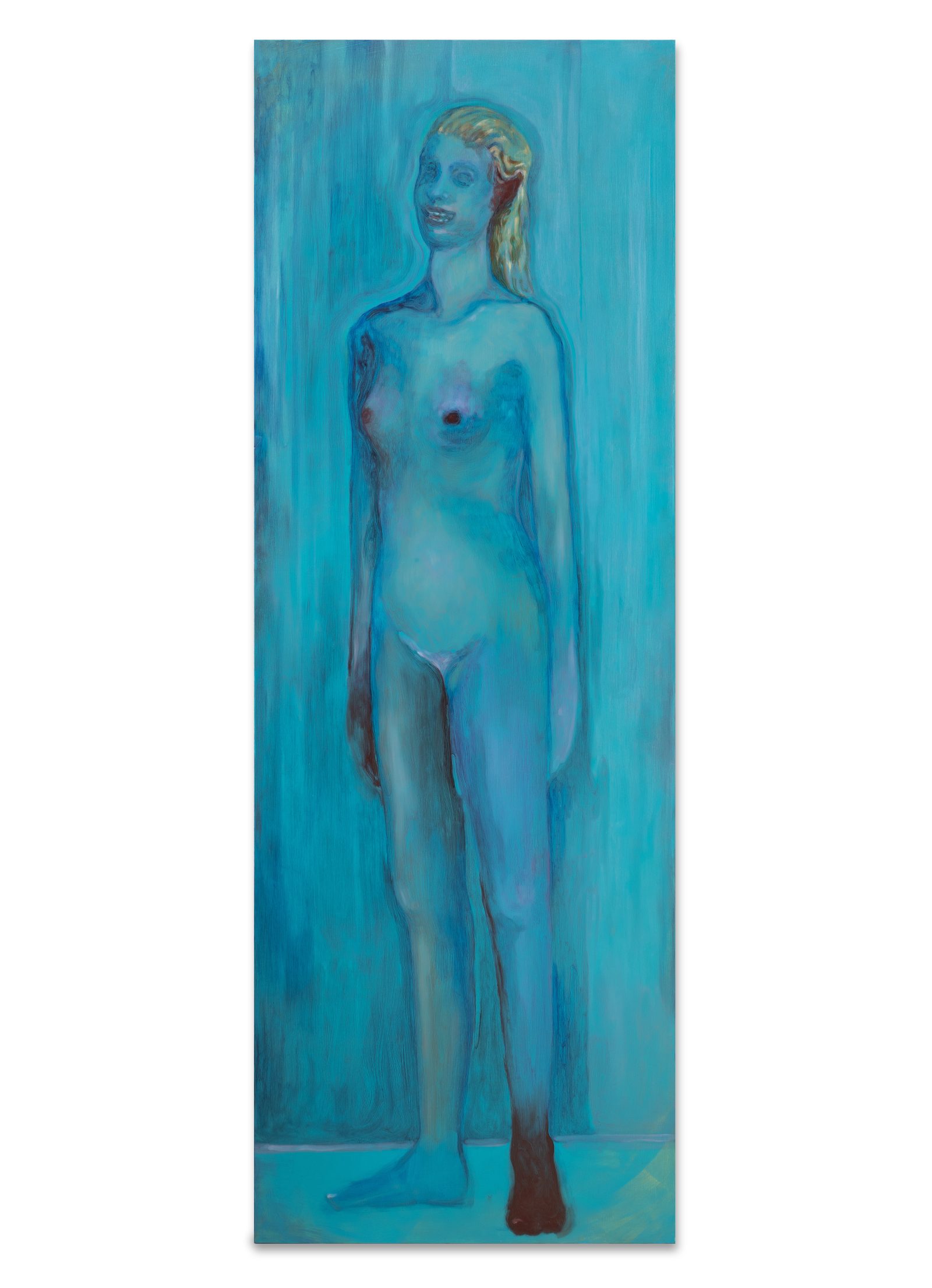 Eva Helene Pade
Untitled (2022)
Oil and acrylic on panel
200 x 70 cm
79 x 27.5 in
Unique