Art Basel OVR : Miami Beach
December 2 - 6 | 2020
For Art Basel OVR: Miami Beach, Galleri Nicolai Wallner is pleased to present a group show with new works by Cornelia Baltes, Jose Dávila and Julie Lænkholm
An exploration of painting as a medium runs throughout our presentation, reflecting how the three artists challenge its boundaries and rework it within a contemporary context. In our current suspended state, the works of Baltes, Dávila and Lænkholm engage us in a way that takes us beyond the two-dimensional. Playing with the edge of these physical limits, they amplify our experience, transporting us elsewhere, opening the door to an immersive experience.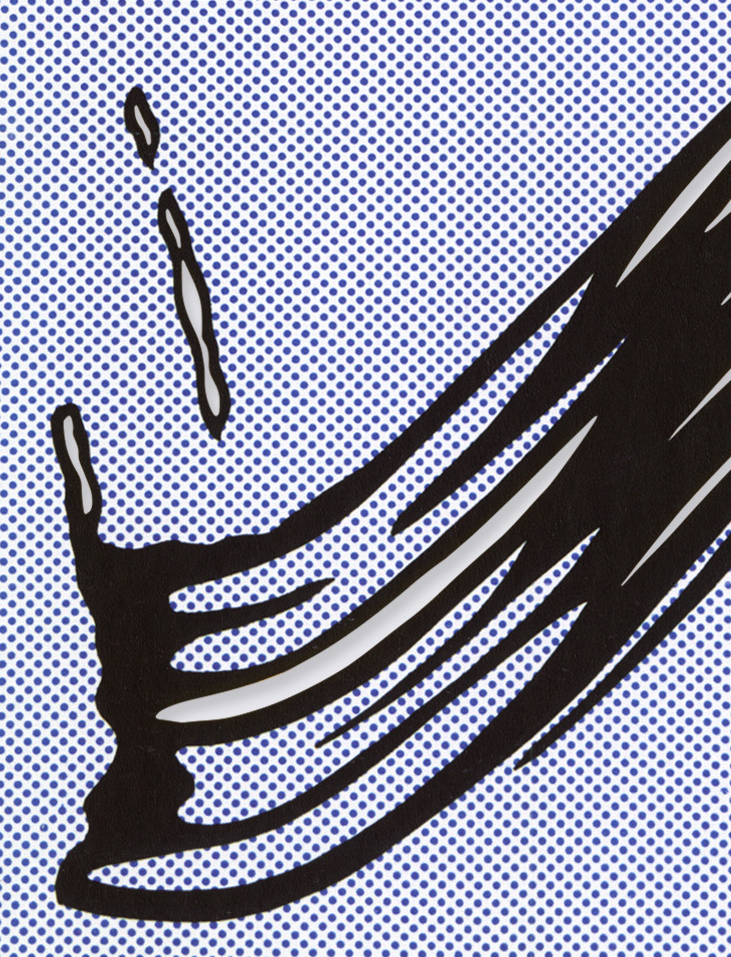 Jose Dávila
Untitled (Brushstroke) (2020)
Archival pigment print
230 x 295 x 8.5 cm
90.6 x 116.5 x 3.3 in
Edition of 4 (+1 AP)
Jose Dávila make use of materials in a way that pushes the limits of our perception. His paintings consider the canvas as a transformation ground. Combining elements from modernist tradition as well as Brazilian concrete poetry, they embrace a modular approach and create a free flow of contrasted associations between forms and words. In his cut-out, Dávila turns his attention to single works by canonic artists such as Picasso and Lichtenstein, immersing us in time and history. His works are experiments in medium, creating a kind of twilight zone between the two-dimensional and the three-dimensional, between sculpture and representation. Dichotomies begin to blur.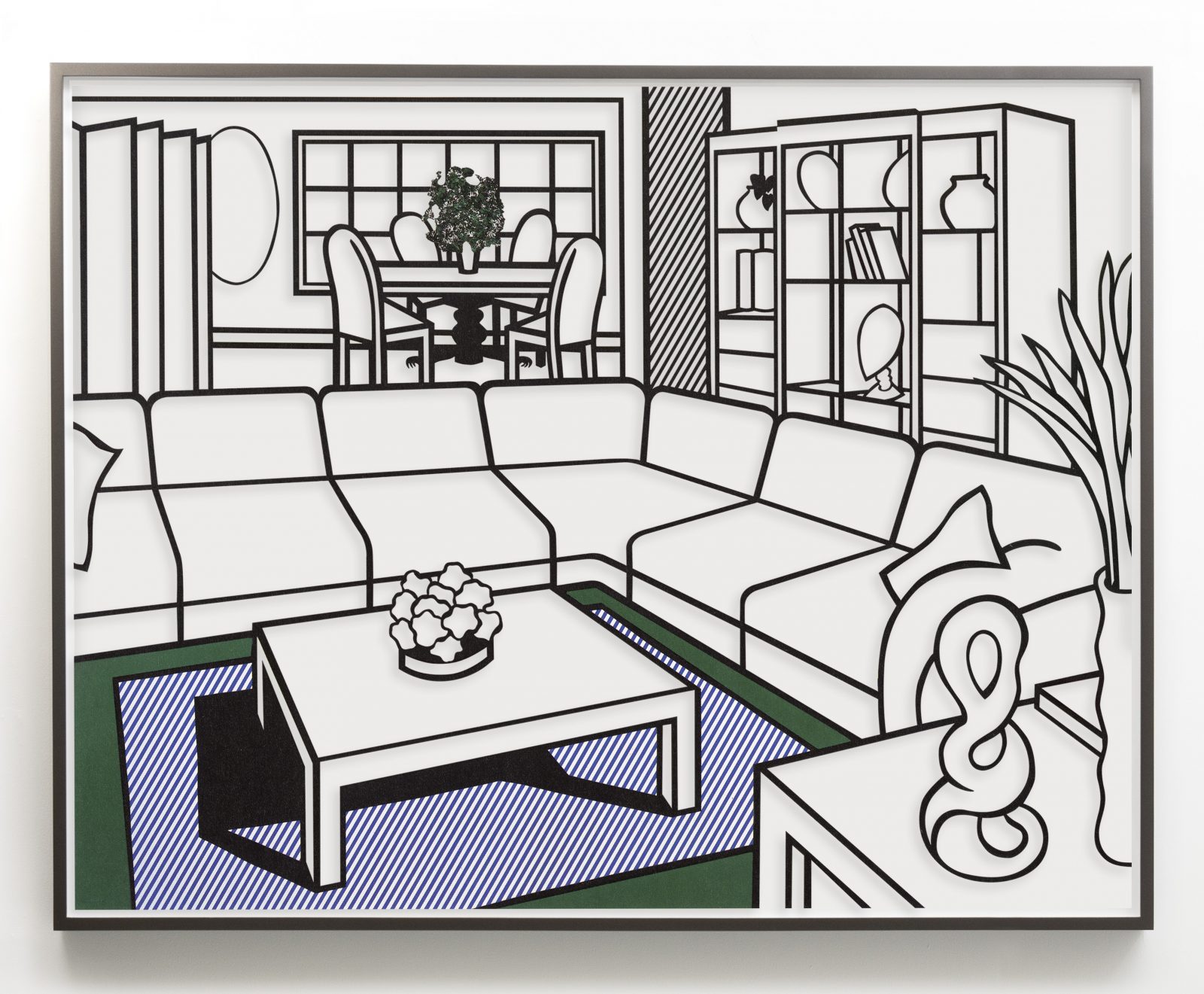 Jose Dávila
Untitled (Interior with African Mask) (2020)
Archival pigment print
156 x 198 x 8.5 cm
61.4 x 78 x 3.3 in
Edition of 4 (+1 AP)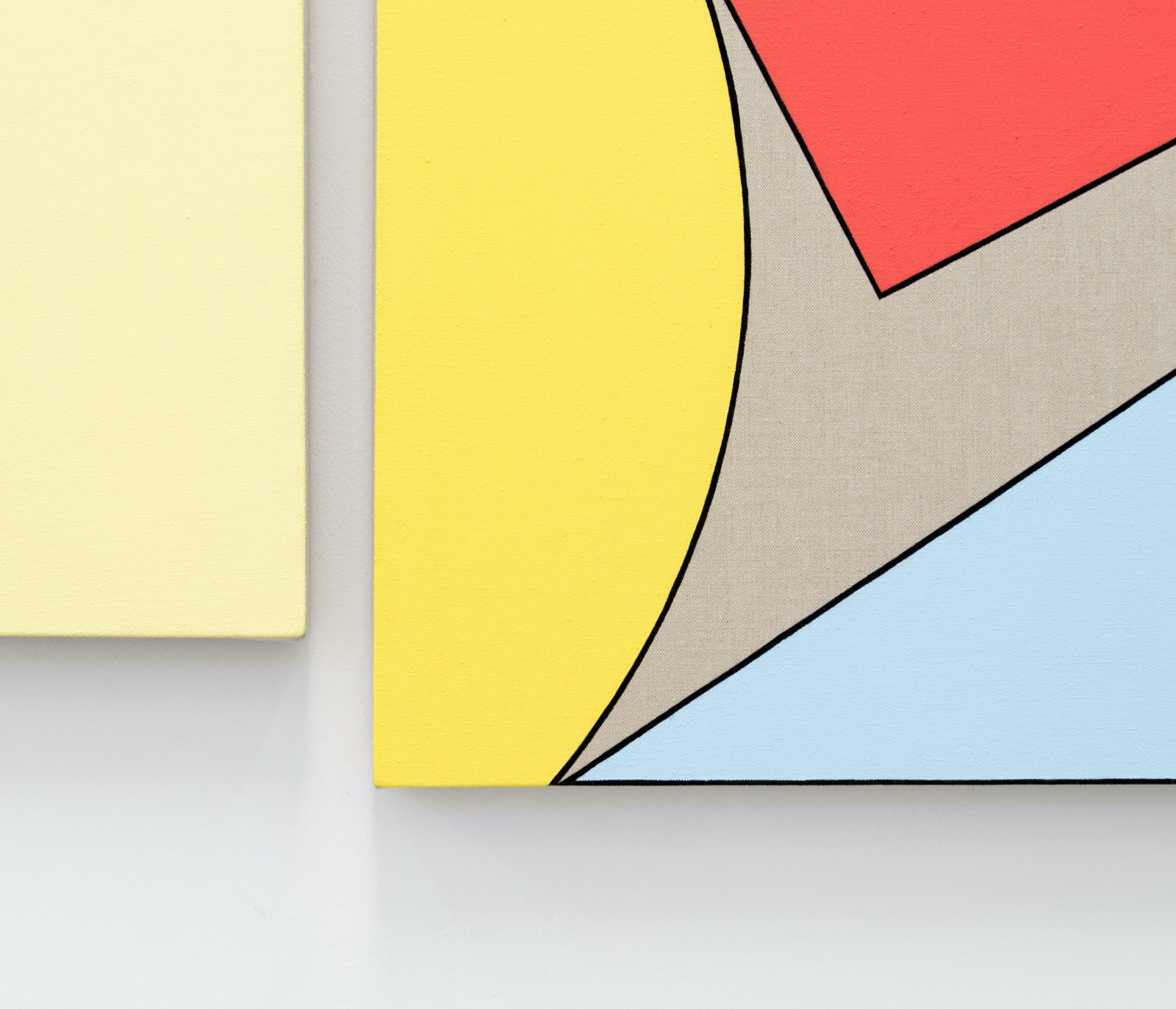 Jose Dávila
Divisions of the internal space VIII (2019)
Vinyl paint on loomstate linen
218.5 x 344 x 6 cm
85 x 135.4 x 2.4 in
Cornelia Baltes' work challenges the notion of painting as a discrete object, working beyond the rectangular frame of the canvas on a stretcher. Her paintings and murals extend from the canvas and the walls, expanding the ways in which the medium can operate as a narrative device and examine how the space functions as a stage for such stories.The imagery stands on the edge of abstraction and figuration. Bodily elements are combined with bold lines, creating shapes and more gestural forms that come together to give us a hint of this narrative without revealing it to us in full. Her precise technique and the use of highly pigmented black paint adds depth and contrasts her intense colour palate which ebbs and flows, contributing to this inherent lightness to the work while at the same time creating the feeling that it was done in the spur of the moment.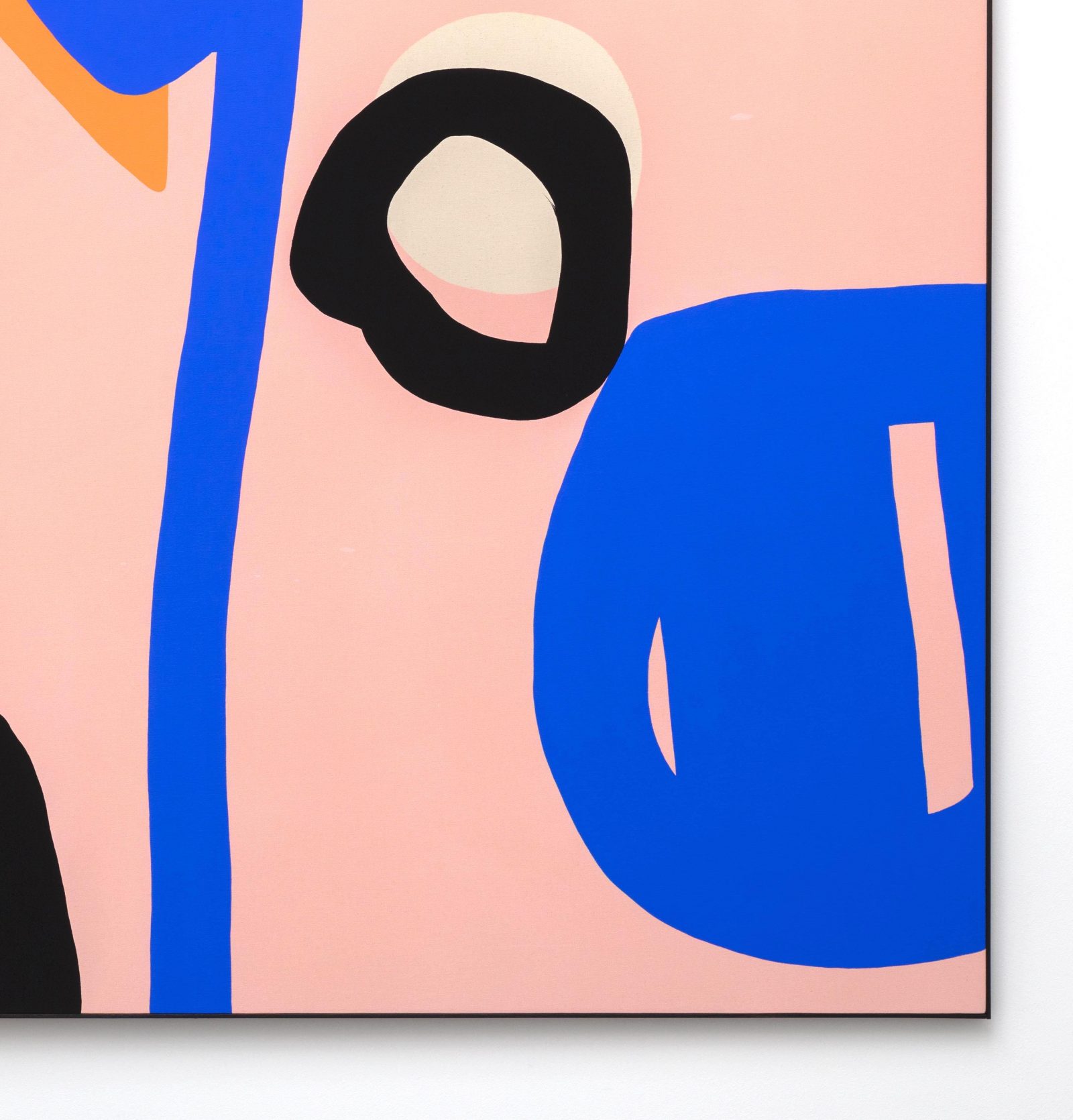 Cornelia Baltes
Loy (2020)
Acrylic on canvas
230 x 170 x 3 cm
90.5 x 67 x 1.3 in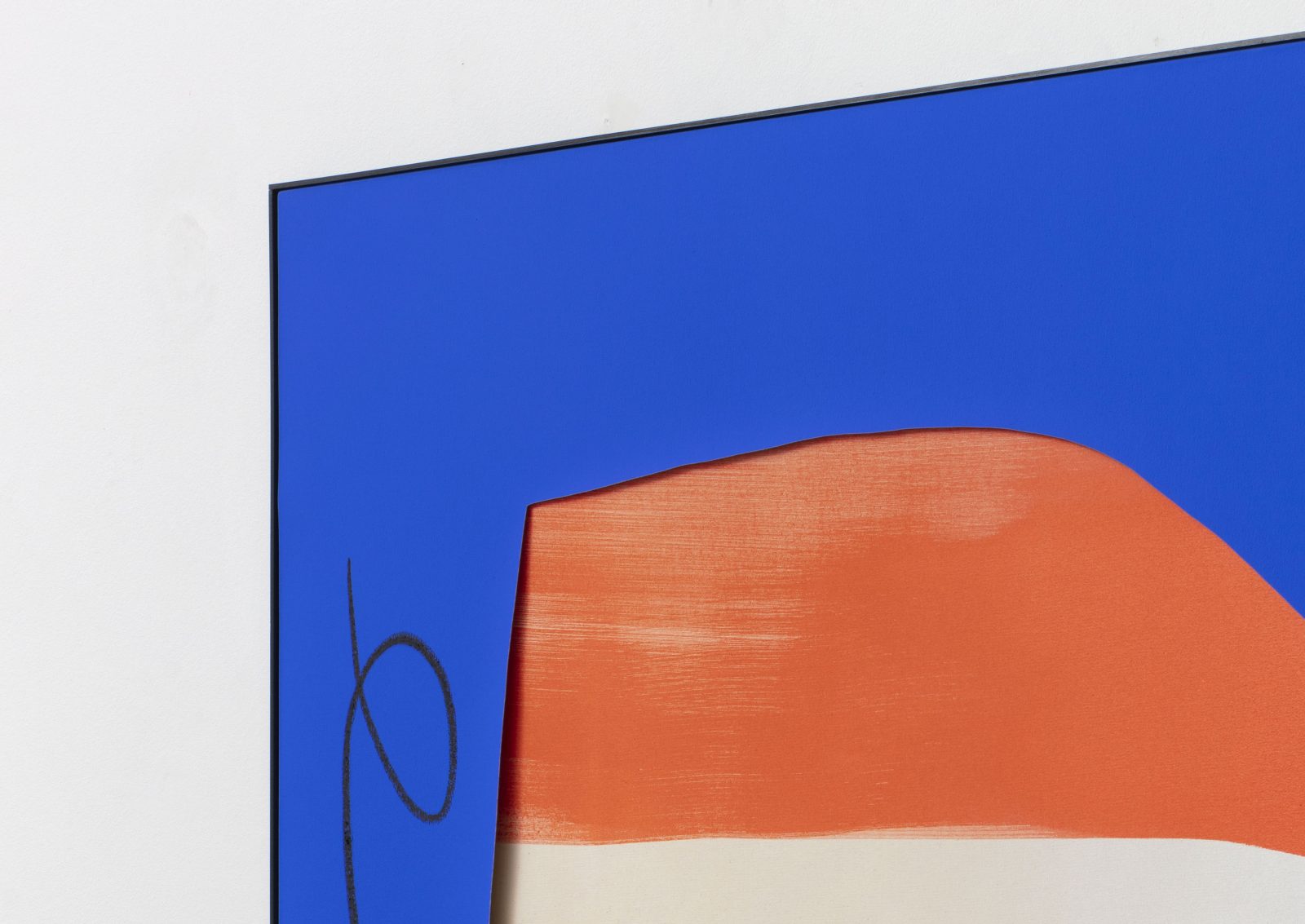 Cornelia Baltes
Soy (2020)
Acrylic and oil stick on canvas
160 x 120 x 3 cm
Julie Lænkholm's practice has its roots in the ideas and methods centred around collective learning. Exploring techniques and practices which have been traditionally been passed down orally from generation to generation, Lænkholm activates a predominantly female-driven history which has been forgotten or otherwise actively ignored. As such, she brings these narratives directly back into focus and places them within a contemporary discourse. Lænkholm's works are often textile in nature, using stretcher bars and textile to create a kind of canvas, materials such as silk, cotton and wool are combined with atmospheric and tangible results. The intentionality inherent in the work reveals itself in an incredibly tactile way, unlocking a presence that can be sensed. Lænkholm's works bring us into a world where things feel as if they are in continual evolution, as if the work remains alive long after it is finished.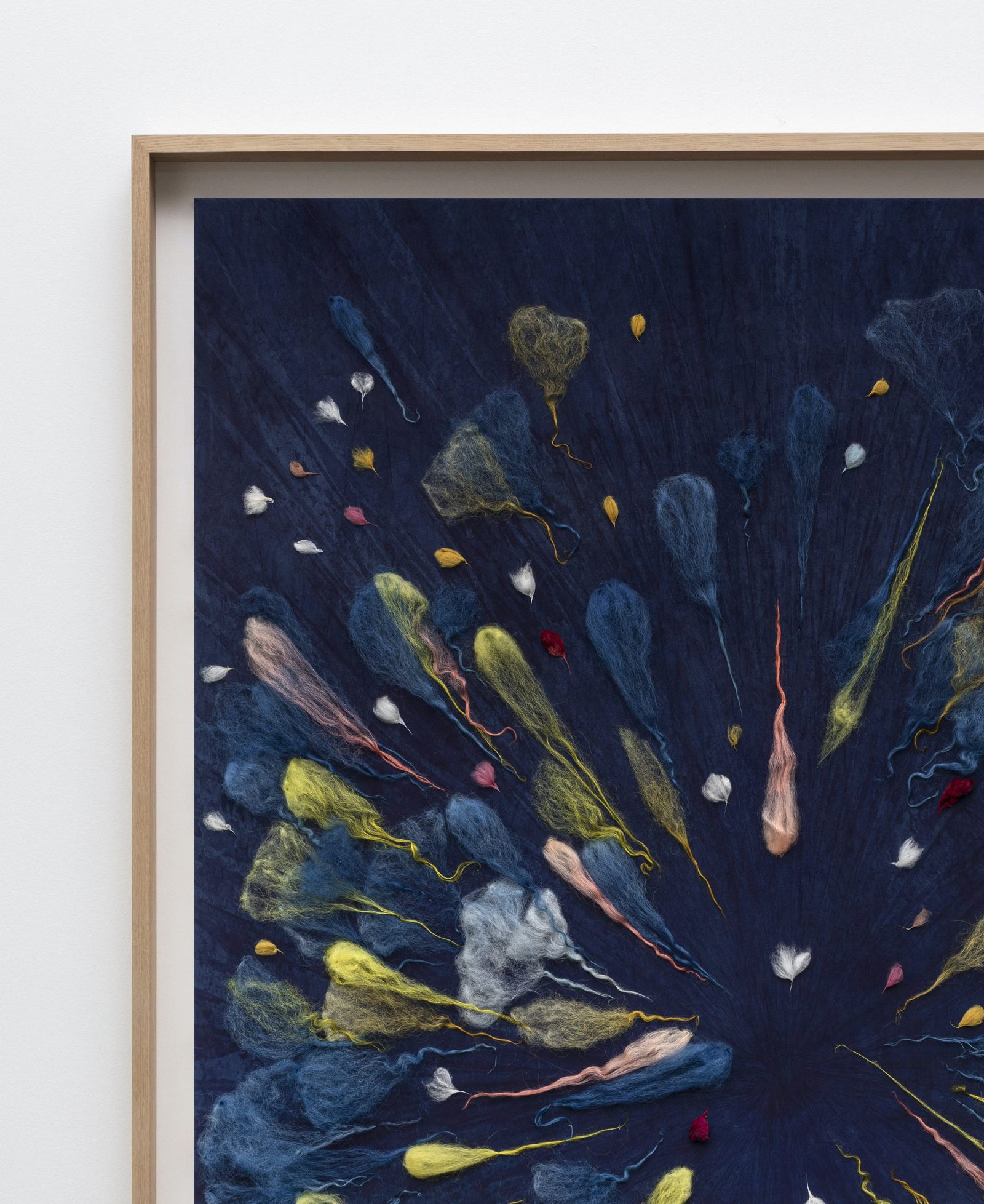 Julie Lænkholm
The Seven Sisters (2020)
Natural dye on silk, wool
200 x 120 cm | 215 x 133 cm framed
78.7 x 47.2 in | 84.6 x 52.4 in framed