Art Basel: OVR
February 9 - 12 | 2022
Galleri Nicolai Wallner is pleased to present Shifting Bodies — a group presentation with new works by A Kassen, Elmgreen & Dragset, Jeppe Hein, Jesper Just, Jose Dávila, Julie Lænkholm, Kinga Bartis and Rasmus Myrup.
Exploring themes around circularity, natural elements including water, plants and textiles, shifting bodies and spherical forms come together to give us the feeling of something constantly in flux.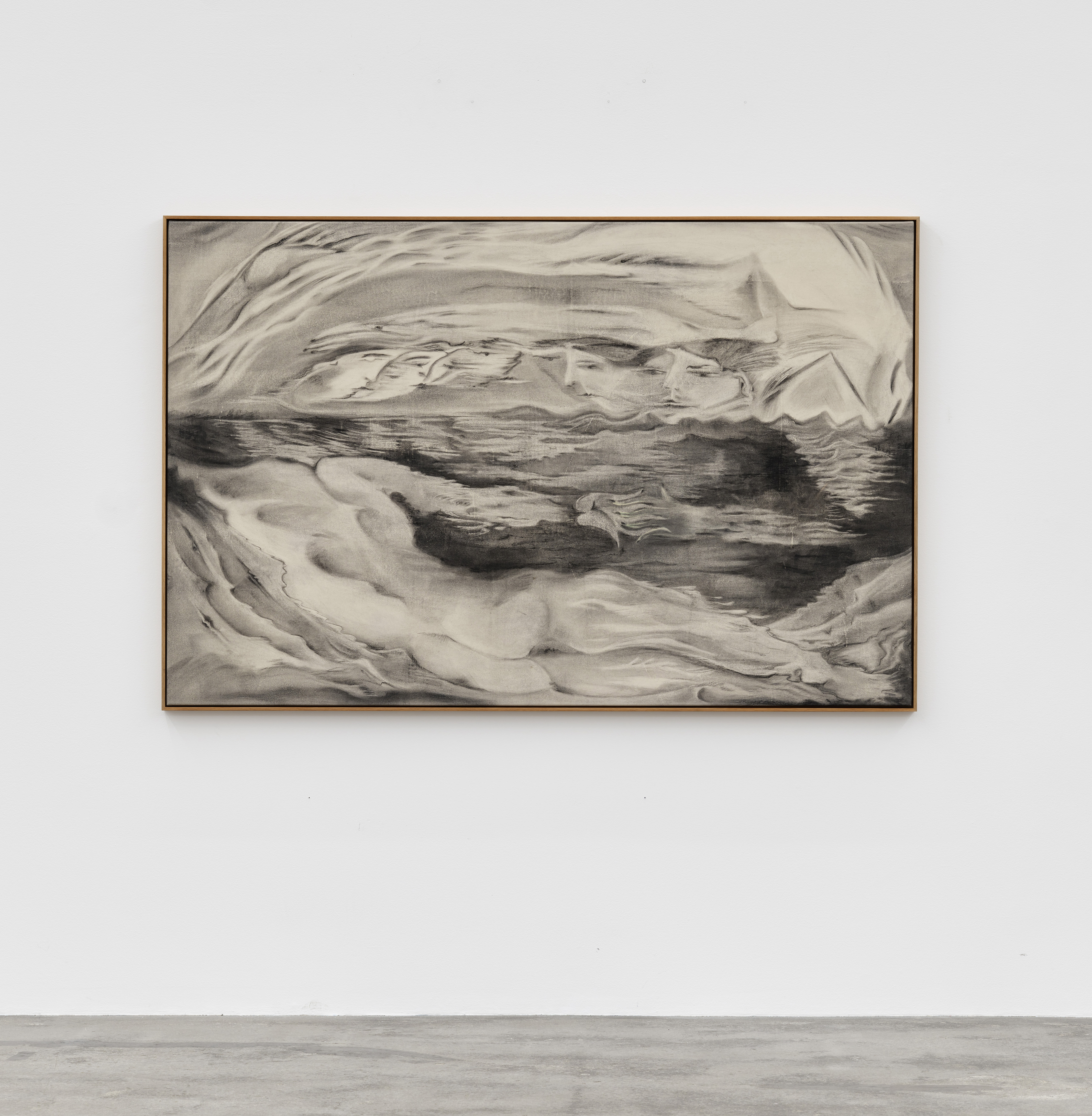 Kinga Bartis
In Between Bliss (2021)
Charcoal on canvas
133 x 203 x 5.5 cm
Unique
Kinga Bartis' (b. 1984, Transylvania) approach to painting lies outside the boundaries of the classic school of painting. Eschewing labels, Bartis envisions painting as a means of breaking free from the habitual relationship of defining and redefining of our existence, looking towards a more multidisciplinary and open approach.
Repeating imagery of bodies, figures, nature and landscapes combine to reflect the realties of a shifting world. Often blending one into the other, the resulting ambiguity provides a backdrop for elements to ebb and flow, almost moving subtly on the canvas, revealing themselves organically. Reoccurring themes of sexuality, power structures, the body and self-perception can be felt through these motions as they pulsate towards us.
Their presence does not suggest a direction that Bartis' wishes us to go in, but rather a mood or a feeling, a platform through which discussions are encouraged.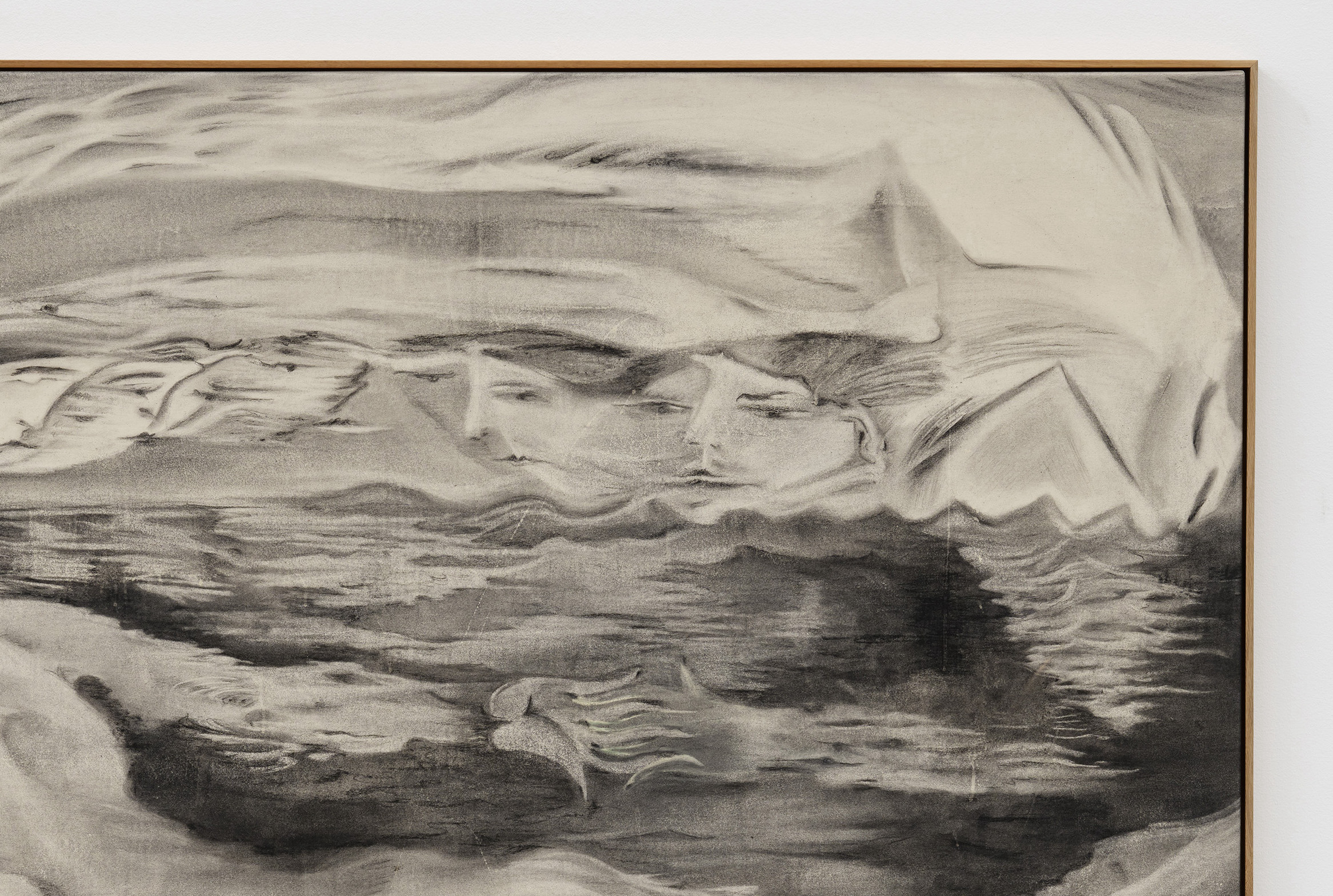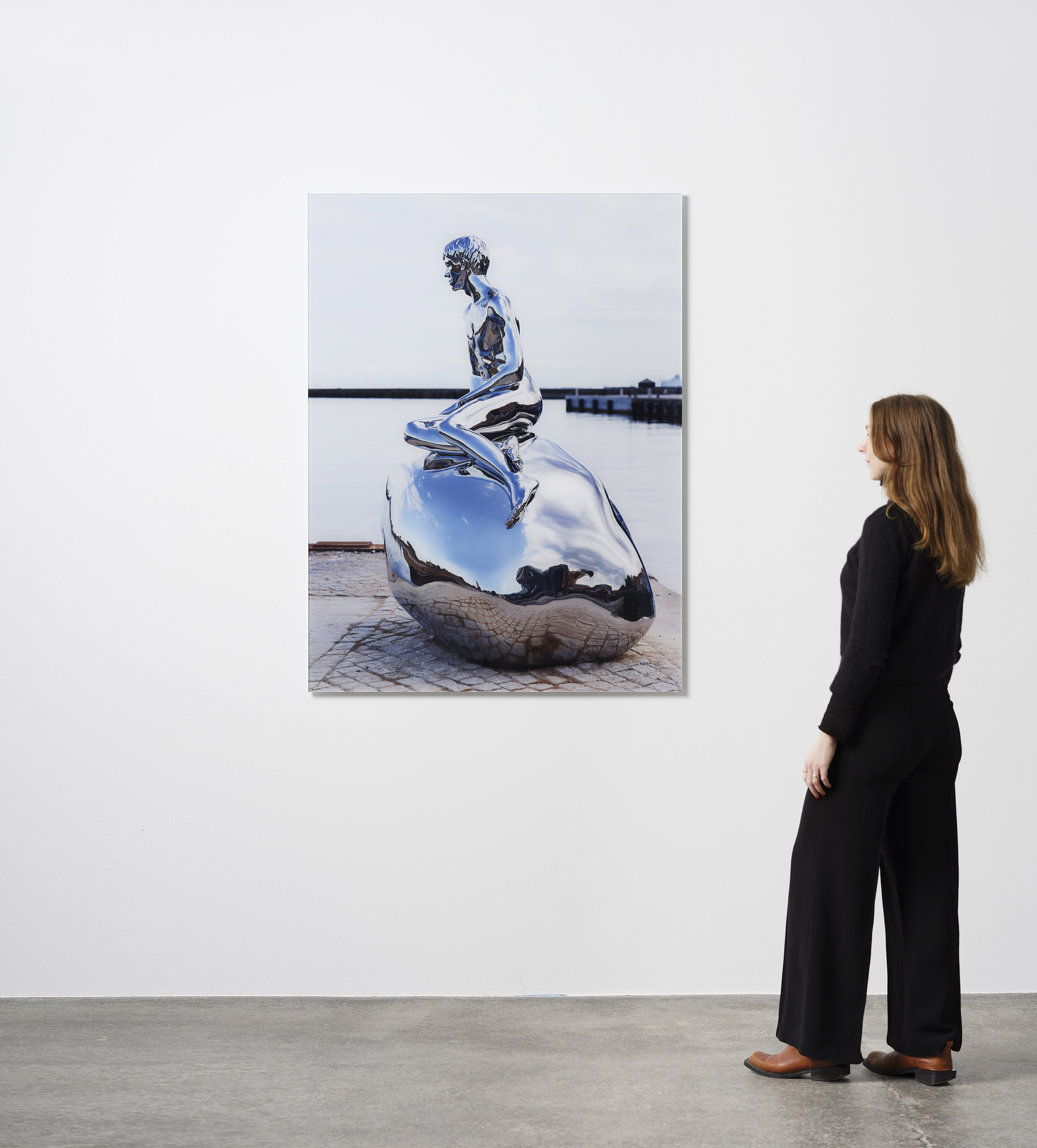 Elmgreen & Dragset
han (2021)
Laserchrome color print mounted on 4 mm aluminium with 8 mm plexiglass
150 x 112 cm
Edition of 10 (+2 AP)
Elmgreen & Dragset (collaborating since 1995) often take as their start point the blurred line that divides our public and private personas. Investigating how we shift, perform and build our identities depending on these varying contexts, the duo cleverly unpack intimate subjects such as gender, sexuality, relationships, the balance of power and the hierarchy of social constructs and administrative systems.
In the work han, a picture of Elmgreen & Dragset's iconic statue of the same name is shown standing by the harbour of Elsinore—a town and castle made famous as the location for Shakespeare's Hamlet.
A young man sits elegantly alone on the top of a rock. In this deliberate gendered twist on the fairytale by Hans Christian Andersen and the statue of the Little Mermaid, Elmgreen & Dragset open up new narratives and questions. The young man's gaze is fixated outwards, looking away from us and everything in the here and now, longingly towards the unknown. These sentiments are echoed in the materials used, as the stainless steel almost looks as if it is water.
The transition between boyhood and manhood and related themes of anticipation and desire, a developing sense of self and identity, all come together to create a layered and complex work that evokes not only Hans Christian Andersen's epic story, but other works such as Caravaggio's Narcissus among others.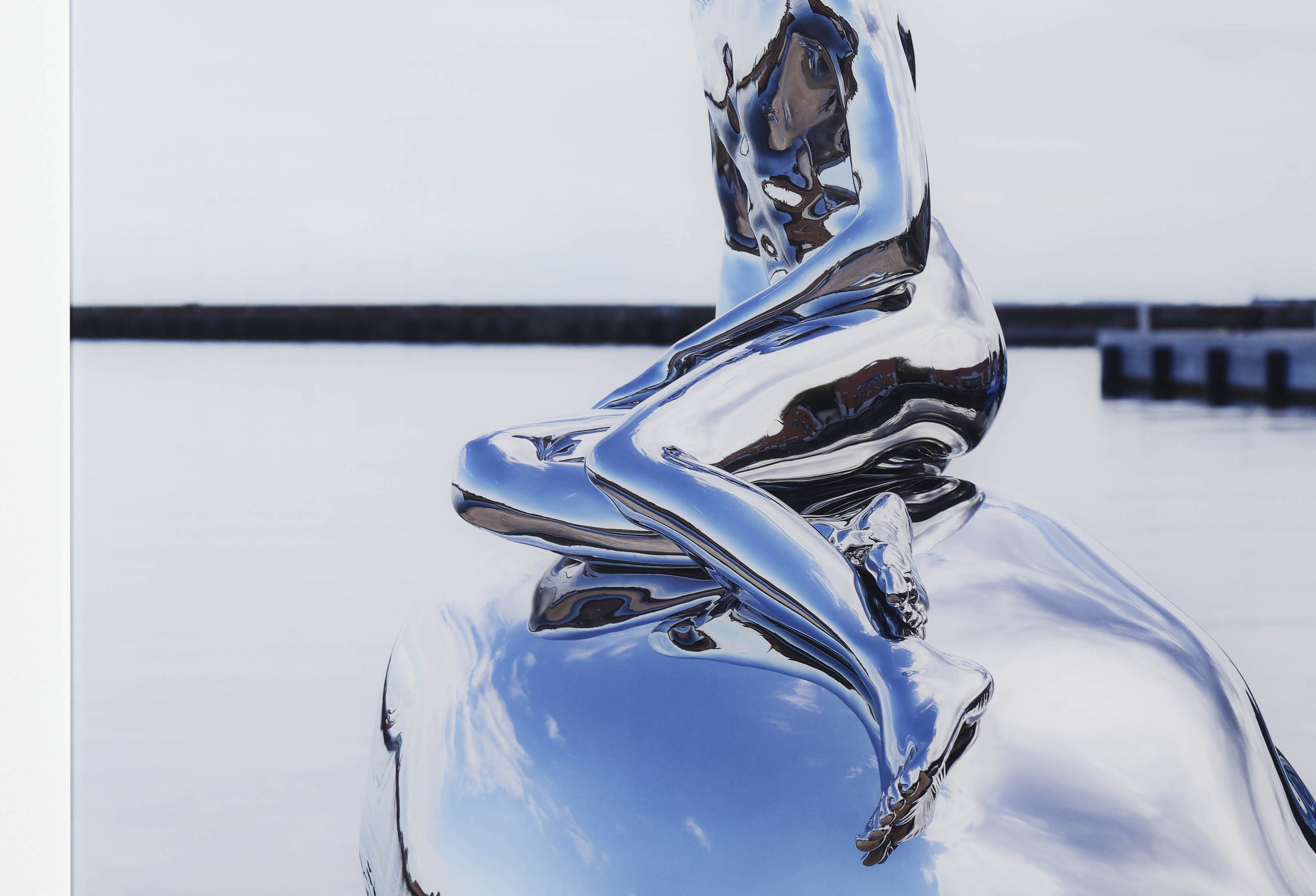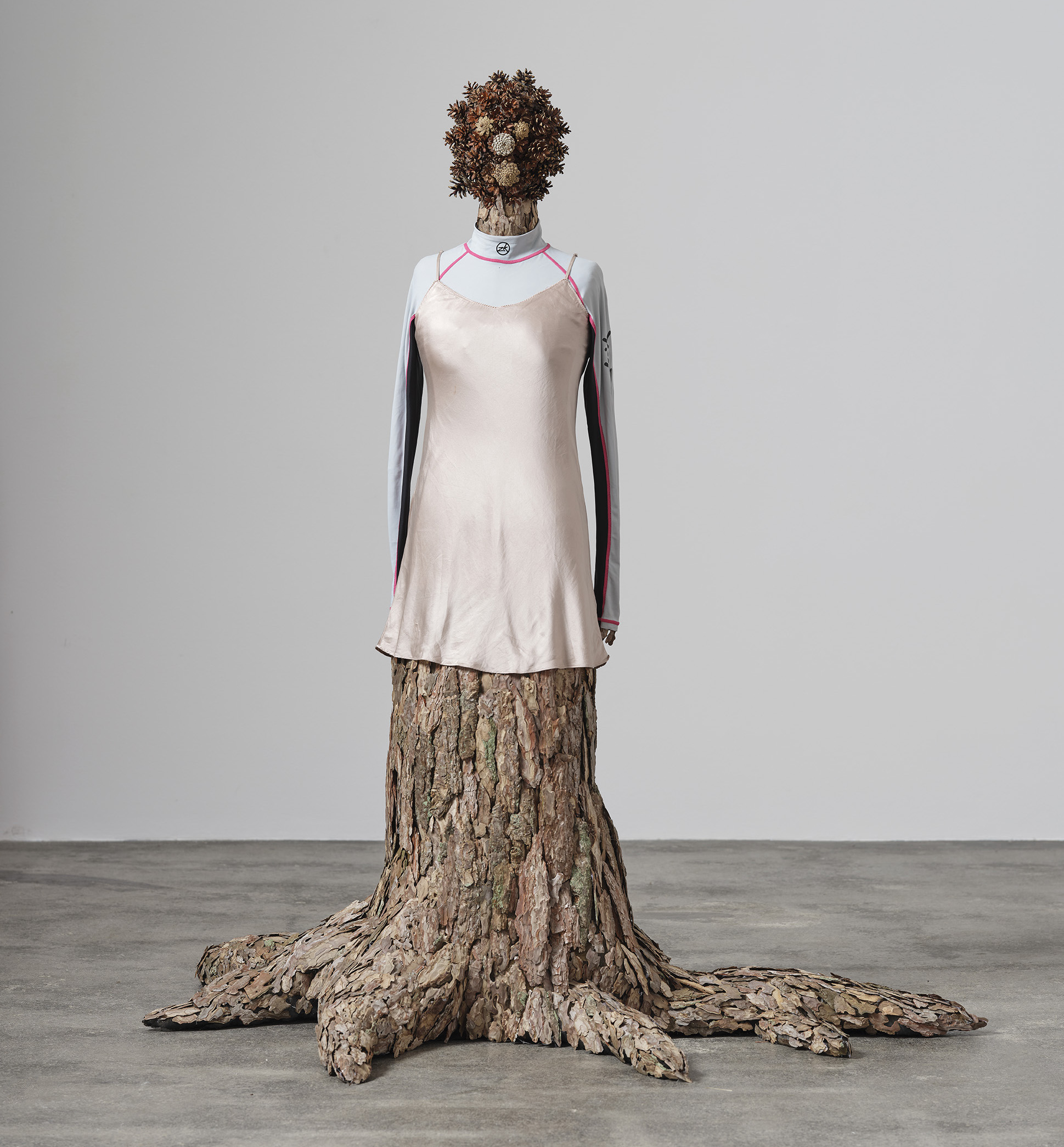 Rasmus Myrup
Gerd (2021)
Pine bark and pine cones from Odsherred, silk dress, athletic t-shirt, dress form, upholstery foam, wood, hardware
178 x 72 x 30 cm
Unique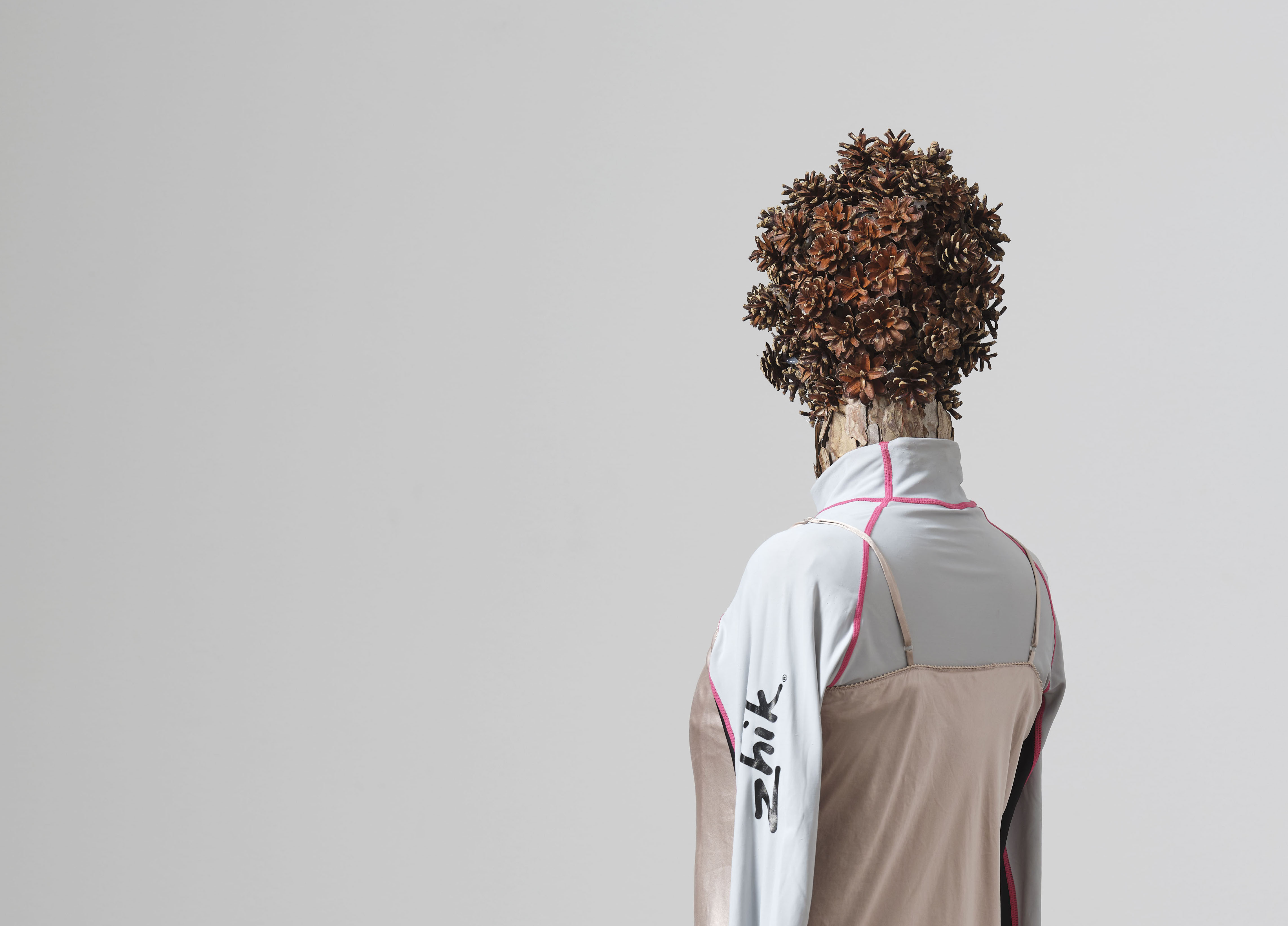 Bringing together elements from our natural and social histories, Rasmus Myrup's (b. 1991, Denmark) practice puts forward parallel narratives of what once was and what continues to be. Love, sex, and power are brought into focus, tying together the worlds of flora, fauna and people alike.
Myrup's installations, sculptures and works on paper reintroduce us to a world which is subversively ours but can be overtly ours if we so choose. This drive to bring other narratives to the forefront is echoed in Myrup's technical prowess, which utilises both traditional practices and modern techniques to create something which feels uniquely in the here and now.
Fabricated or supposed differences between nature and culture are done away with, sculptures in the form of figures from Danish folklore, Scandinavian stories and Norse mythology—in this case Gerd—often give explanations for how our world was physically created while their stories invoke cultural traditions which live long past our knowledge of why and how they came into being.
These figures might represent a wild and untamed nature that opposes any organized society, but they are in fact pure creations of human culture.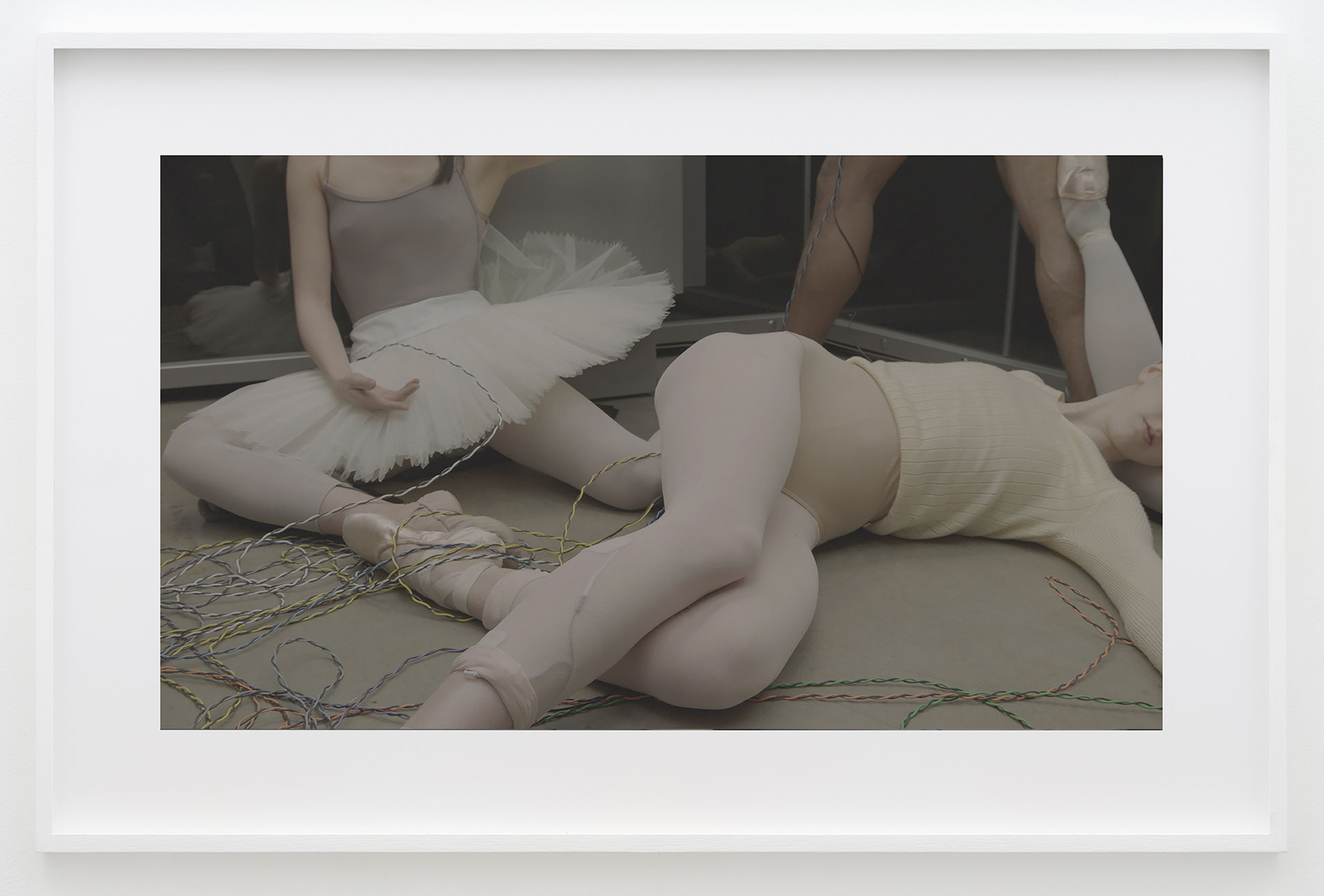 Jesper Just
Interpassivities #1 (2021)
Pigment print on Hahnemühle paper
65 x 113 cm
Edition of 3 (+2 AP)
Much of Jesper Just's (b. 1974, Denmark) practice is concentrated on the question of representation—how do we create imagery and inversely, how does this imagery then contributes to our ideas around bodies, expectations, identities, social conventions and further more contributes to our sense of self.
Working primarily with the mediums of film, photography and installation, Jesper Just incorporates movement, performance, sound and beautifully subtle visual symbolism, all of which comes together to create a deeply interactive and immersive environment.
With this series, five classically trained dancers have electrical wires attached to their limbs. Their limbs contract and move not through the use of their bodies but through timed electro-stimulations revealed to be directed by an accompanying musical score. The wires both restrict but also enhance the body, taking it a step away from something purely corporeal—or rather, a step away from what we consider to be "the body" in an ideal sense.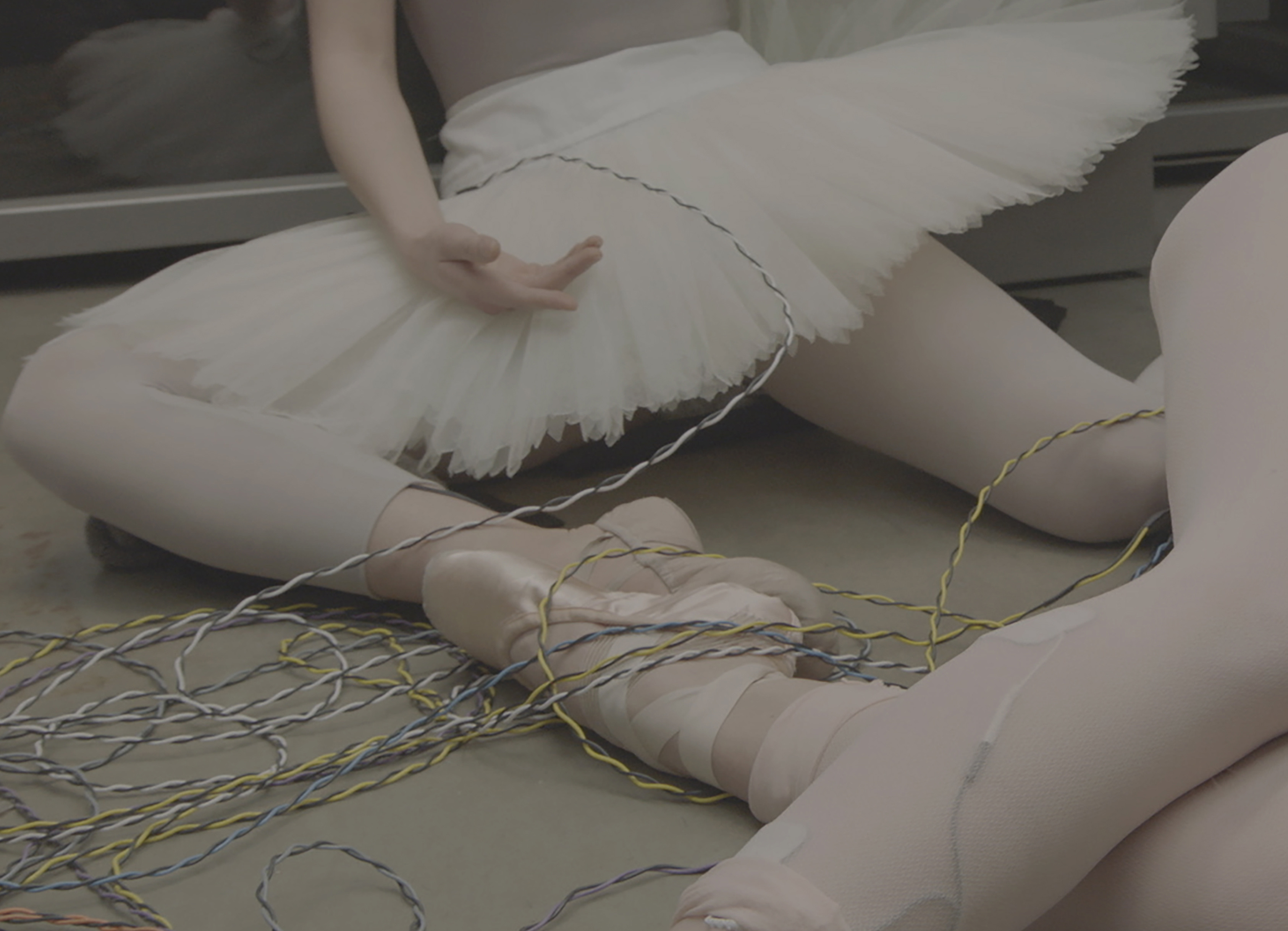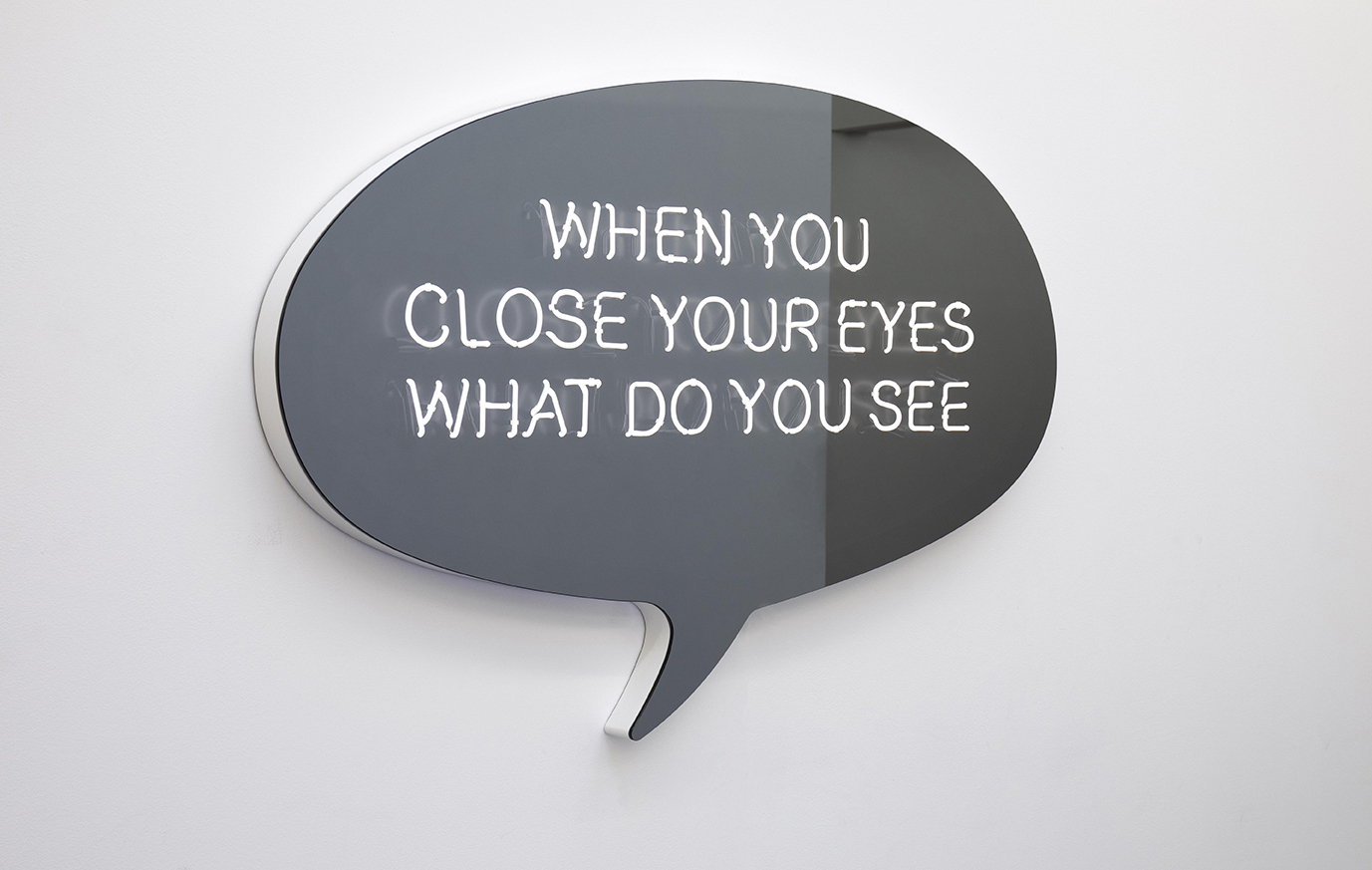 Jeppe Hein
WHEN YOU CLOSE YOUR EYES WHAT DO YOU SEE (2021)
Powder-coated aluminium, neon tubes, two-way mirror, powder-coated steel, transformers
97 x 142.5 x 7 cm
Edition of 3 (+2 AP)
Jeppe Hein (b. 1974, Denmark) bases much of his practice on the relationships that exist between our internal consciousness and more physical elements. Using minimal yet elegant materials that often reflect our own image, as well as forms that playfully encourage us to move our bodies and to change positions, Jeppe Hein creates an interactive and constantly changing dialogue between the spectator, the work, and the exhibition space that surrounds it.
His sculptures, site-specific installations, watercolours and public works create environments in which we are encouraged to imagine new possibilities. In so doing, he challenges us to re-think the ways in which our mind and our bodies are connected, and to reflect on how we navigate through the metaphysical and physical worlds.
The phrase "when you close your eyes what do you see" shines in white neon letters behind a spyglass mirror reflecting the visitors and the surrounding space. The single texts combined with the spy mirror in front of it directly confronts the visitor with quite personal questions and reflections, thus establishing a dialogue between the work and viewer.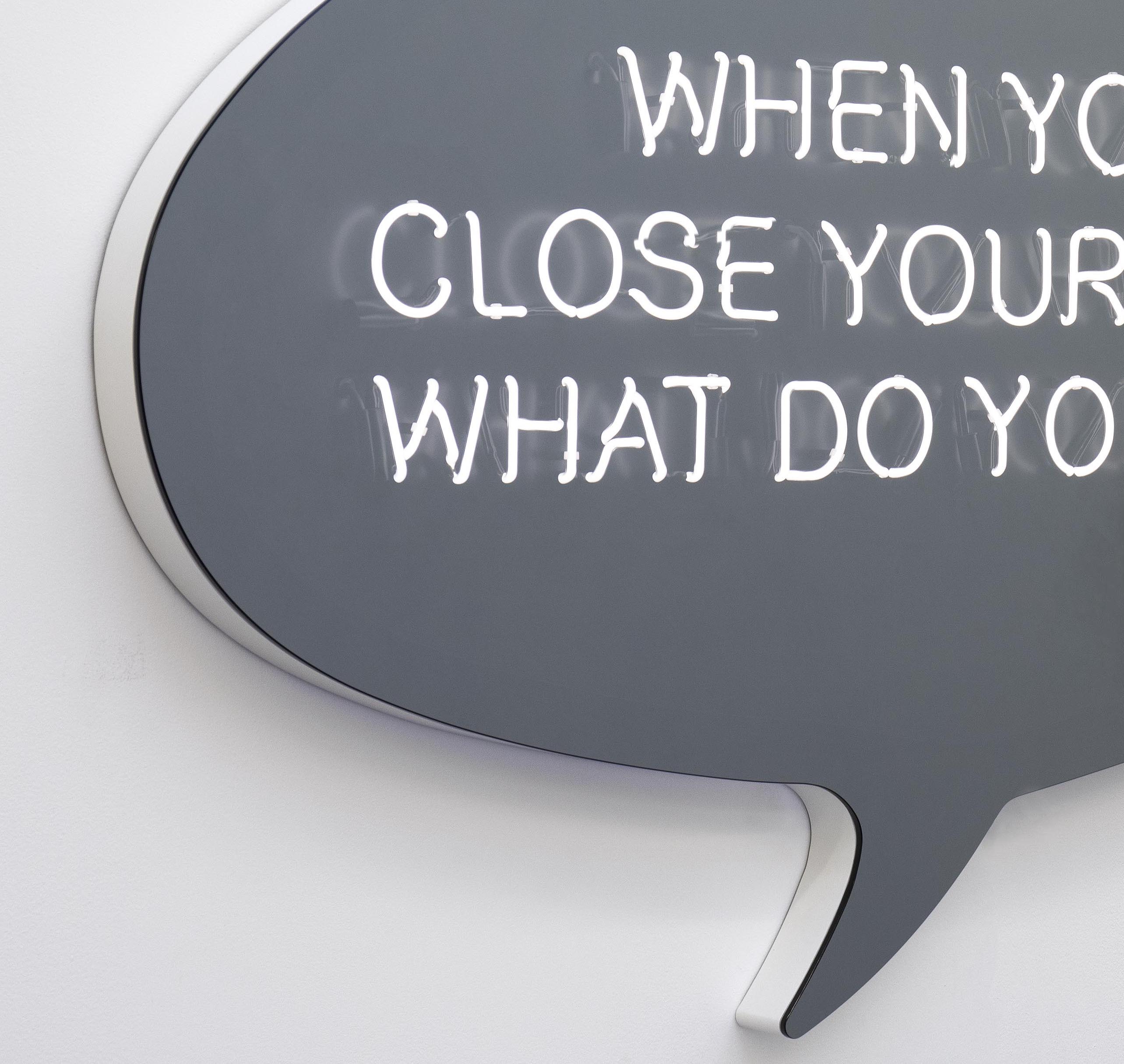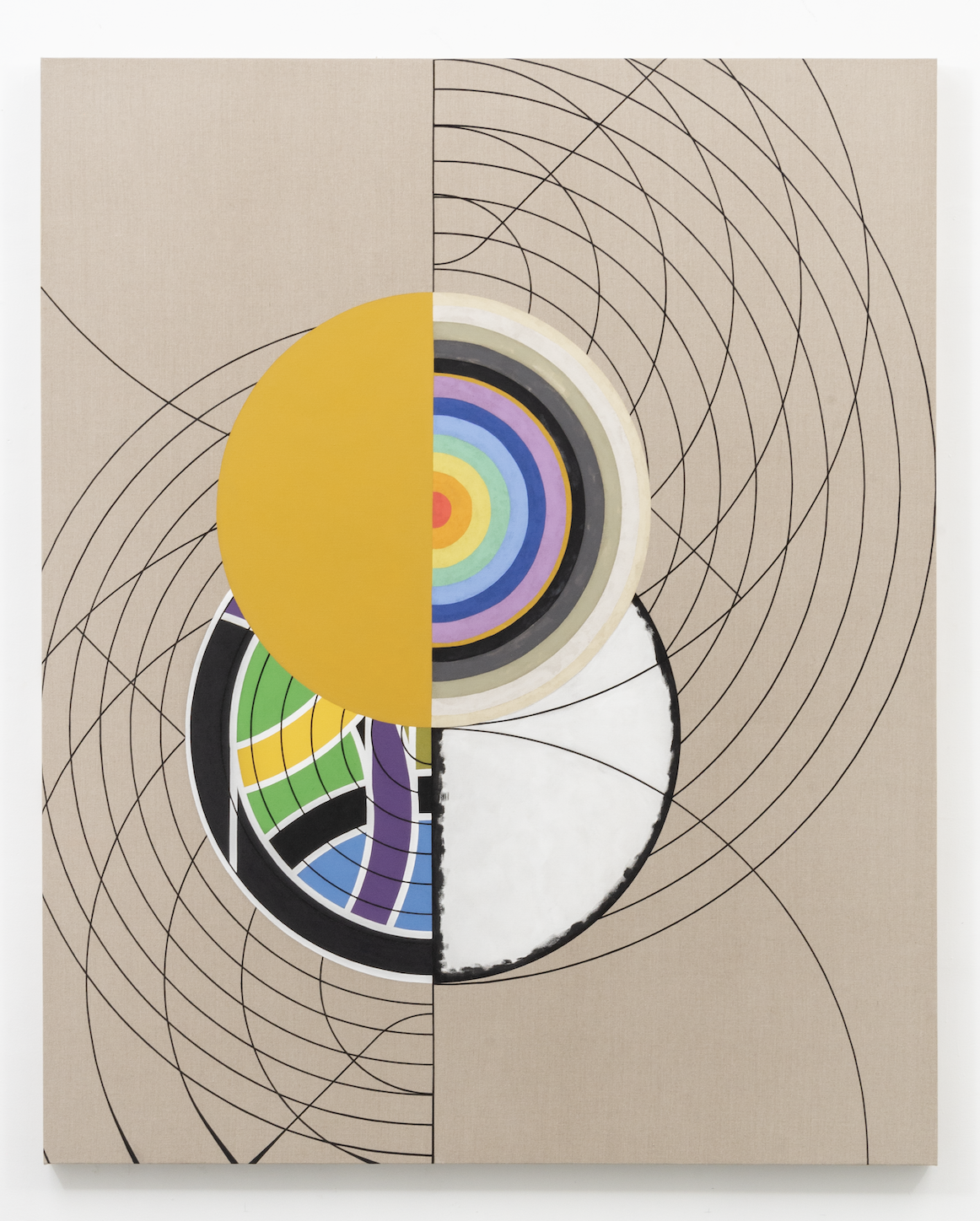 Jose Dávila
The fact of constantly returning to the same point or situation (2021)
Silkscreen print and vinyl paint on loomstate linen
210 x 170 x 6 cm
Unique
Contradictory feelings of weight, tension and levity run throughout Jose Dávila's (b. 1974, Mexico) works. Making use of materials in a way that pushes the limits of our perception, he pairs incongruent elements that cause us to re-examine the ways in which we understand what is at hand.
Taking inspiration from the ideals put in place by the 20th century avant-garde, Jose Dávila re-contextualises artists, iconic artworks and raw materials. Figures and details are cutout and re-worked. Unexpected elements are brought into our focus. Heavy materials are juxtaposed with impossibly delicate placement. The result is an elegant balancing act which feels almost atmospheric, drawing us in as we wait to see if things will stand or fall.
Jose Dávila's two paintings repurpose imagery from existing works of modern art, including references to Hilma af Klimt, Sonia and Robert Delaunay and Frank Stella among others. Focusing on their use of the circle, the imagery becomes a kind of vocabulary through which new words and sentences can be formed. Both playful and evocative, Dávila introduces to a world where these constellations co-exist.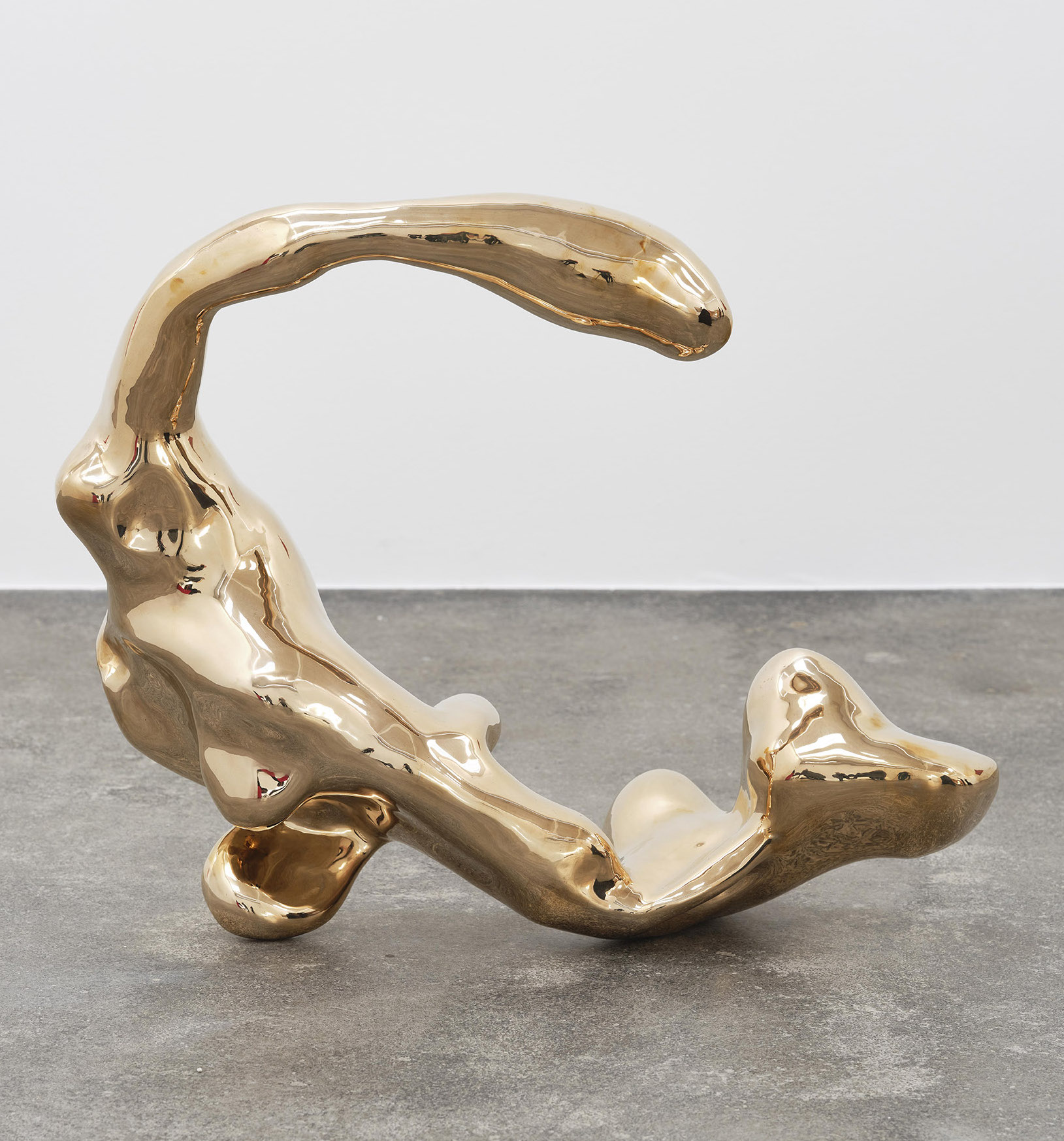 A Kassen
Bronze Pour LVII (2021)
Bronze
79 x 94 x 34 cm
Unique
A Kassen's (collaborating since 2004) Bronze Pour series bends the idea of what constitutes art and the role of the artist.
Made in an entirely uncontrollable and unpredictable process, this series is created by pouring small amounts of hot, liquid bronze directly into the water. The bronze cools upon impact, creating small shapes, which are scanned and cast on a larger scale in bronze.
While the process means that they are by nature unplanned, the resulting sculptures retain a referential quality to them. We can't help but instantly try and place them, finding recognisable sources for their form as our subjective interpretations jump to the forefront.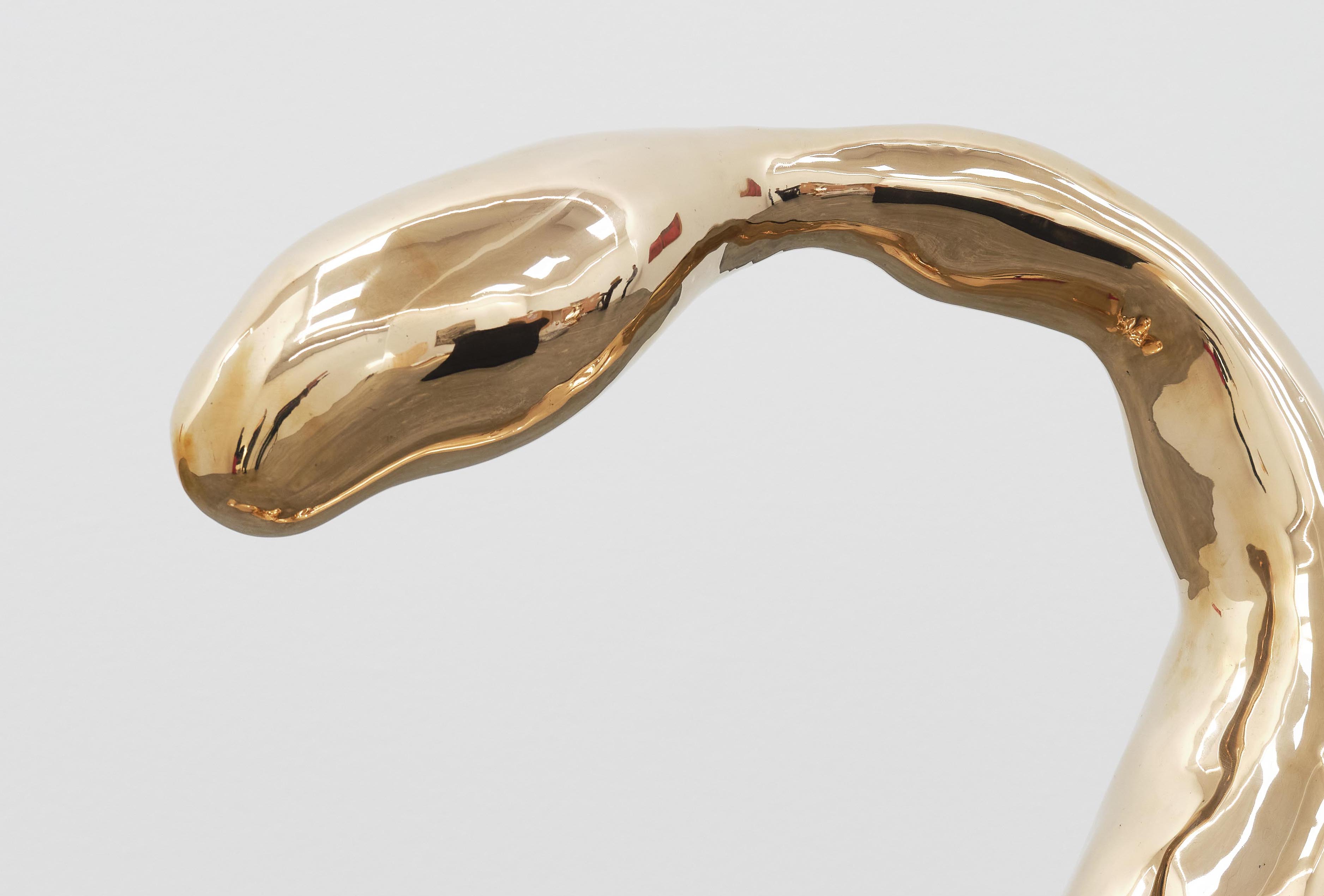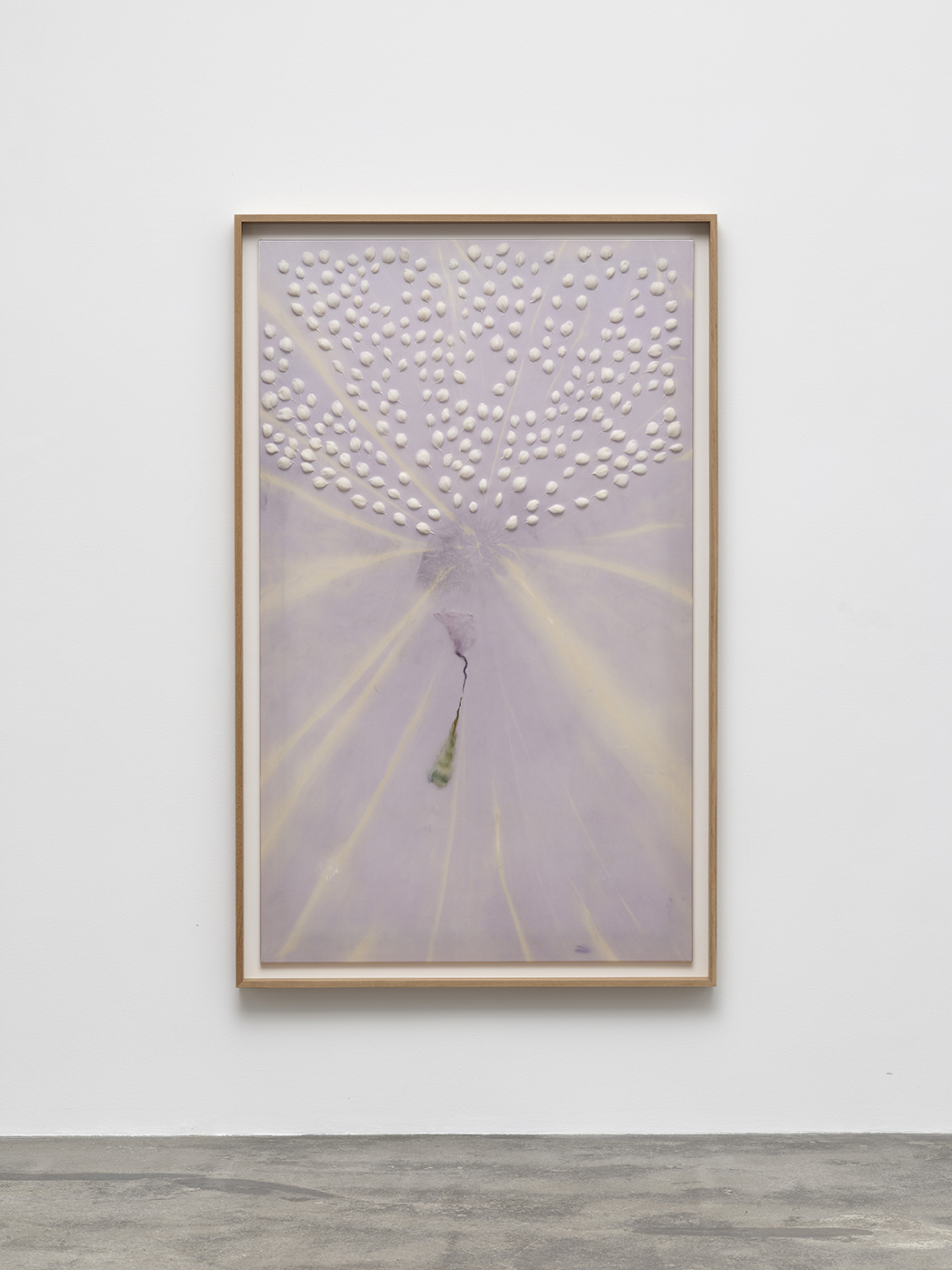 Julie Lænkholm
Untitled (2021)
Natural dyed wool on silk
200 x 120 cm framed
Unique
Julie Lænkholm's practice has its roots in the ideas and the methods centred around collective learning. Exploring techniques and practices which have been traditionally been passed down orally from generation to generation, Lænkholm activates a predominantly female-driven history which has been forgotten or otherwise actively ignored.
Using materials such as wool, silk and denim, Lænkholm treats them with natural, plant-based dyes using historic methods. The specificity and the technical backdrop of this process comes through to create a very tactile, three-dimensional feeling that emanates from the work, unlocking a kind of atmospheric presence that can be readily sensed. The works feel as if they are in continual evolution, as if they remain alive long after they seem to be finished. We become participants of the work, activating the work while the work simultaneously activates us.
There is a generosity inherent in Lænkholm practice. Works are presented in a way that imparts its process onwards, and in so doing imparts the knowledge that is transmitted with it. The connections and interaction with the works adds to this consciousness, as we find ourselves becoming integrated into this collective learning process.