Art Basel Miami Beach
December 1 - 4 | 2022
Galleri Nicolai Wallner is pleased to participate in the 2022 edition of Art Basel Miami Beach. The gallery's presentation comprises of new and curated works by Alexander Tovborg, Elmgreen & Dragset, Eva Helene Pade, Jeppe Hein, J.G.Arvidsson, Jose Dávila, Julie Lænkholm and Kinga Bartis.
This marks the first time Eva Helene Pade, J.G.Arvidsson and Kinga Bartis have been presented at Art Basel Miami Beach.
Elmgreen & Dragset
Adaptation, Fig. 9 (2020)
Stainless steel
270 x 45 x 40 cm | 106.3 x 17.8 x 15.8 in
EUR 60.000,- excl. VAT
EUR 63.000,- incl. VAT
Adaptation, Fig. 9 is a continuation of Elmgreen & Dragset's investigation into the control mechanisms that are embedded in the architecture of public space as depicted in their "Powerless Structures" series.
Ordinarily, the road sign plays an integral role in the policing and regulation of human behaviour in the public sphere, indicating the rules of where people are permitted to go, or rather, where they are not permitted to go. On the one hand, the artwork is an accurate remodelling of a conventional road sign; on the other hand, its mirror surface asks its viewer to reflect upon the regulatory role that signs play and how this, in turn, influences our living modes. The piece thus asks one to look inwards to draw on our own views and values, as opposed to a dominant social code, when making a moral or ethical judgement.
The work adapts to its surroundings, becoming almost invisible, rather than serving an authoritarian function.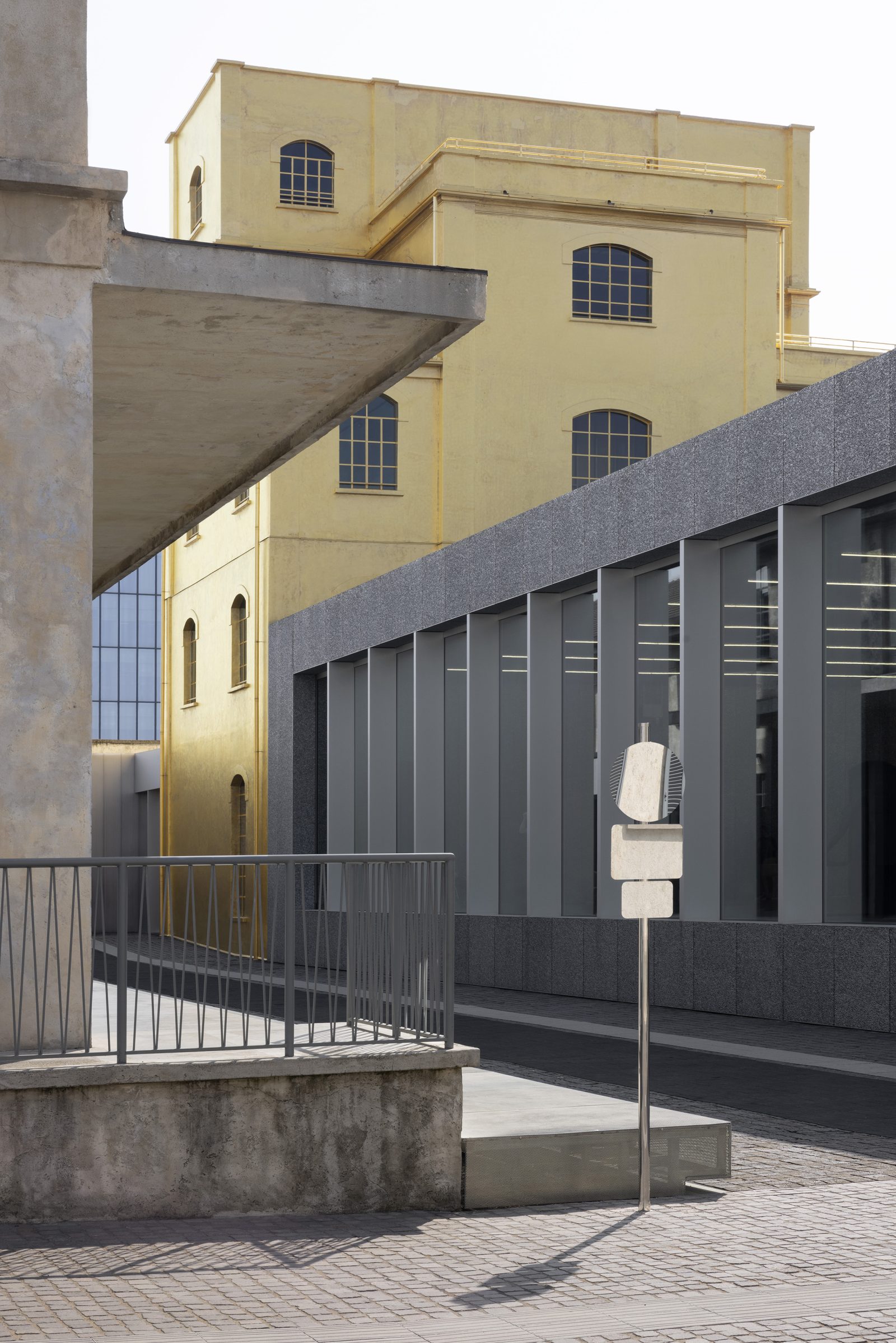 On view as part of their solo show Useless Bodies at Fondazione Prada (2022)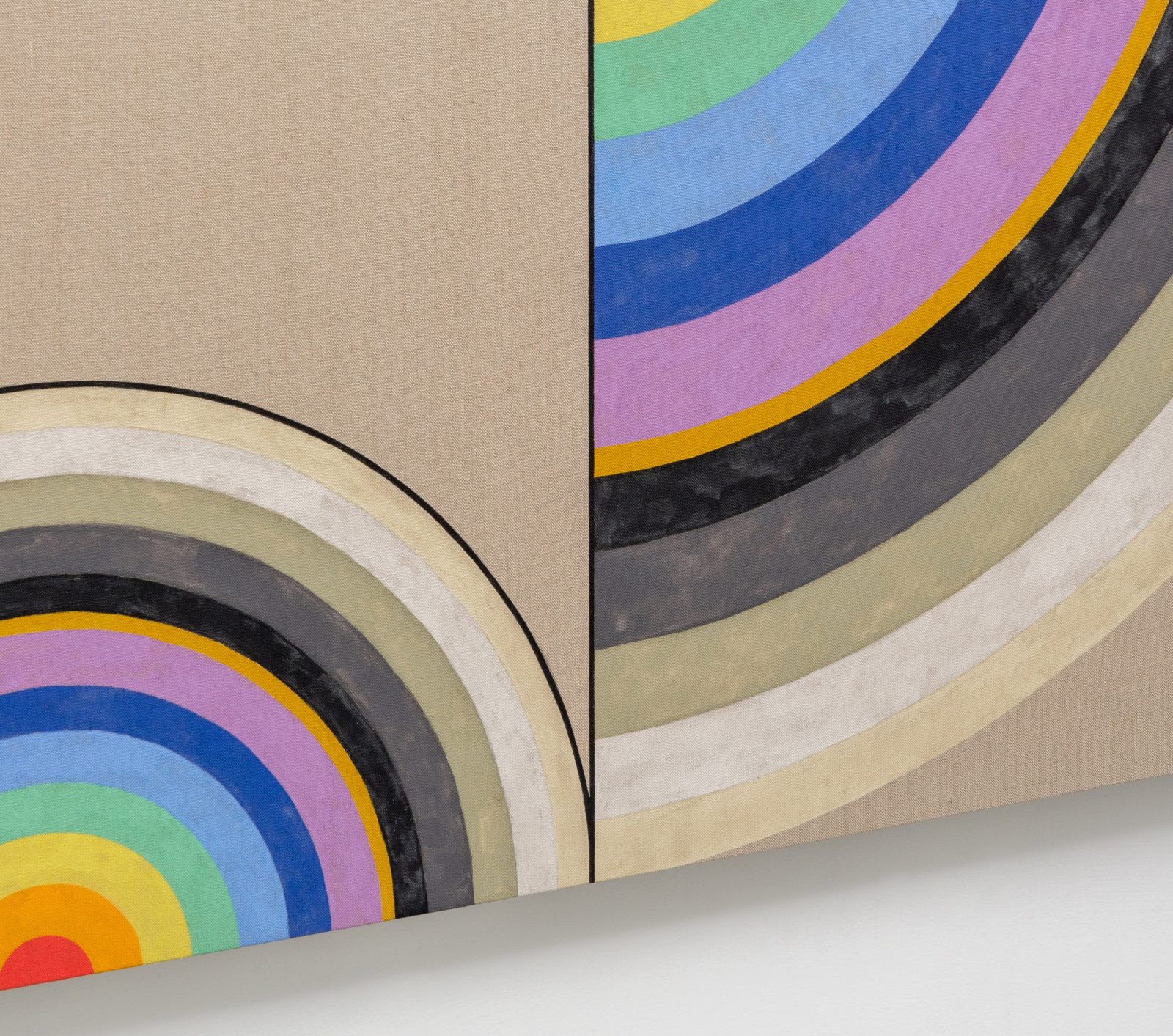 This series of paintings elegantly plays with our existing visual vocabulary and references from the modernist and contemporary world of art. Predominantly circular paintings from the 1910s, 20s and 70s—including the likes of Hilma af Klint, Francis Picabia, Bridget Riley, Sol LeWitt and Frank Stella among others—dance across the canvas.
Working almost like a language in itself, these iconic works are shown in various forms, building towards something. Some are depicted in part or nearly in full, while others are depicted with layers or colours removed, leaving only outlines and selected details. Scale is also at play, as the works come back in iteration throughout the series and sometimes even within the same painting. The resulting imagery feels both intense and open, charged with energy.
This is even more so with the work at hand, as its imagery is concentrated on a single, referential work. The almost lexicon like system of communication created in Dávila's imagery gives us a sense of familiarity or belonging, a feeling that we are part of the narrative and invited to follow along.
Jose Dávila
The fact of constantly returning to the same point or situation (2022)
Silkscreen print and vinyl paint on loomstate linen
234 x 190 x 6 cm | 92 x 74.8 x 2.3 in
USD 85.000,- excl. VAT
USD 89.250,- incl. VAT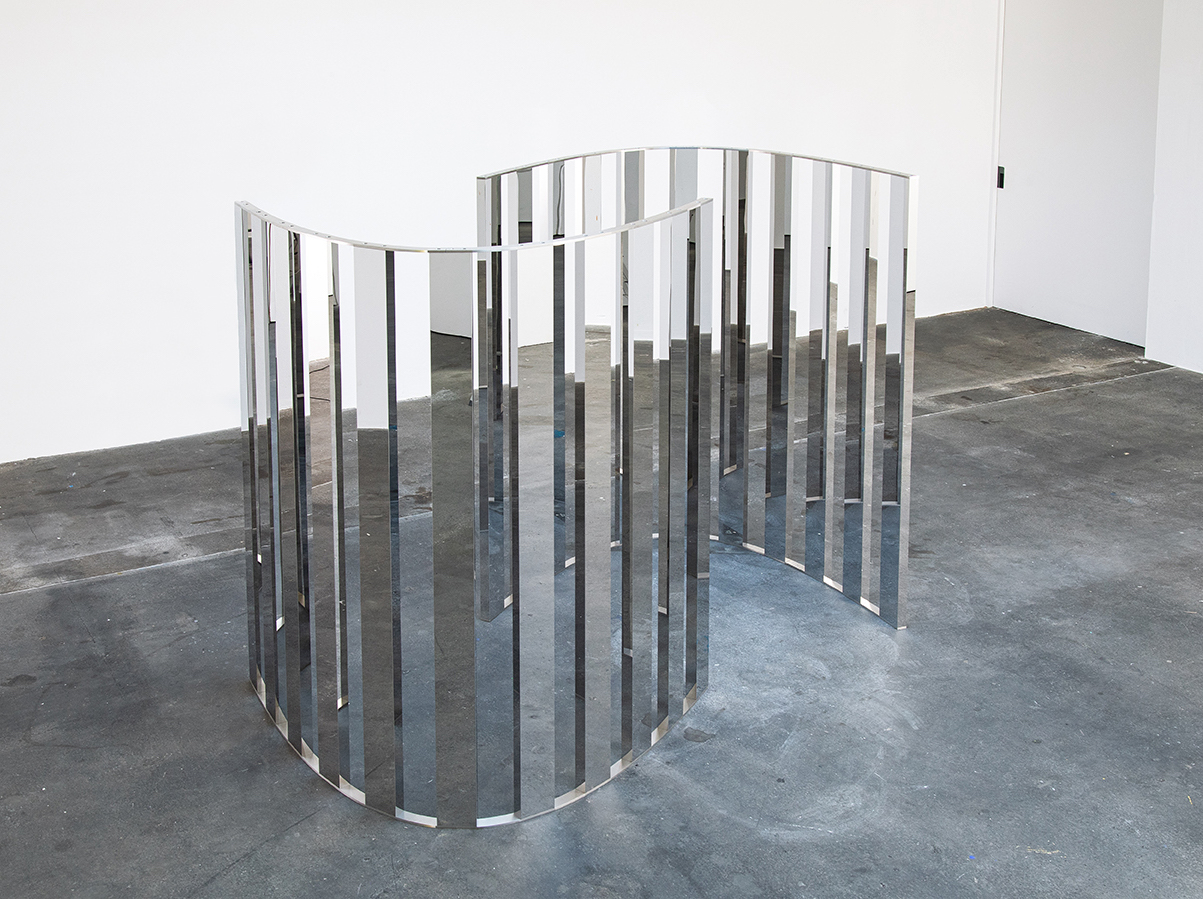 Jeppe Hein
Parabola Mirror Labyrinth (small) (2022)
High polished stainless steel, aluminium
222 x 306 x 286 cm | 87.5 x 120.5 x 112.6 in
EUR 310.000,- excl. VAT
EUR 331.700,- incl. VAT
Thin, elongated columns of super mirror extend upwards from the floor, punctuated by gaps of a similar width, creating a labyrinth-like structure. The installation is comprised of two separate elements, both in the shape of a parabola if seen from above, which form a pathway.
Inviting from both the inside and the outside, the reflective quality of the super mirror becomes a vibrant, dynamic focal point. Shifting and changing at every turn, Jeppe Hein cleverly makes our presence an integral part of the work. Our reflections—as well as the reflections of people around us and the work's environment—multiply in the super mirror around us, creating reflections of reflections, generating new and unexpected ways of looking at who we are, where we are and who we are with.
The spaces between the columns anchors the work in the here and now, showing us glimpses of things beyond the installation's reach, creating a kind of kaleidoscopic effect between something familiar and something yet to be explored. Playful and contemplative, Jeppe Hein's installation elegantly reflects what we need in the moment—be that a breath of fresh air, a few minutes to ourselves, or making a connection with the people and thing around us.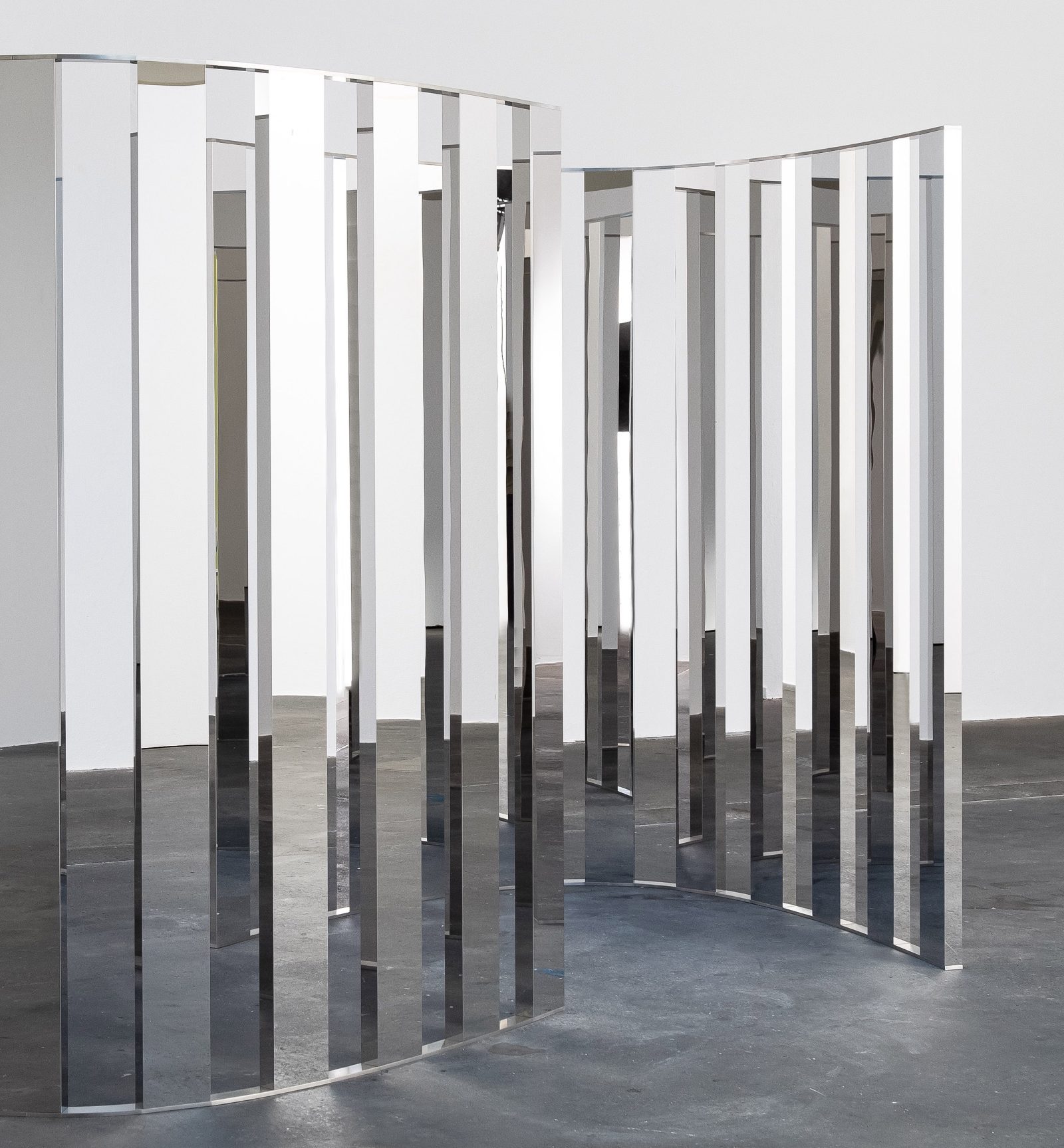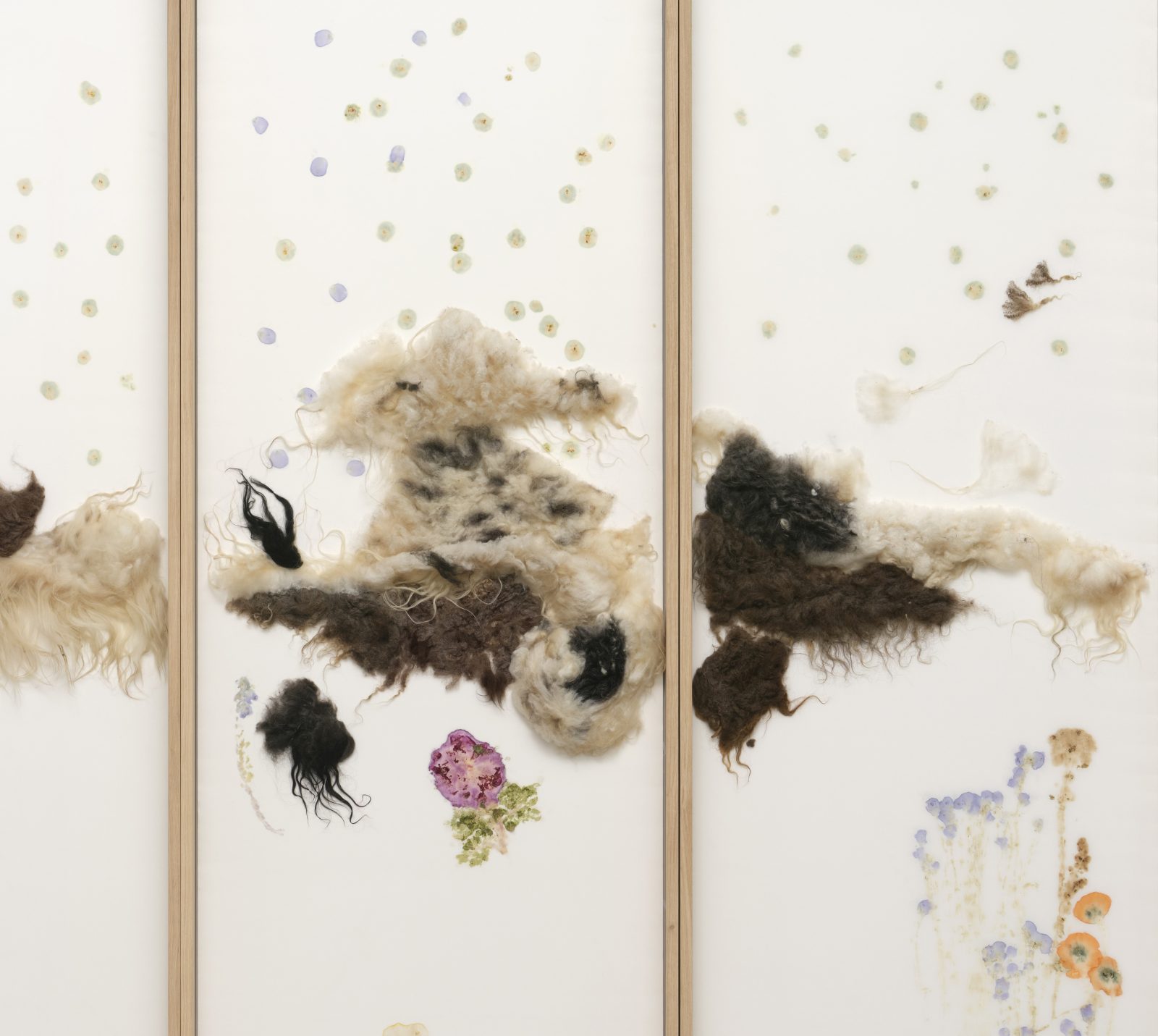 Julie Lænkholm's practice has its roots in the ideas and the methods centred around collective learning. Exploring techniques and practices which have been traditionally been passed down orally from generation to generation, Lænkholm activates a predominantly female-driven history which has been forgotten or otherwise actively ignored. As such, she brings these narratives directly back into focus and places them within a contemporary discourse.
With this latest work, Lænkholm continues her exploration of care and sorrow, grieving and healing. Using materials such as wool and silk, she treats them with natural, plant-based dyes using historic methods, each of which hold a certain significance and intentionality. Lænkholm's works bring us into a world where things feel as if they are in continual evolution, almost as if the works remain alive long after they seem to be finished or in a final state. We become participants of the work, and in a way we activate the work while the work simultaneously activates us as well.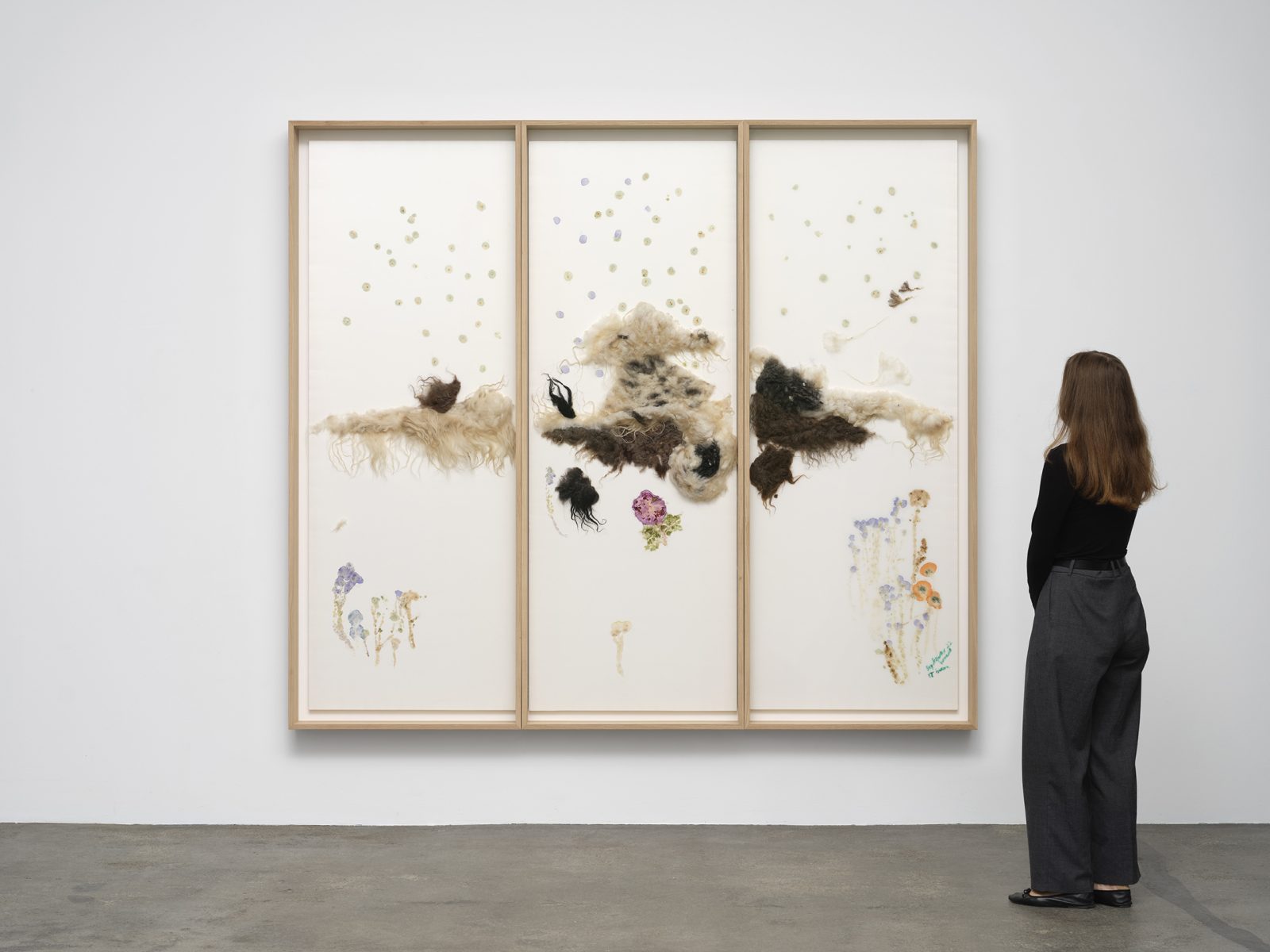 Julie Lænkholm
Untitled (2022)
Natural dyed wool on silk
200 x 240 x 8 cm unframed | 78.8 x 94.5 x 3.2 in unframed
EUR 42.000,- excl. VAT
EUR 44.100,- incl. VAT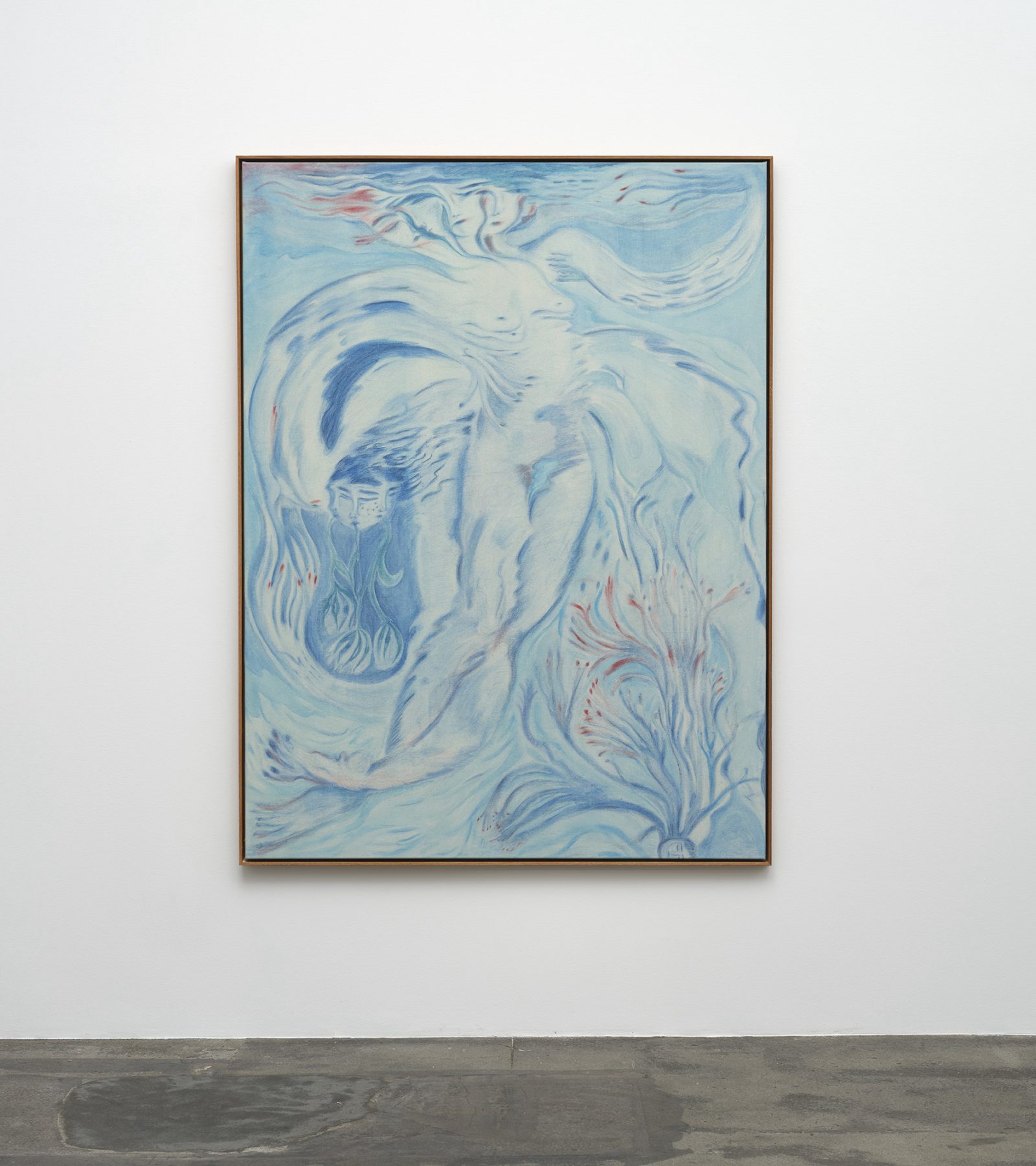 Kinga Bartis
slow breather for now (2022)
Mixed media
200 x 150 cm | 78.8 x 59 in
EUR 21.000,- excl. VAT
EUR 22.000,- incl. VAT
Kinga Bartis' approach to painting lies outside the boundaries of the classic school of the medium. Eschewing labels, Bartis envisions painting as a means of breaking free from the habitual relationship of defining and redefining of our existence—Bartis choose to instead look towards a more multidisciplinary and open approach.
This approach can also be seen in Kinga Bartis' technique and composition. Traditionally defined relationships or perceived hierarchies between foreground and background are set aside. Repeating imagery of bodies, figures, plants, natural elements and landscapes combine to reflect the realties of a shifting world. Often blending one into the other, the resulting ambiguity provides a backdrop for the aforementioned characters to ebb and flow, almost moving subtly on the canvas, revealing themselves organically. Reoccurring themes of sexuality, power structures, the body and self-perception can be felt through these motions as they pulsate towards us.
In Bartis' latest works, these elements become almost supercharged, echoed and shadowed. Bodies in multiplicity drift in and out of each other, merging with their surroundings, oozing, becoming a bit blurry—a hand seems to have extra fingers, or perhaps we are seeing hands holding hands. Natural elements such as plants are intertwined with the more corporeal elements, as the waves and bodies almost feel as if they could be one and the same. The work's titles nod at possible narratives, yet refrains from pushing us one way or the other, instead giving us the space to come in and join if we so choose.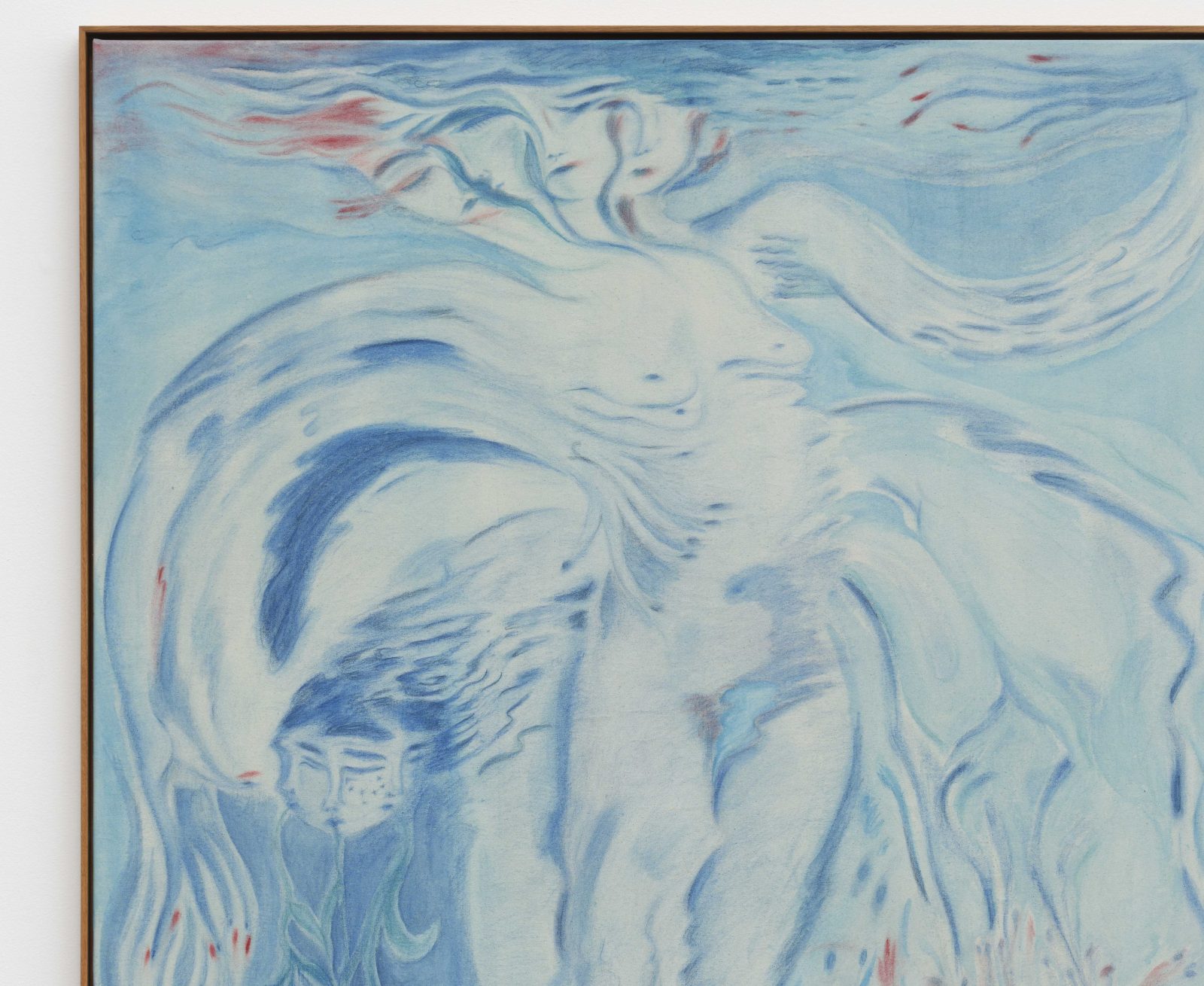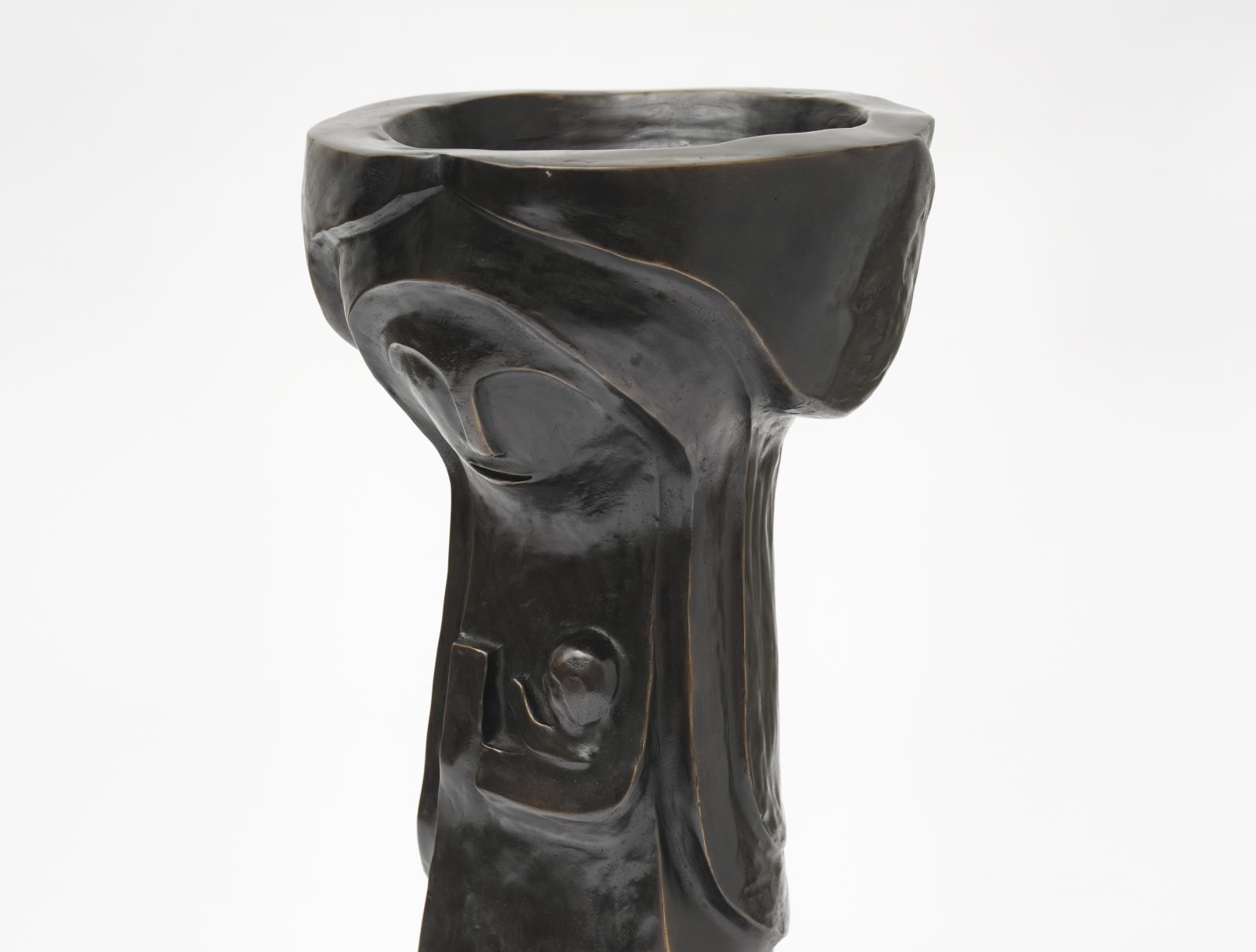 Alexander Tovborg's latest series of sculptures explores the fundamental visual language concerning the Madonna and child, as well as other related iconography. Navigating history, mythology, religion, as well as written and oral narratives, Tovborg's practice draws on the stories that have come before us in order to navigate and re-contextualise where we find ourselves today. In recent years, Tovborg's imagery has shifted towards his family life. This is echoed in this series of sculptures. Tovborg depicts his family as embodying these iconic roles, evoking a beautiful intimacy and tenderness. This contrasting layer of familiarity can be felt through the work, giving us another way of approaching and understanding these figures whose roles and archetypes have dominated so much of art history and Western culture.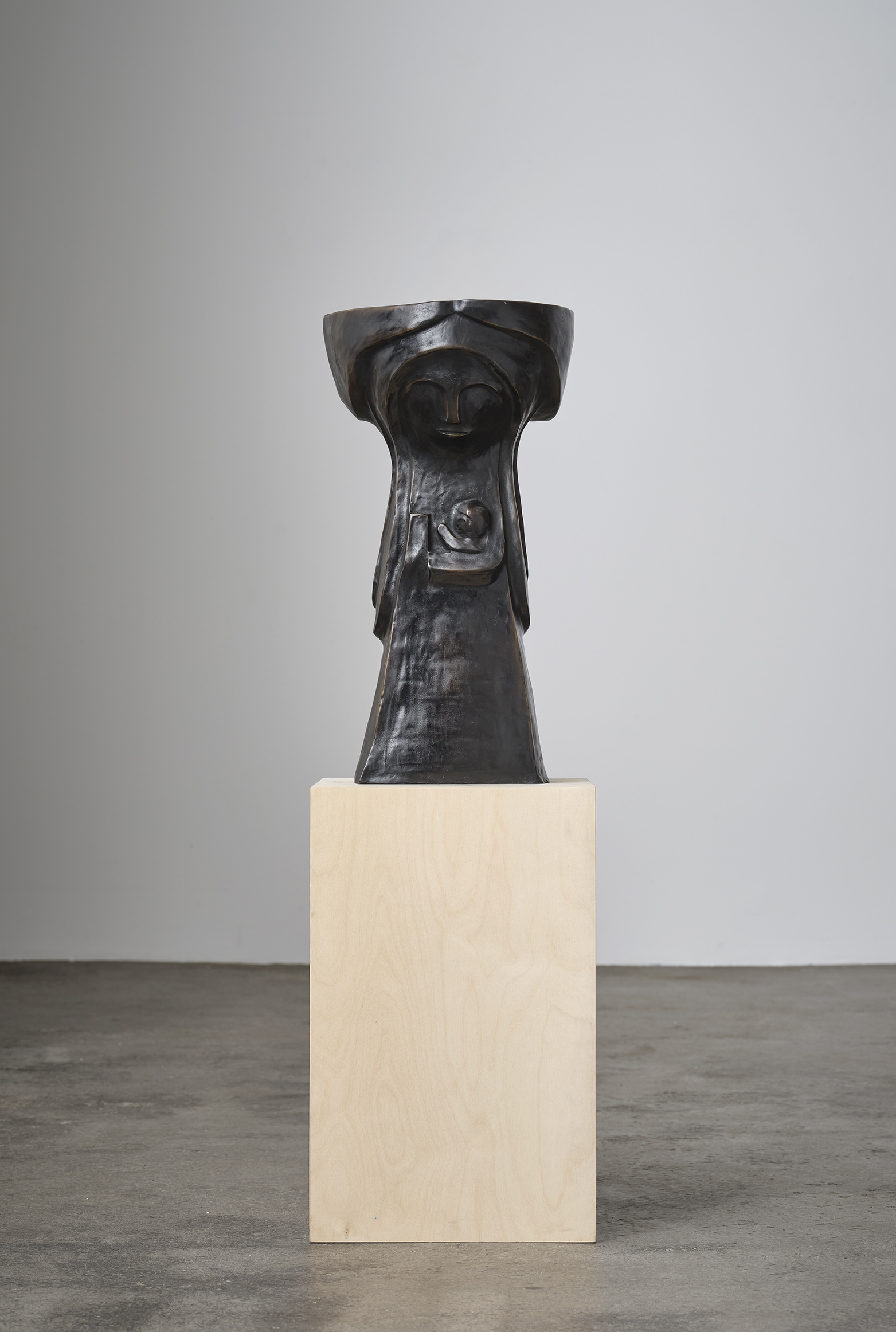 Alexander Tovborg
dea madonna as baptismal font (dark patinated bronze) (2022)
Dark patinated bronze
62 x 25 x 43 cm | 24.5 x 9.8 x 17 in
Edition of 3 (+2 AP)
EUR 21.000,- excl. VAT
EUR 22.000,- incl. VAT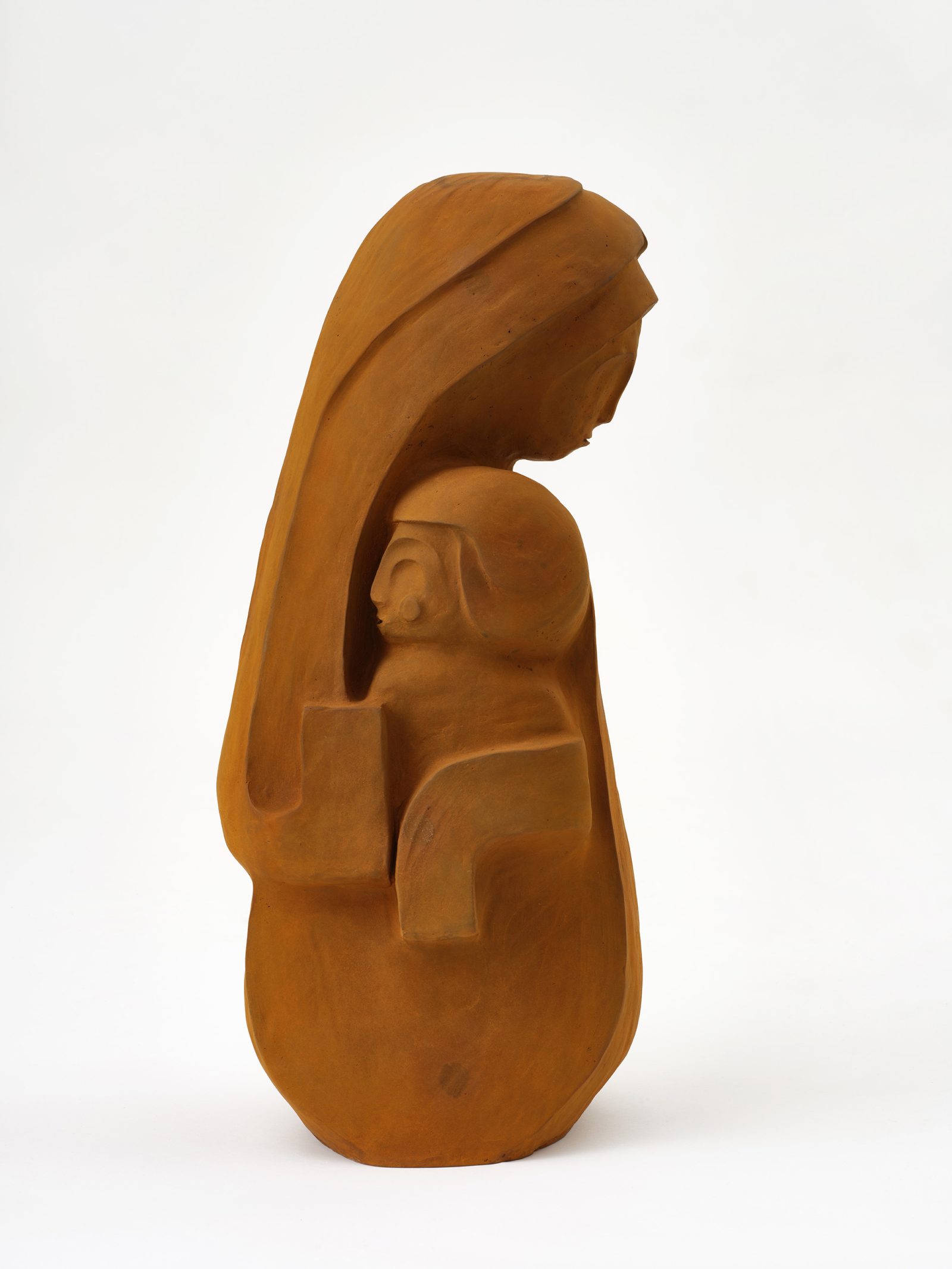 Alexander Tovborg
the pietrasanta madonna (rust patinated iron) (2022)
Rust patinated iron
72 x 29 x 33 cm | 28.3 x 11.5 x 13 in
Edition of 3 (+2 AP)
EUR 23.800,- excl. VAT
EUR 25.000,- incl. VAT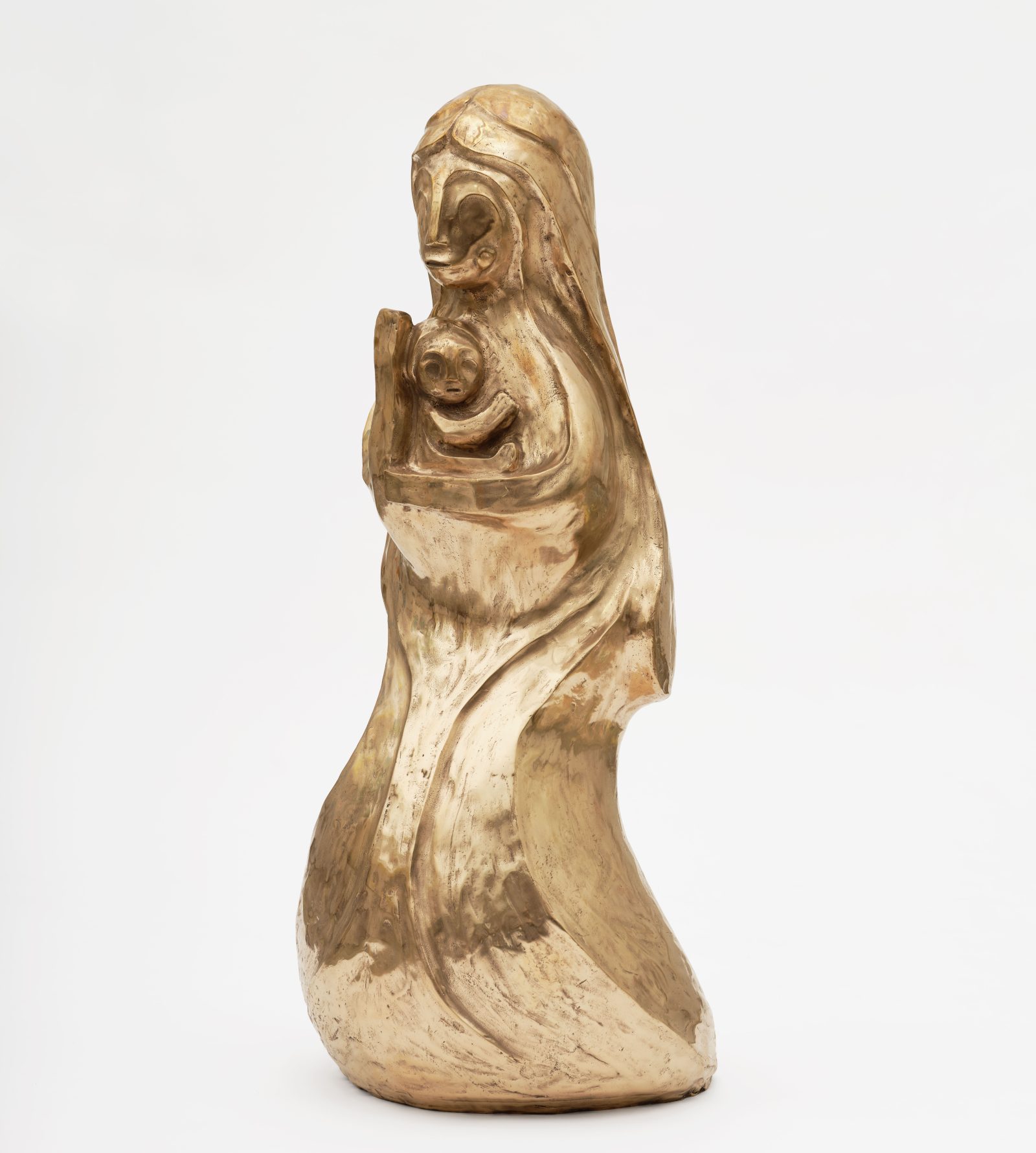 Alexander Tovborg
dea madonna (polished bronze) (2022)
Polished bronze
78 x 34 x 34 cm | 30.7 x 13.5 x 13.5 in
Edition of 3 (+2 AP)
EUR 24.800,- excl. VAT
EUR 28.000,- incl. VAT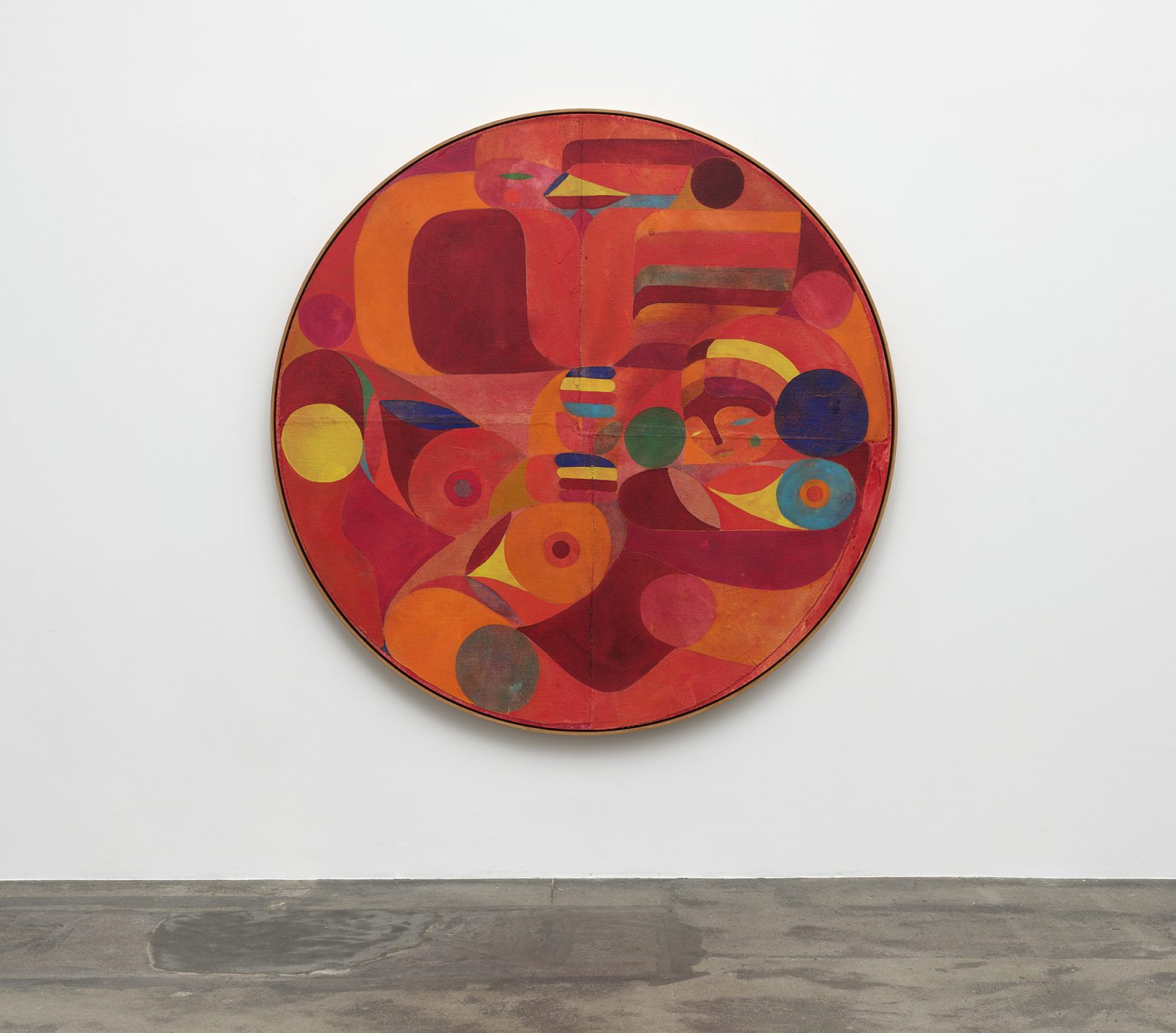 Alexander Tovborg
sunset madonna with bird and tulip (2022)
Acrylic, pastel on canvas on wooden panel
Ø 203.5 cm, depth 4 cm | Ø 80 in, depth 1.5 in
EUR 52.400,- excl. VAT
EUR 55.000,- incl. VAT
Alexander Tovborg's painting sunset madonna with bird and tulip eloquently echoes the title of the work—a central figure is shown at sunset, alongside a bird and a tulip.
Continuing Tovborg's current exploration of the fundamental visual language concerning the Madonna and child, the graphic geometry of Tovborg's shapes and his choice of colour palate comes together to create a striking interpretation of this iconic imagery.
There is an intimacy and a boldness inherent in sunset madonna with bird and tulip, one that radiates out from the work. Painted in a round format, it's almost as if the shape of the work cradles its subject matter, underlining how precious its content is. Or, interpreted another way, the painting itself is the sun, with the Madonna figure at the centre—underlining her importance and position in the process of creation.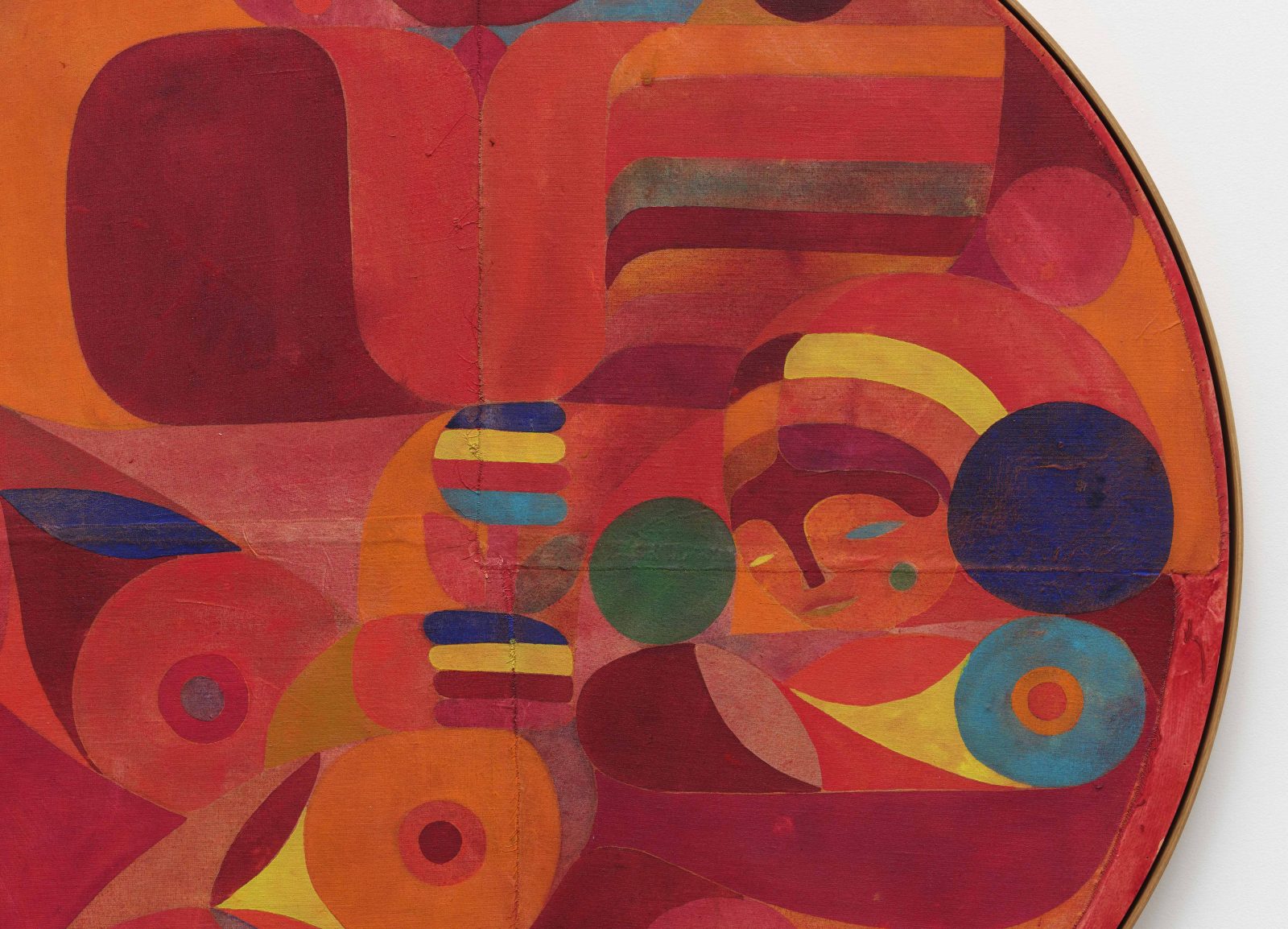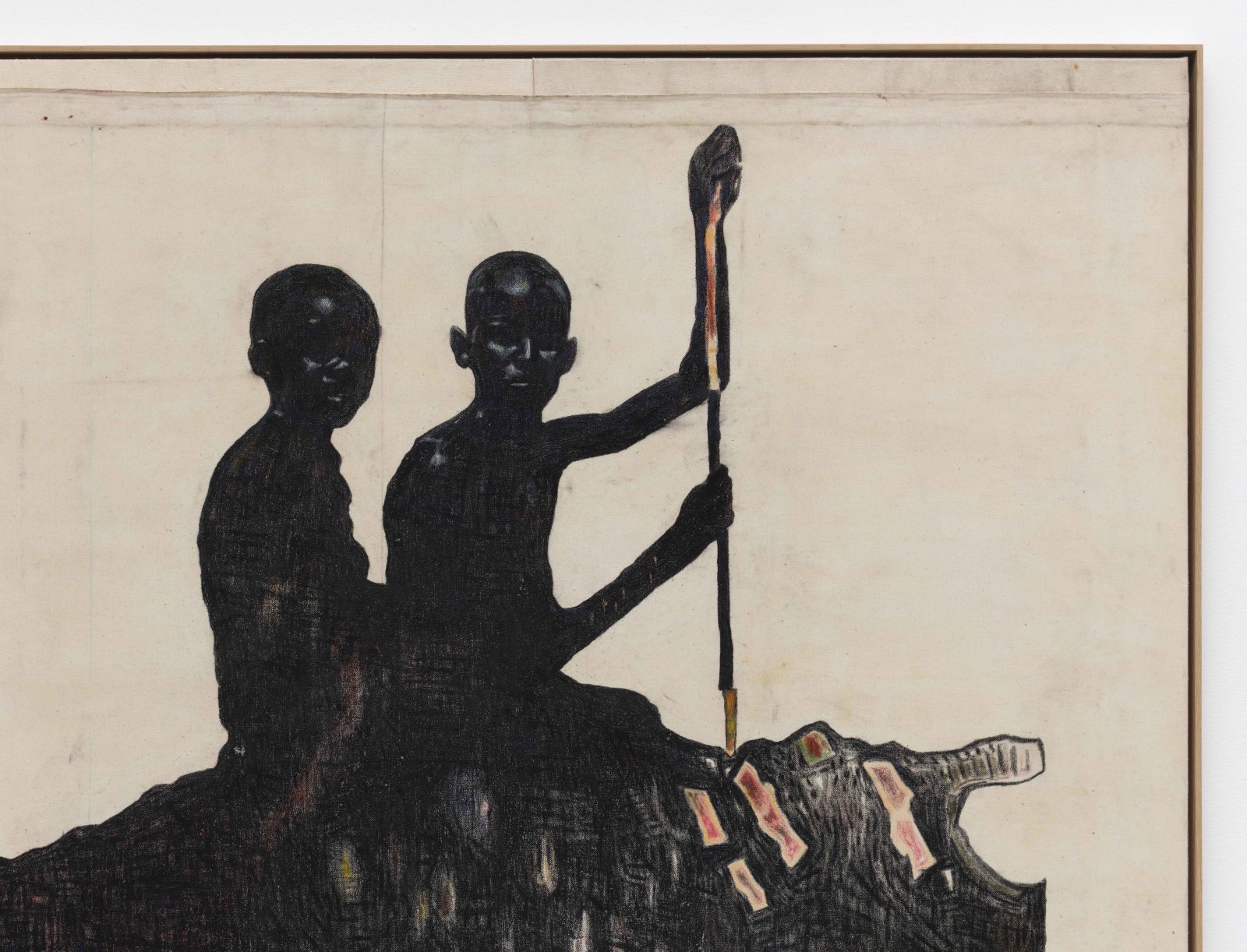 J.G.Arvidsson's practice is primarily based in the medium of painting. Regularly depicting people and figures, often shown in profile or silhouette, J.G.Arvidsson focuses on narratives which are made to be both open and manyfold. Reoccurring motifs and elements can be found throughout his practice, establishing a referential and contextual framework for us, the viewer, to use as a lens through which we can navigate our own subjective interpretations concerning the works.
The resulting sense of purposeful—yet delicately subtle—ambiguity is echoed in J.G.Arvidsson's use of techniques. Paint, canvas and oil stick among a variety of other media overlap on pieces of found and up-cycled wood. Applied thickly and scratched off in places, the layers, the seams and the physical processes of the work are left deliberately exposed. The result is an incredibly expansive depth of both material and narrative which can be felt in an especially tactile and tangible way.
Exploring new ways of articulating semi-autobiographical themes as well as personal experiences and stories, J.G.Arvidsson's initial inspiration is private. However, the intention imbued in the works is knowingly inclusive in its scope. The two works presented at Art Basel Miami Beach continue this intention, creating an intimate and unique moment through which we are invited to pause and think back on our own experiences.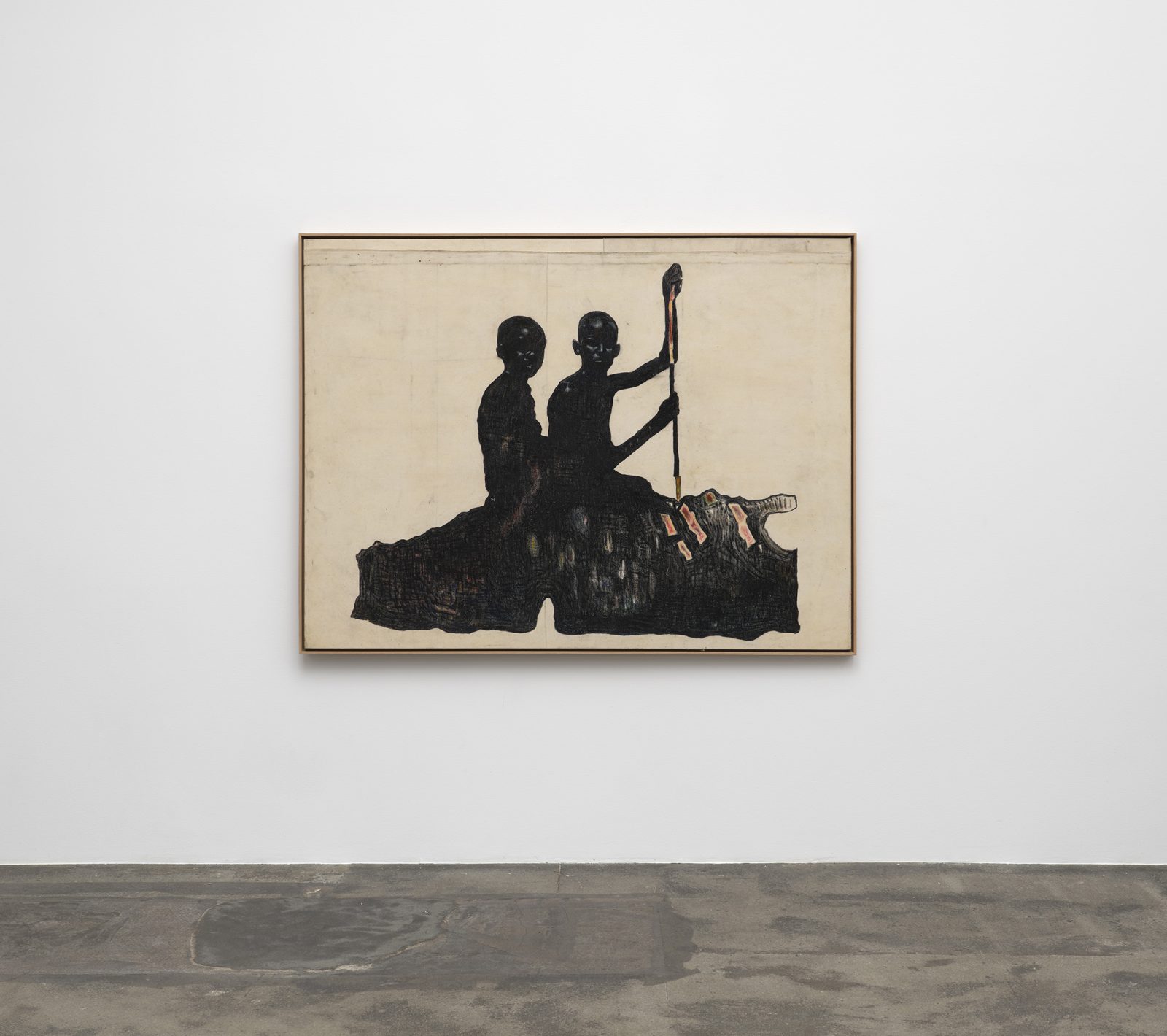 J.G.Arvidsson
U is for Us (away) (2022)
Mixed media
200 x 150 cm | 78.8 x 59 in
EUR 19.000,- excl. VAT
EUR 20.000,- incl. VAT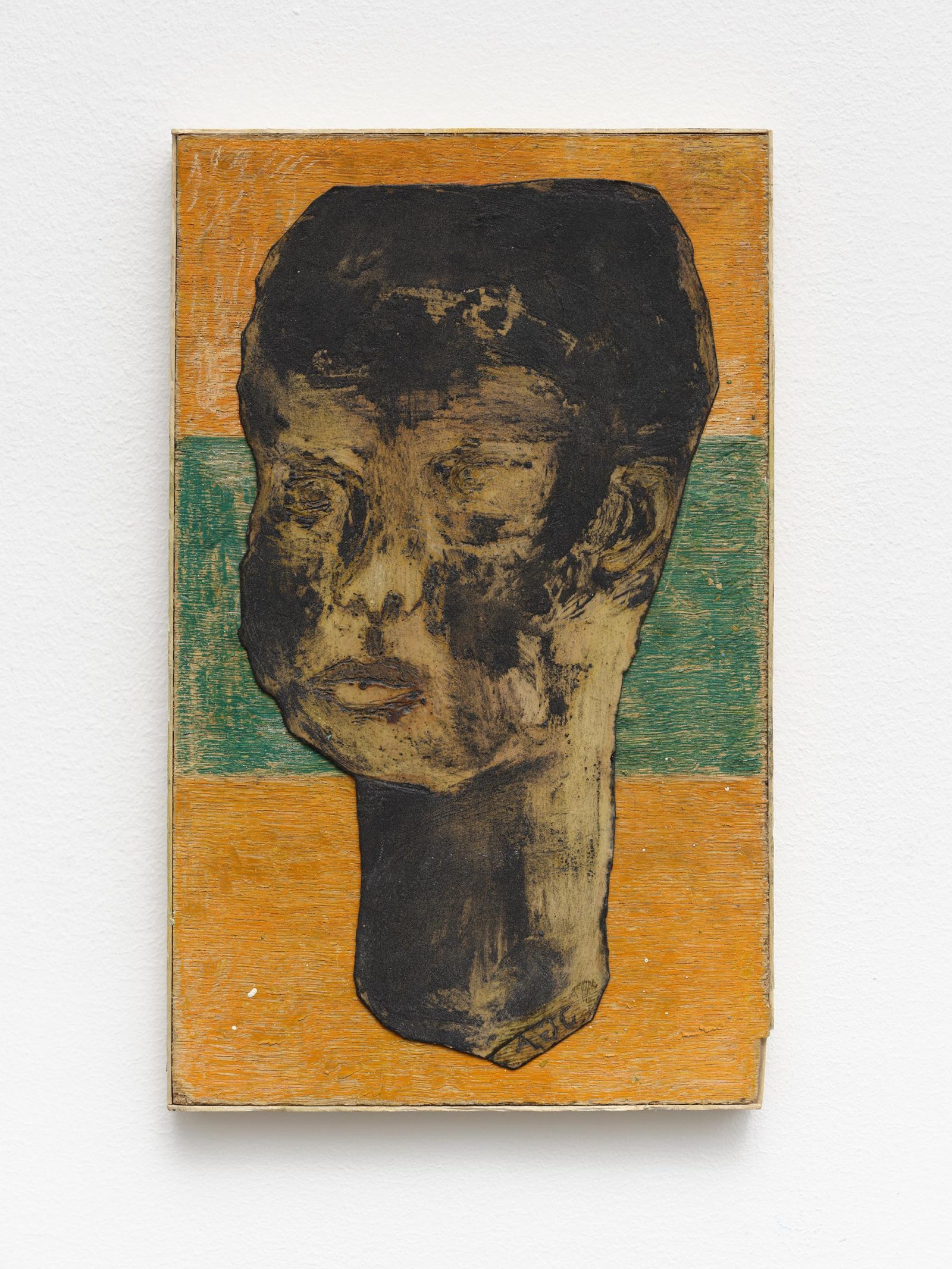 J.G.Arvidsson
My Love (2022)
Mixed media
35 x 21 cm | 13.8 x 8.3 in
EUR 5.500,- excl. VAT
EUR 5.775,- incl. VAT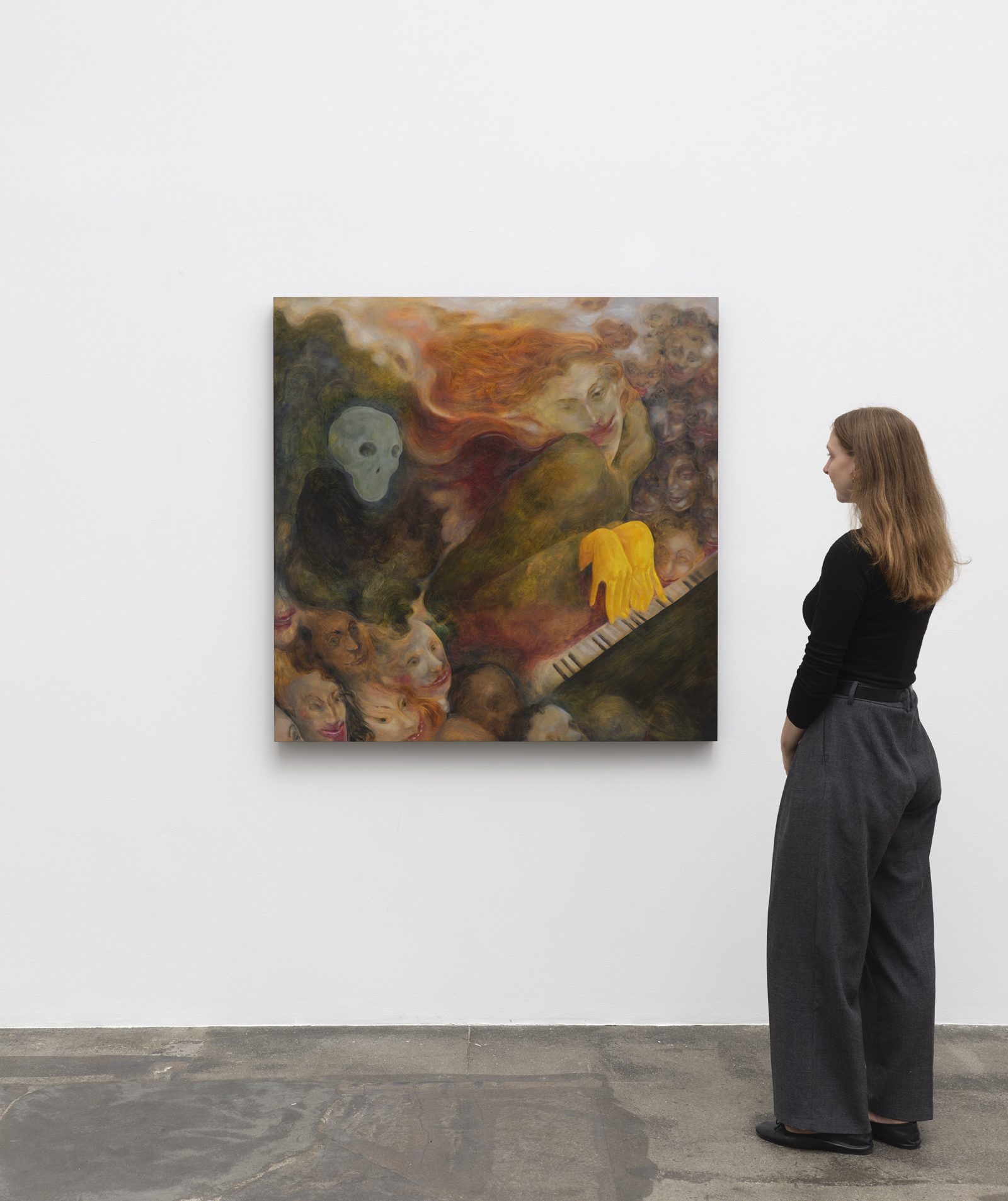 Eva Helene Pade
Untitled (2022)
Oil and acrylic on panel
130 x 130 x 6 cm | 51.3 x 51.3 x 2.3 in
EUR 35.000,- excl. VAT
EUR 36.750,- incl. VAT
Eva Helene Pade's work explores the emotions and intensity of human relationships. Working primarily within the medium of painting, people mingle from canvas to canvas. Absorbed in conversation, dancing, exchanging, being intimate—relationships unfold and deepen in timeless environments that could equally be nightclubs, bedrooms, romantic gardens or bustling crowds whose intentions remain ambiguous.
Pade's focus on the complexity of interrelationships finds its roots in a tradition of painting that includes extends through to the expressionist masters. This also extends to our own position as viewer, which shifts and is used in different ways within the work. With Untitled, Pade takes on traditional aspects of portraiture and female depictions, placing us, the viewer, in a more active role. A central figure plays the piano with a crowd gathered. The intensity of her bright, yellow hands stand out in sharp contrast to her face, which almost seems to be caught in a rush of movement between a smile, a grimace, and something more pensive. Both captivating and alarming in the same breath, her presence is unsettling, as we try to unravel and piece together the narrative.