Dan Graham | Online presentation
Launching May 2020
Dan Graham, photographed in 2017 by Interview Magazine, Photography by Sebastian Kim
Galleri Nicolai Wallner is pleased to present an Online presentation exploring Dan Graham's vast oeuvre. Since the 1960s, Dan Graham has become a seminal figure within the world of contemporary art. Exploring the dynamics that find themselves at the intersection of art, architecture, pop culture, social spaces and social engagement, his succinct and paired down aesthetic allows our attention to focus on the experiences and ideas that develop as we interact with his work and thus become integral to it.
Through essays, videos, performance, photography, curatorial projects and his now iconic pavilion installations, Dan Graham's work has inspired generations of artists and his influence is felt well beyond the boundaries of visual arts.
Dan Graham, Child's Play (2015-2016), Permanent installation at MoMA, New York, USA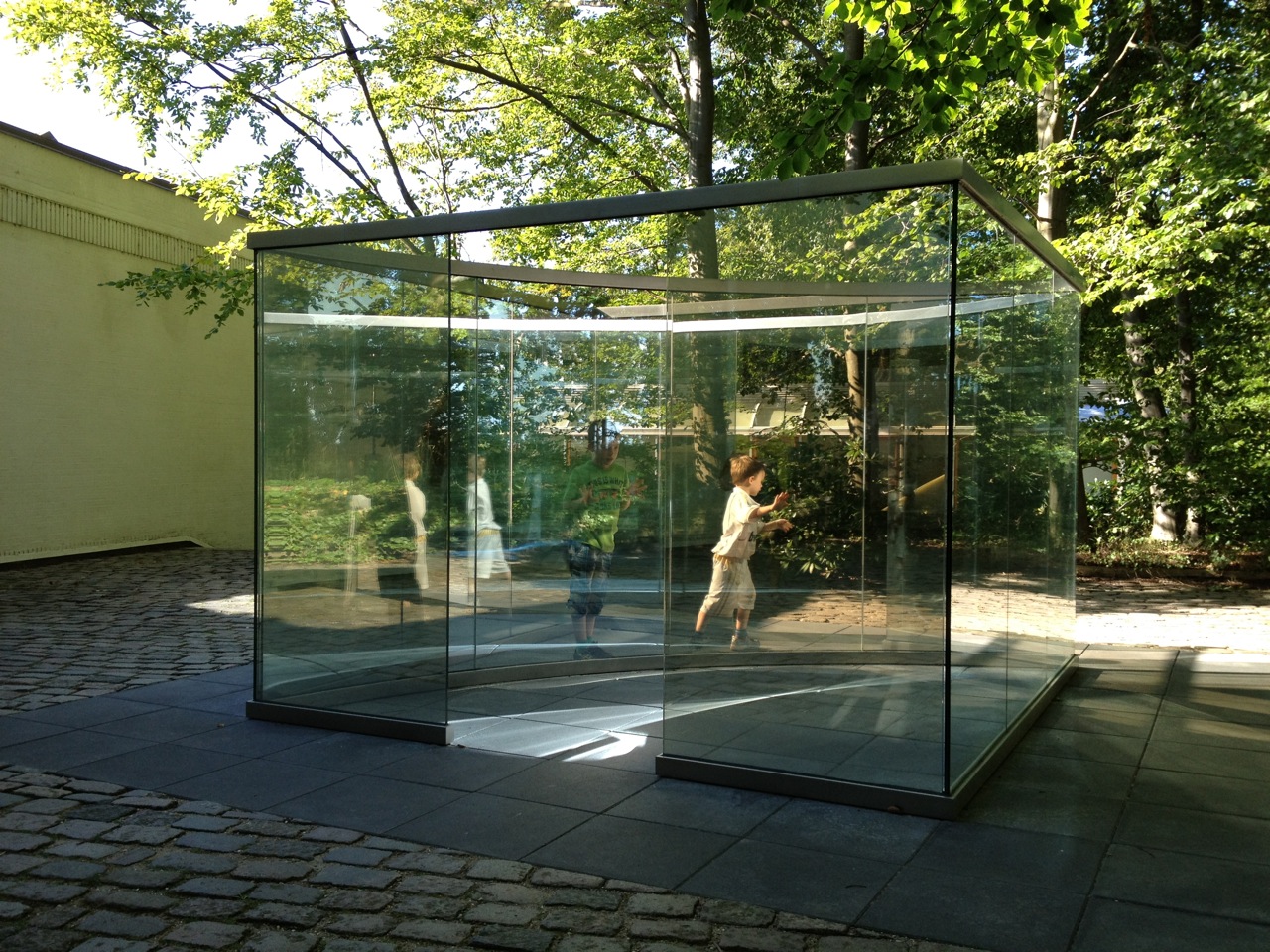 His now-iconic pavilion works are perhaps his most recognisable, in museum collections and public space around the world. Industrial steel frames hold together expanses of two-way mirror that curve and join, bending and intersecting together to crate walls, spaces and passageways. Placed in tandem with each other, the depth of the pavilions' abilities to transform the environments in which they are placed is inescapable.
Square Bisected by Curve (2008), Permanent installation at Louisiana Museum of Modern Art, Humlebæk, Denmark
Dan Graham, Dan's World (2018), solo exhibition, Galleri Nicolai Wallner, Copenhagen, Denmark
Mirror is layered upon mirror, reflection upon reflection, continually multiplying and opening up new ways of looking at everything and everyone that finds itself within the surrounding space. This creates a constant dialogue as we are able to both see through and see ourselves within its surface. This act of looking allows the work to evolve as we move in and around it, changing with each new person, with each new setting.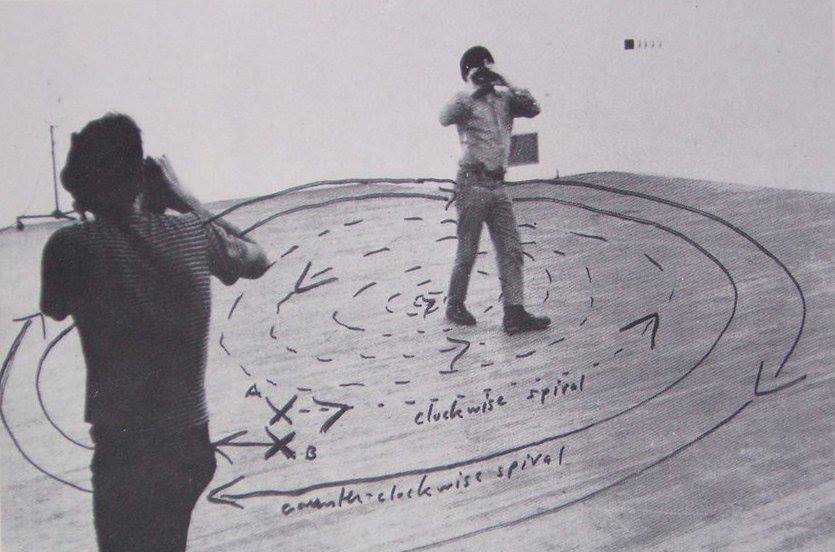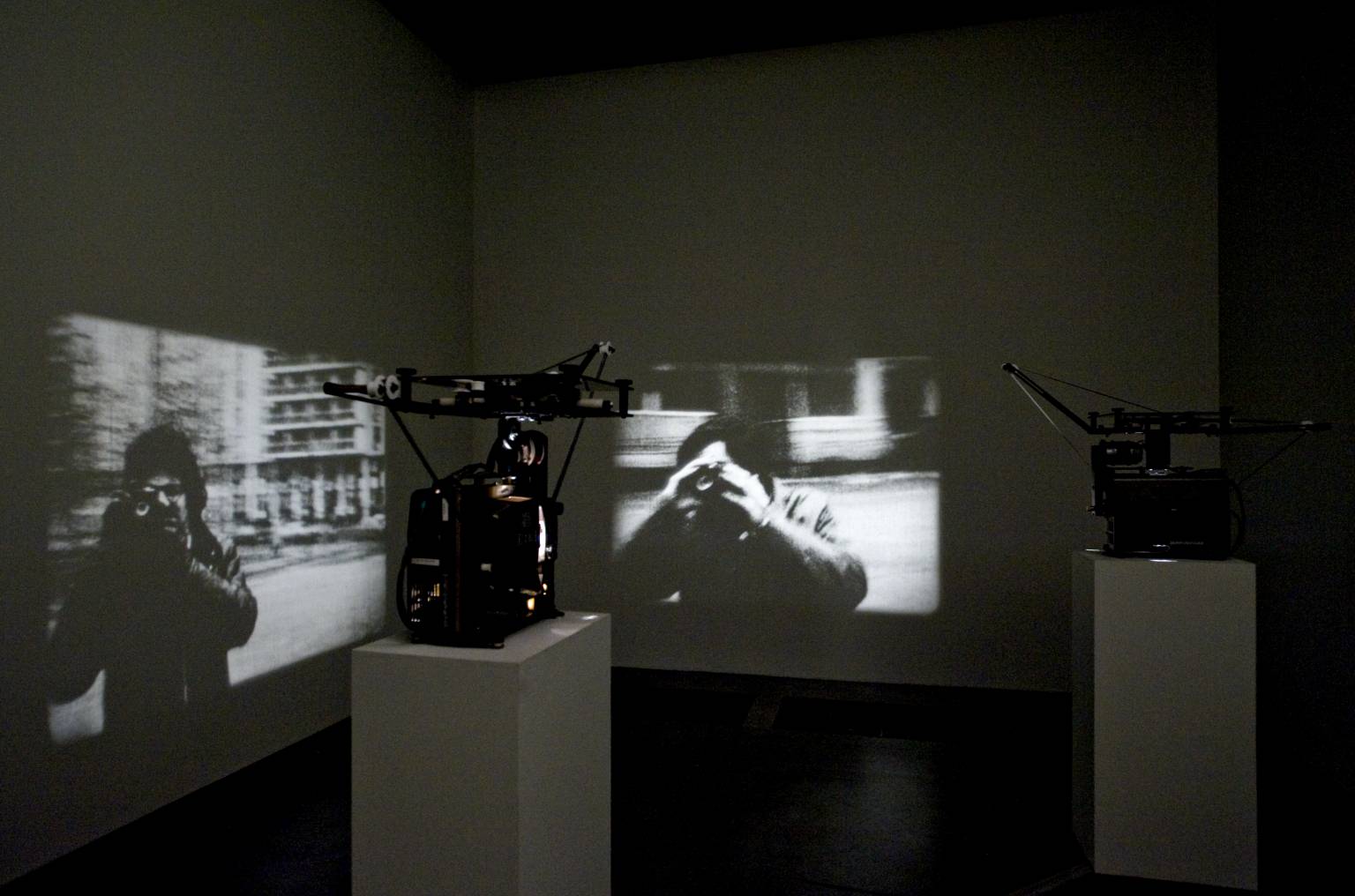 This idea of creating movement, of engagement and of interaction supersedes the pavilions, as seen here in two iterations of Two Correlated Rotations (1970-1972) which is part of the Tate's collection. The photo shows a rehearsal for the piece, in which two people are instructed to rotate in specific patterns, circling around each other while simultaneously filming the other while being filmed. There is an idea of mirroring inherent in the work, which can also be seen with in the context of the pavilion works, as each becomes a way of reimagining and understanding our connection with those around us.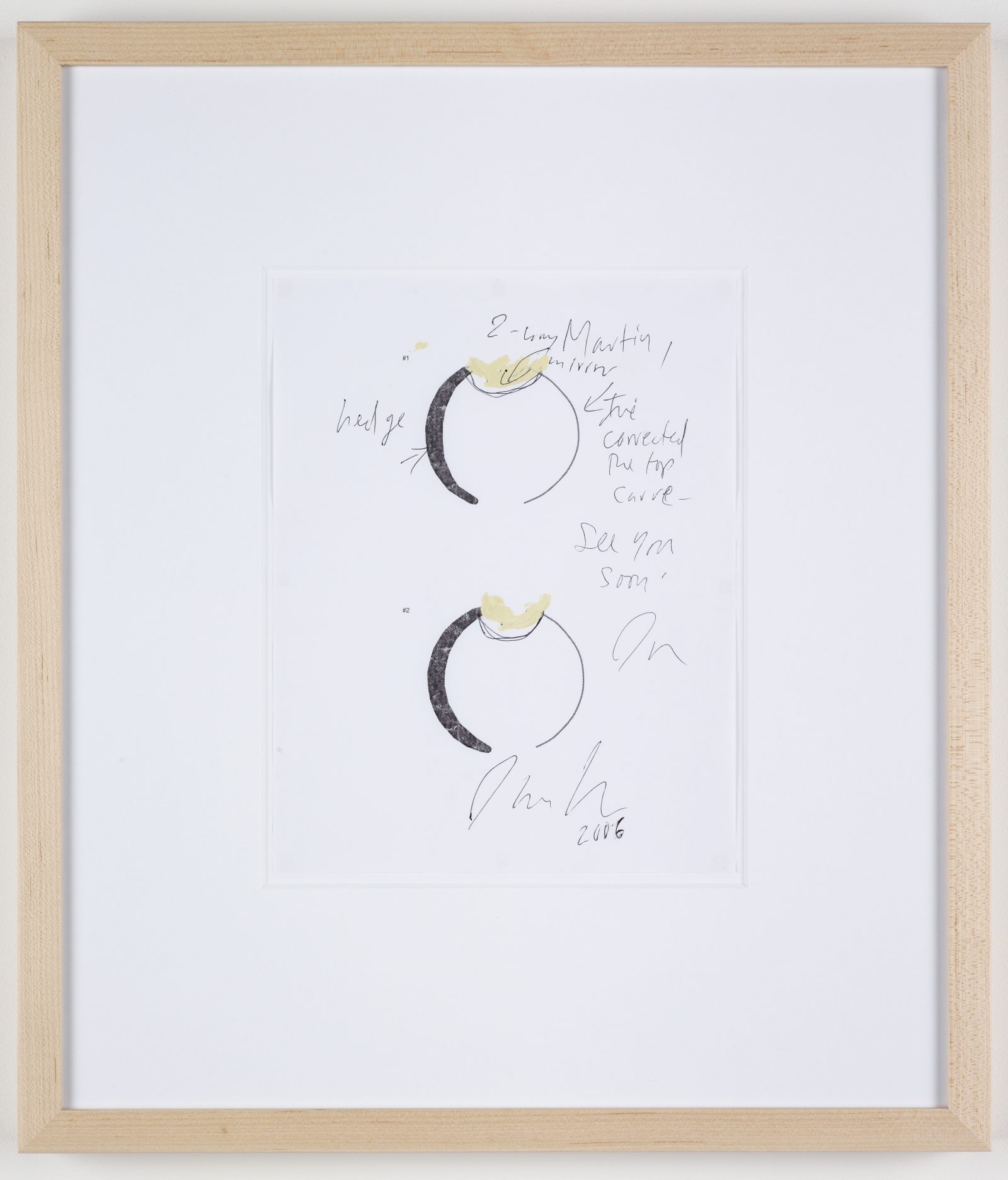 Dan Graham
Untitled (2006)
Ink on paper
28 x 21.6 cm
11 x 8.5 in
Dan Graham, Loop the Loop (2013), Permanent installation at a private collection
Dan Graham
No Exit (2019)
Stainless steel and two-way mirror glass
225 x 603 x 297 cm
88.6 x 237.4 x 116.9 in
Unique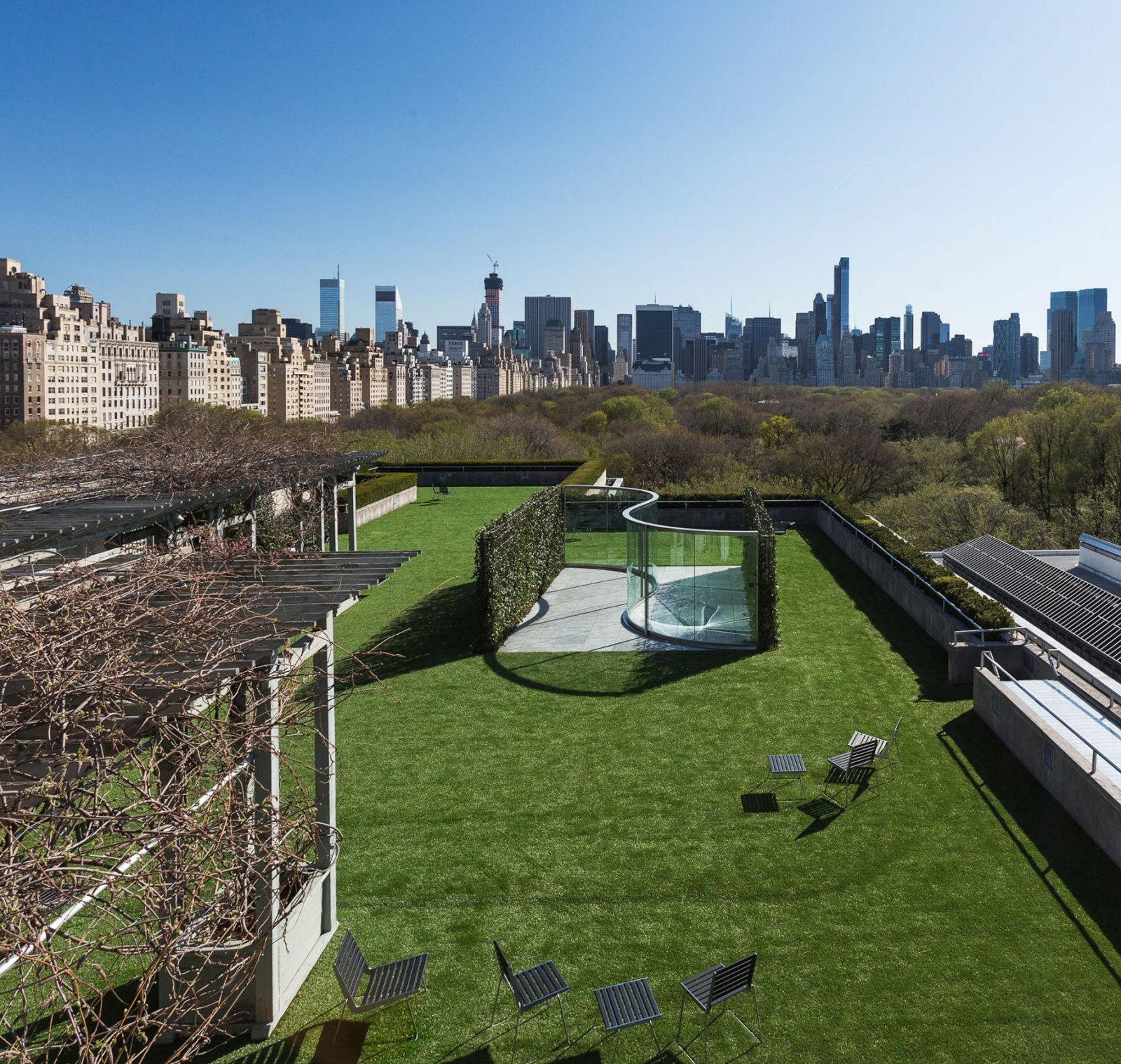 Dan Graham with Günther Vogt, Hedge Two-Way Mirror Walkabout (2014), The Metropolitan Museum of Art, New York, USA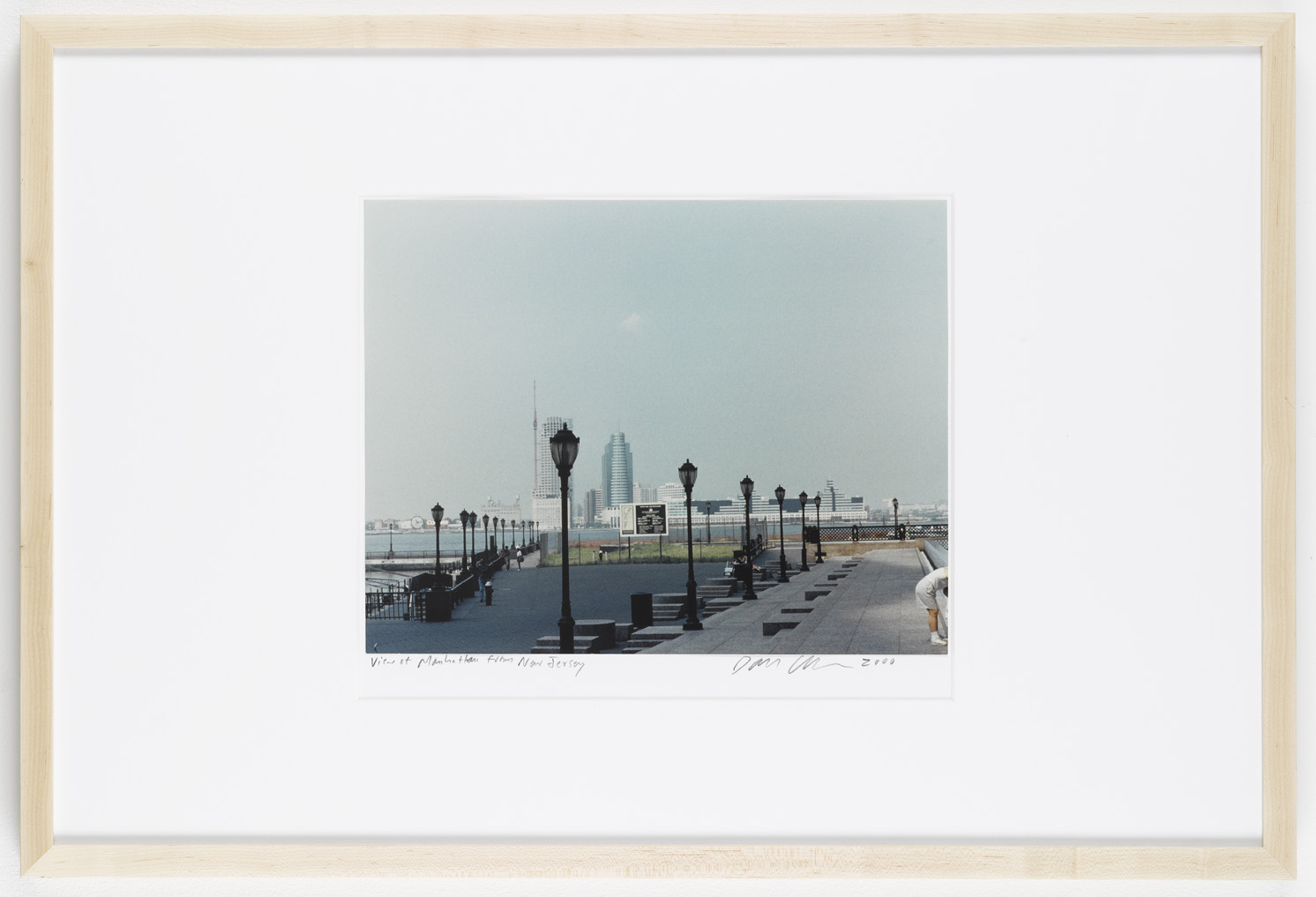 Dan Graham
View of Manhattan from New Jersey (2000)
Colour photograph
27.5 x 35.5 cm
10.8 x 14 in
Unique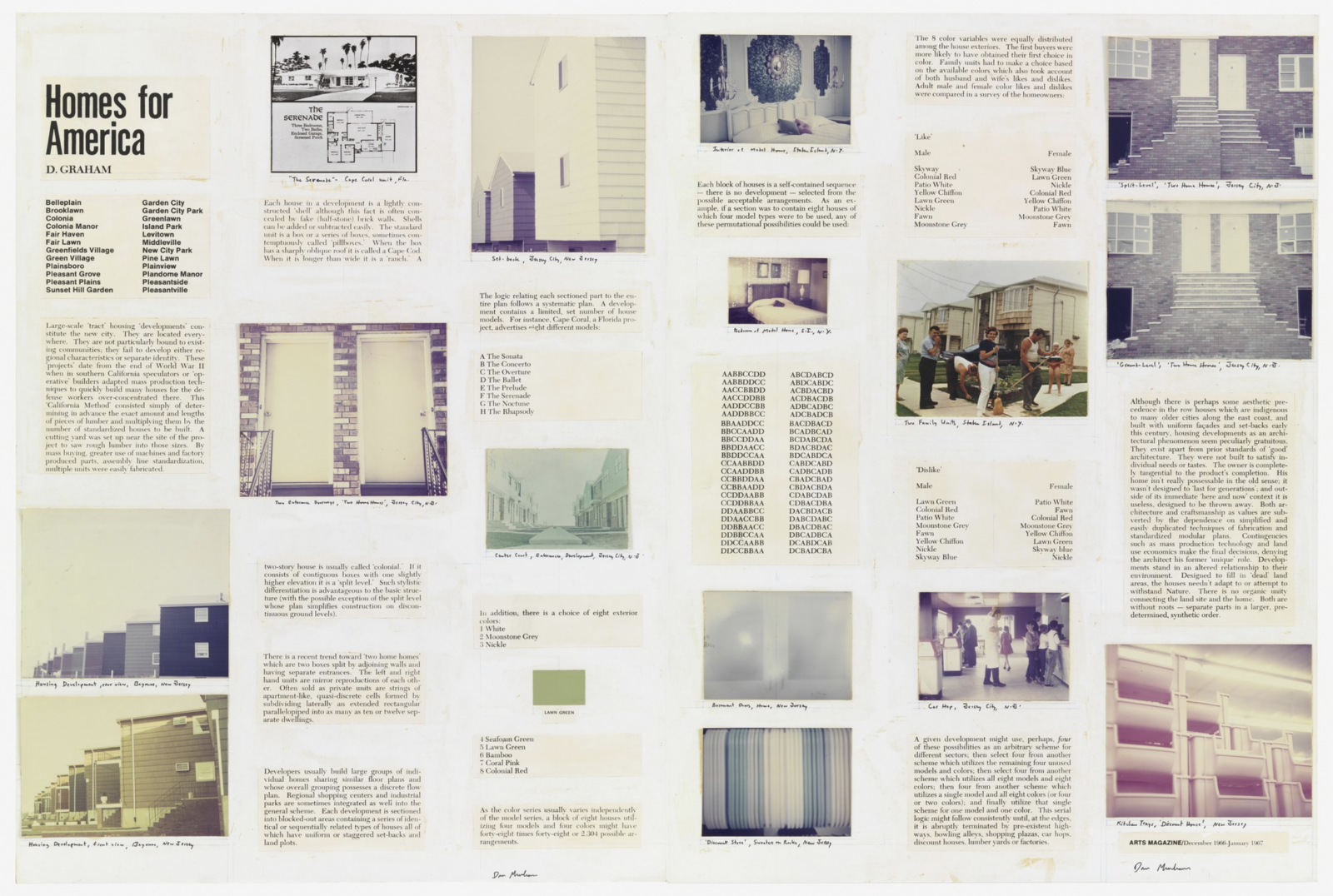 Dan Graham, Homes for America in the Dec. 1966 – Jan 1967 issue of Arts Magazine, in the collection of MoMA, New York, USA
Dan Graham's fascination with how we gather and live can be seen throughout his career, most notably perhaps in his series Homes for America which ran in Arts Magazine in the 1960s, through which he documented the serialised and mass-produced nature of American homes and suburbs. Alongside photos taken by Graham of his hometown of New Jersey, the works in a contemporary context give great insight not only into Graham's practice but to the framework of what constitutes much of the shared American experience.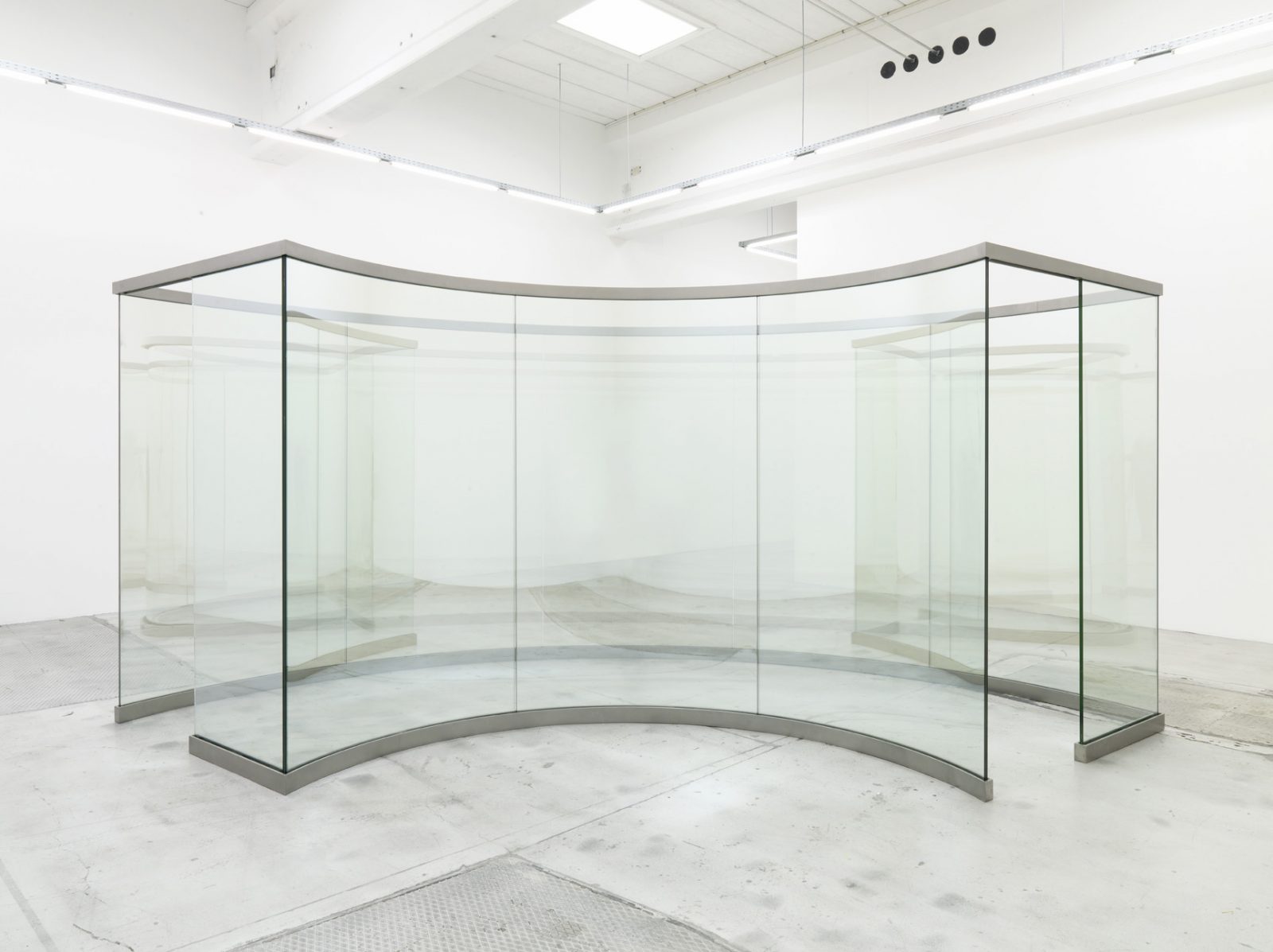 Dan Graham, Tunnel of Love (2014)
Dan Graham (b. 1942, USA) has received international acclaim for his works and exhibitions, with permanent public projects in cities around the world. His work can be found in the collections of MoMA (New York), MOCA (Los Angeles), Tate Britain (London), Hamburger Kunsthalle (Hamburger), Inhotim Centro de Arte Contemporanea (Brumadinho), Kunsthaus Bregenz (Bregenz), Louisiana Museum of Modern Art (Humlebæk), San Francisco Museum of Modern Art (San Francisco), the National Gallery of Canada (Ottawa), Museum of Contemporary Art (Tokyo), Stedelijk Van Abbemuseum (Eindhoven), Kunsthaus Zurich (Zurich), Tel Aviv Museum of Art (Israel), Wanås Foundation (Knislinge) Museum fur Moderne Kunst (Frankfurt), SMAK Stedelijk Museum voor Actuele Kunst (Ghent), Musee d'art Contemporain Lyon (Lyon), Museu d'art Contemporary de Barcelona (Barcelona), Julia Stoscheck Collection (Dusseldorf), the Hirshhorn Museum and Sculpture Garden (Washington) and the Museum of Contemporary Art Chicago (Chicago) among many others. Graham has had notable recent solo exhibitions at Red Brick Art Museum (Beijing), Sirius Arts Centre (County Cork), MAMO (Marseille), the Metropolitan Museum of Art (New York), Turner Contemporary (London), Museum of Contemporary Art Zagreb (Zagreb), Institute for the History and Theory of Architecture (Zurich), Museum de Pont (Tilburg), Museum of Contemporary Art (Los Angeles) and the Whitney Museum of Art (New York).